11,000 March in Troy for Black Lives
June 7, 2020
This article originally appeared on Them+Us Media
Eleven thousand Capital District residents and activists came out to rally, march, and protest for Black lives today in Downtown Troy.
"I don't give a fuck about them painting 'Black Lives Matter' on that street in D.C," a woman yelled into a megaphone to her surrounding protestors. "I want to see real policy changes!" she cried, her voice cracking with passion. She was referring to D.C. Mayor Muriel Bowser's decision to greenlight a Black Lives Matter mural on 16th Street, leading to the White House, which has been criticized by some activists for being performative, and in lieu of real legislative change.
It was the message of the day: showing up for Black lives was good, but doing something to change what protestors allege are unfair practices by the police departments of the Capital Region is better.
Photos by Tyler A. McNeil
Familiar calls of "no justice, no peace," were augmented with cries of "fuck the racist police," which sprouted organically from the crowd. Periodically, the crowd that marched through downtown Troy would take a knee in silence, to commemorate Black people who have been killed by police across the country.
Taking a knee has become a symbol of the resistance to racialized police brutality that originated with NFL star Colin Kaepernick's decision to get down on one knee during pre-game National Anthem, to commemorate Black lives lost to police violence. The symbolic act has spread and has become inseparable from this movement.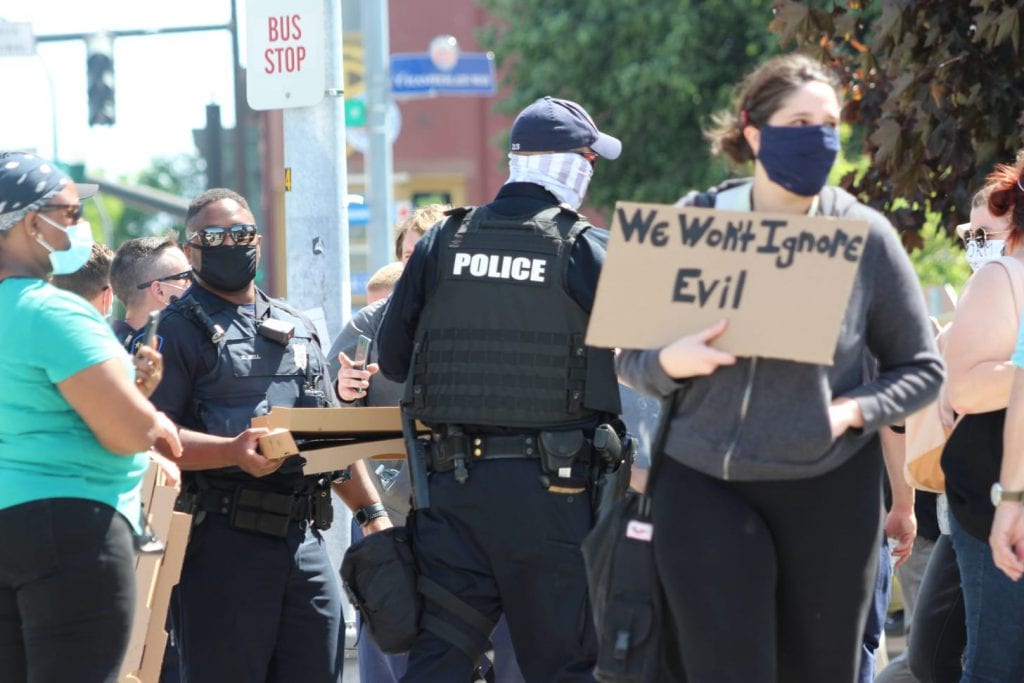 The crowd that gathered outside the Troy Police department's headquarters begged the police officers watching to "take a knee," to show their solidarity with the protestors, and with Black lives. The police officers did not do so. However, there are reports on social media that elsewhere in the march route, some police officers did kneel.
Troy police also handed out pizza to marching protestors.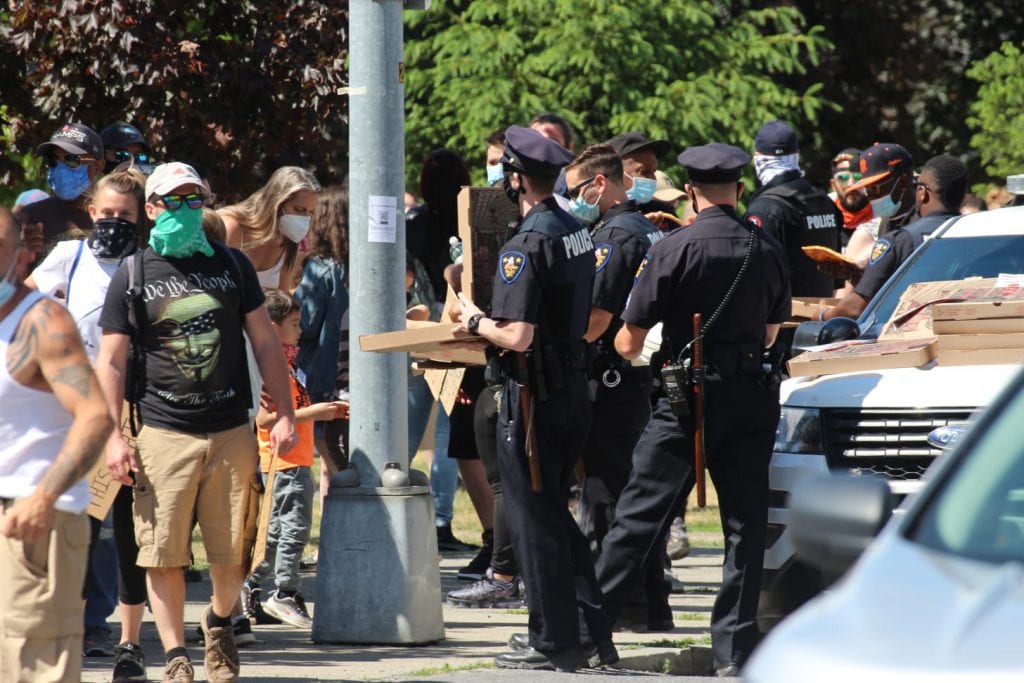 Organizers from Justice for Dahmeek, who organized this rally, were in no mood to be conciliatory towards a police department they have fought hard for the last three years.
"You say we should talk to the police?" organizer and poet Amani Olugbala asked from the stage. "Like we haven't been trying to talk to the police for the last three years!"
The list of demands, which were handed out by Justice for Dahmeek to members of the press in lieu of comment, were specific and far ranging.
They included a demand for a new civilian police review board, with subpoena power and high representation of people most impacted by police violence and mass incarceration, the disentanglement of country government with Immigration and Customs Enforcement (ICE), and the appointment of the Attorney General as an independent investigator and prosecutor in all cases of the use of deadly force by a police officer.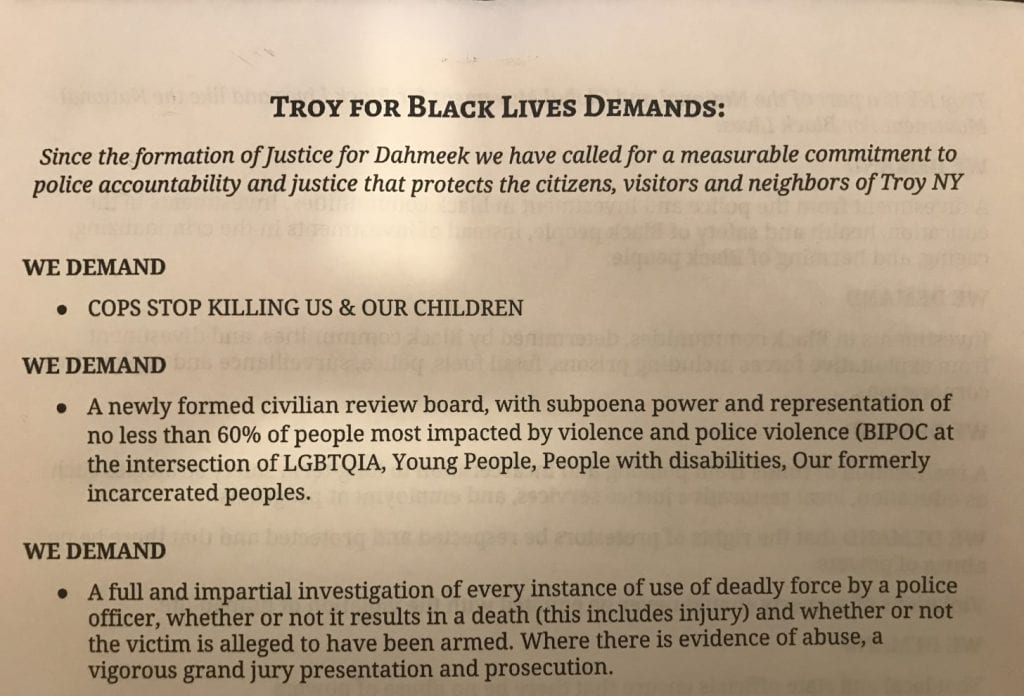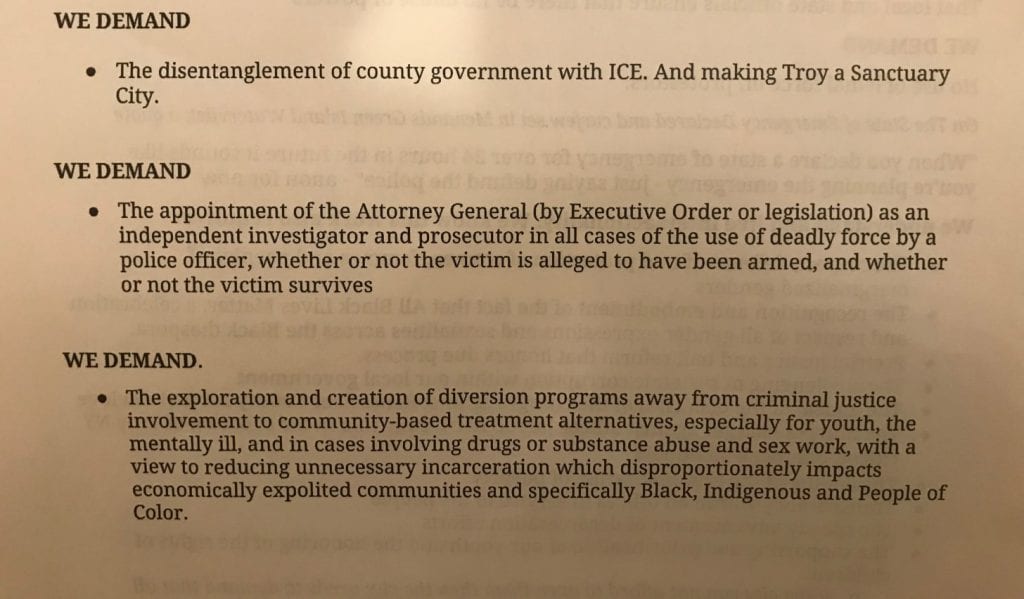 The frustration with mainstream media was evident as well; Justice for Dahmeek did not give interviews prior to or during the event, and an organizer specifically called out corporate media for not showing interest in their demands until this point.
"We've been trying to talk to you for years!" an organizer said from the podium, to justify the decision of not speaking to the media today.
Organizers were frustrated with authorities in Green Island and Menands for making the decision to call a curfew and shut down the Green Island bridge in anticipation of riots. "When you announce a state of emergency, sounds like you're planning for there to be a state of emergency," Olugbala said. "Black people have already been living in a state of emergency!"
Schenectady organizer Jamaica Miles also spoke about the need to tear down the geographic borders that have, in the past, kept activists in silos.
"Albany, Troy, and Schenectady, our power is stronger than anything they can do to us. We will no longer by divided by people who want us divided. What sense does it make to have boundaries on land that they stole from someone else?" she asked, voice heaving with passion.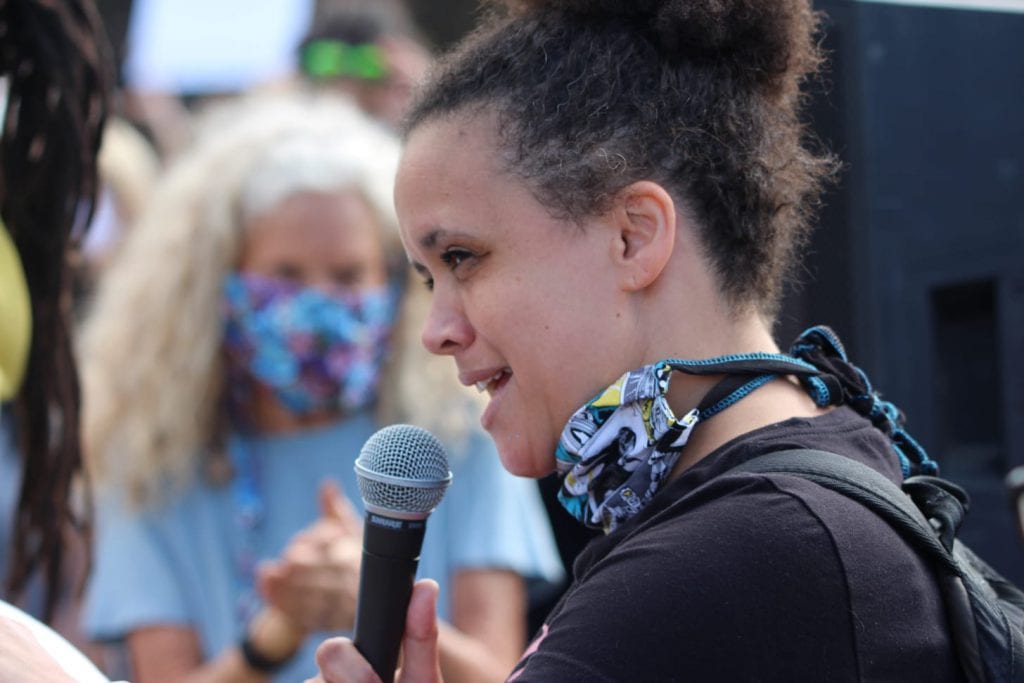 "We started in Schenectady, but we're not going to stop there!" she said, about All of Us, the racial justice organization started recently in Schenectady, which is led by Black youth.
"All we are demanding is what we are owed!" said Miles.
Attention was given, by the organizers, to intersectional concerns.
"We out here for our queer siblings, and our trans siblings!" said Olugbala.
The list of demands issued by Justice for Dahmeek was also mindful of the ways in which different marginalizations can affect Black people, from those with disabilities, to those who are LGBTQ+.
The Troy Police Department did not pick up when called for comment; however, they put out a comprehensive statement yesterday.
Justice for Dahmeek is the organization formed after the 2017 non-fatal shooting of Dahmeek McDonald, in which police officer Jarrod Iler shot at McDonald's car, injuring him during a traffic stop. The organization has also organized for Edson Thevenin, who was killed by Troy Sgt. Randall French during a DWI stop in 2016. An investigation into Thevenin's death was the subject of an alleged cover-up by the Troy city government and the Troy police department.
This story was originally posted on themandus.substack.com on June 7, 2020.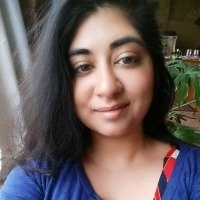 Latest posts by Jaya Sundaresh
(see all)