Abandoned and betrayed by Sheehan, Black leaders turn to council president for leadership
April 27, 2021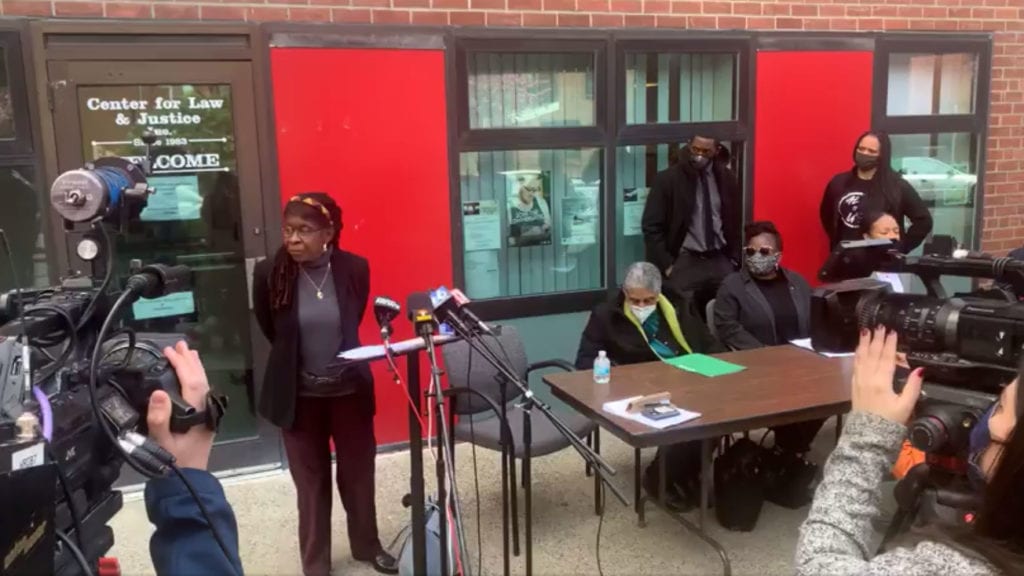 Albany's most senior, lauded activists and younger community leaders came together on Tuesday morning to admonish Mayor Kathy Sheehan for her dearth of leadership on police reform and abandonment of her ties with the Black community during a time of crisis.
"Our work has been set back at least 36 years," said Alice Green, whose Center for Law and Justice has served the city for that length of time. She was referring to the Albany Police Department's raid on a peaceful group of protesters who camped out in front of the South End Station for nearly a week.
Green was joined at the conference by Barbara Smith, former Common Council member and renowned Black feminist author; Deborah Brown-Johnson, President of the Albany NAACP; Jamaica Mailes, founder of All of US; Nairobi Vives, Community Police Review Board chair; Anita Thayer of the Working Families Party; and Lexis Figuereo, the organzier of the encampment.
Green provided details to explain her statement, saying that Sheehan has ignored calls for police reform from the Black community over her two terms in office and that Albany as a whole has resisted reform for decades. And yet calls from white officials led to a quick and violent response from City Hall and the APD that resulted in the assault and beating of peaceful protesters.
Green and others said that Sheehan and Police Chief Eric Hawkins failed to communicate with them in the wake of the raid and for that reason they are looking toward Common Council President Corey Ellis to advance their agenda of police-reform legislation. They imagine the process will take community input and could come to a vote this fall.
It's unclear how effective the alliance with Ellis might be, given that he has hitched his wagon to Sheehan since running for Council President with her endorsement. Ellis flirted with another mayoral run last year but quickly endorsed Sheehan when she announced she'd seek a third term.
Ellis also signed onto Sheehan's announcement that she'd veto any blanket tear-gas ban passed by the Common Council. Further complicating matters is that the role of Council President is widely considered to be ceremonial. Ellis didn't immediately return a call for comment.
Green acknowledged the immensity of the task ahead of her due to Albany's one-party rule. "I don't know any way of changing the current administration," Green said. Asked if she was calling on Sheehan to resign, Green stopped short but said she hoped Sheehan would hear the comments of community members who feel she has abandoned her duties and take them to heart.
Sheehan's relationship with Black community leaders like Green was already frayed by her decision not to include them on the Governor's mandated Police Reinvention Collaborative.
Brown-Johnson said that reforms from the police collaborative should have been on display during the encampment situation. "Yet what we saw was the same and usual response of police force."
"I asked the chief not to advance on protesters," Vives said, noting that the APD took the action anyway.
Rev. Ibrahim Pedrinan, president of the Albany Labor Council, detailed the time he spent at the encampment the day before the raid, talking with protesters, laughing, joking and "hearing stories of pain."
"Then I saw the violence that destroyed it. I saw baton beatings, tent trampling, donation dumping. I was sickened that something so beautiful and generous could be met with such brutality," said Pedrinan. "Then I saw the Proud Boy masks like those worn on January 6. I saw badgeless, nameless hiding officers. I saw riot gear to fight half-frozen campers, but not white Adirondack campers, those kinds of campers would never be met with such force."
Asked if protests would continue, Figuereo said that he was shocked to see the administration put forward the narrative that chalk on the side of a building was worth harming Black people. 
"So yes there will be more protests. Yes we will be out there. After they assaulted us, after they destroyed our property nothing has changed, our demands remain." Those demands include firing Lt. Devin Anderson who assaulted a protester during an earlier protest on April 14.
Latest posts by David King
(see all)