Activists intervene as woman demands to see son being questioned at South Station
May 4, 2021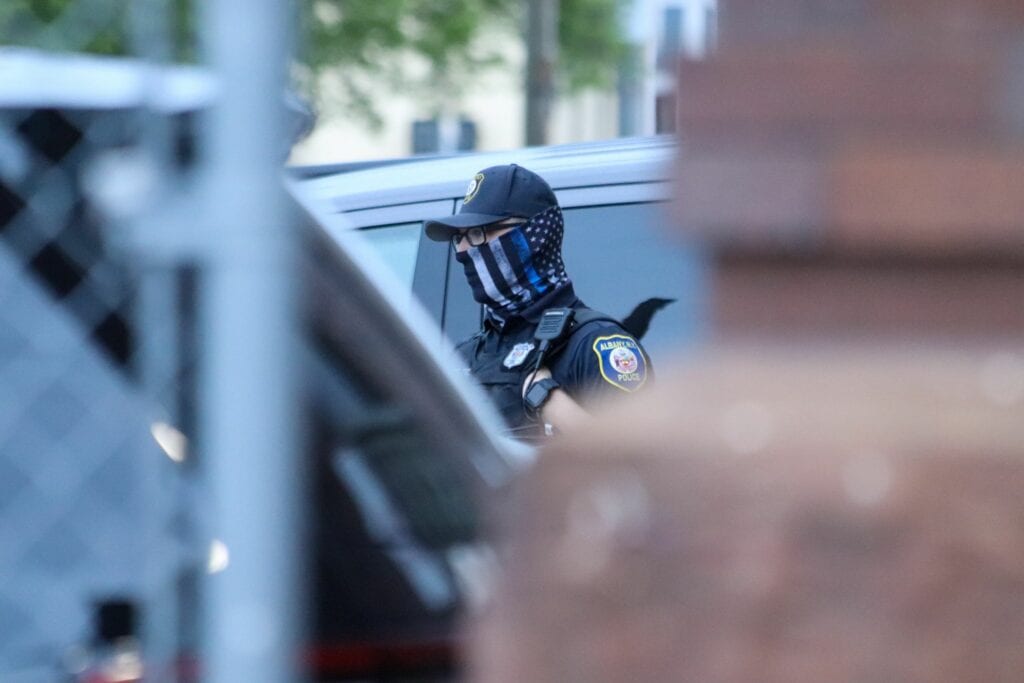 They held each other and cried, pulling their hoodies over their heads as the rain began to pick up. A few dozen bystanders gathered on Myrtle Avenue outside the emergency room stricken with grief, looking to each other for answers, comfort.
Around 3 PM, shots rang out in Essex Street. The Albany Police Department says officers arrived on the scene to find an 18-year-old woman shot in the back. She was transported to Albany Medical Center where she was later pronounced dead. 
At nearly the same time another drama played out on Arch Street, the epicenter of protests and conflict between police and activists over the last month. Activist Mikayla Foster of the Arch Street Abolitionists was addressing the twenty or so gathered around the barriers erected by the city during the protester's encampment two weeks ago when protesters surged toward the entrance to the station with their phones streaming video to Facebook.
Inside, a woman was demanding to see her son who was talking to police in relation to a shooting that occurred in the city earlier in the day. Activists asked the woman if she'd like them to stay with her and she replied in the affirmative. Officers demanded protesters leave but a number of them remained as the woman explained that her son was being questioned without a lawyer and she wanted to see him. "They say he wants to be here," she told the protesters. "They say he's an adult. But I'm his mother. I know him. He doesn't need to be talking to them."
Police interrogations without a lawyer present are a major concern for criminal justice reform advocates. Prominent cases such as the Central Park Five revolve around suspects being interrogated for hours without a lawyer present and then being charged with a crime they didn't commit. The Innocence Project reports that over 360 convictions overturned by DNA evidence came due to false confessions obtained during intense interrogation by law enforcement.
Protesters confirmed that if the woman could see her son the situation would be resolved. And the woman concurred. A lawyer was called and after a number of tense minutes it was announced that the man would be released. "They didn't need to tell me she's dead," the woman said repeatedly, apparently referring to the woman killed in the shooting earlier in the day.
"You work for the devil," the woman said to three officers separated from her by plexiglass–one of them wearing a "Blue Lives Matter" face covering.
Activists escorted the man to his mother. One activist hugged the woman as they waited to be reunited, then walked the pair to their car. The activist then returned and took a bull horn. "You all just saved a Black man's life!" they said, "That's all!" handing the bull horn off and wiping tears from their eyes. A camera crew from a local news station arrived and activists gave interviews as the rain intensified.
"Us organizers are going home. We're exhausted," Foster announced on the bullhorn, and with that the activists made their way back to their vehicles. They expect to be back to Arch Street on Thursday evening. It's a site where they've fed the homeless, stopped domestic disputes, counseled people in distress and been beaten by the police.
Tonight many of them feel that their very presence forced the police to carry themselves more professionally. There's a real sense, justified or not, that they stopped something bad from happening. So despite the risk of arrest and physical violence, they plan to be back very soon.
Latest posts by David King
(see all)