Albany cops listen to community concerns without community
June 20, 2020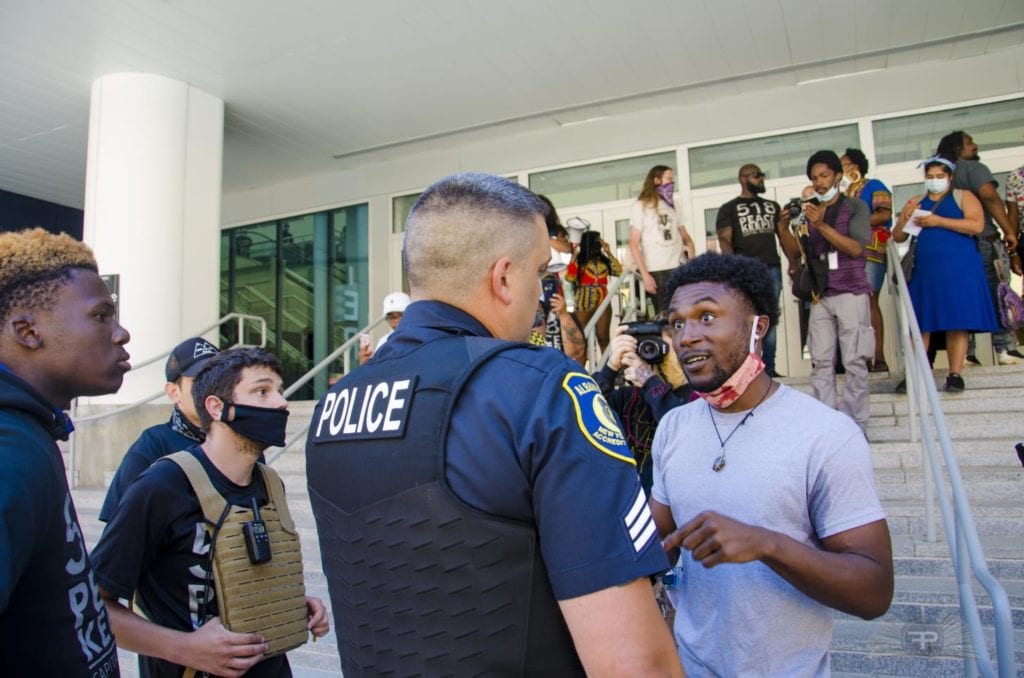 This article originally appeared on Them+Us Media
Photos by Allie O'Keefe
Sweat rolls off Manetertep El Dey's neck as he speaks to Pastor David Traynham. The crowd — press and protesters alike — surround the two. Phones are held aloft, recording live.
"We don't have to do the fluff talk, right now," El Dey says, a slight smile on his face, one that does not reach his eyes.
"I don't know who you are, sir," the Pastor says, trying to move through the front doors of the Albany Times Union Center, where a meeting between Albany law enforcement and community members was taking place.
"The fact that you say you don't know who I am, that's like a slap in the face," says El Dey, astonished. "We've met multiple times."
On Wednesday at the Times Union Center, a group of Black Lives Matter protestors from Albany tried and failed to get into a meeting, where figures such as Albany County District Attorney David Soares, Police Chief Eric Hawkins, and County Sheriff Craig Apple were meeting to discuss ways in which Albany policing could be more responsive to the community's needs. Representatives from federal law enforcement agencies were also present, in addition to local policing officials.
But the voices of the young activists who have been leading the spate of recent rallies in the Capital Region — the activists who were tear gassed by Albany police at a protest gone sideways on May 30 — were not present in the room.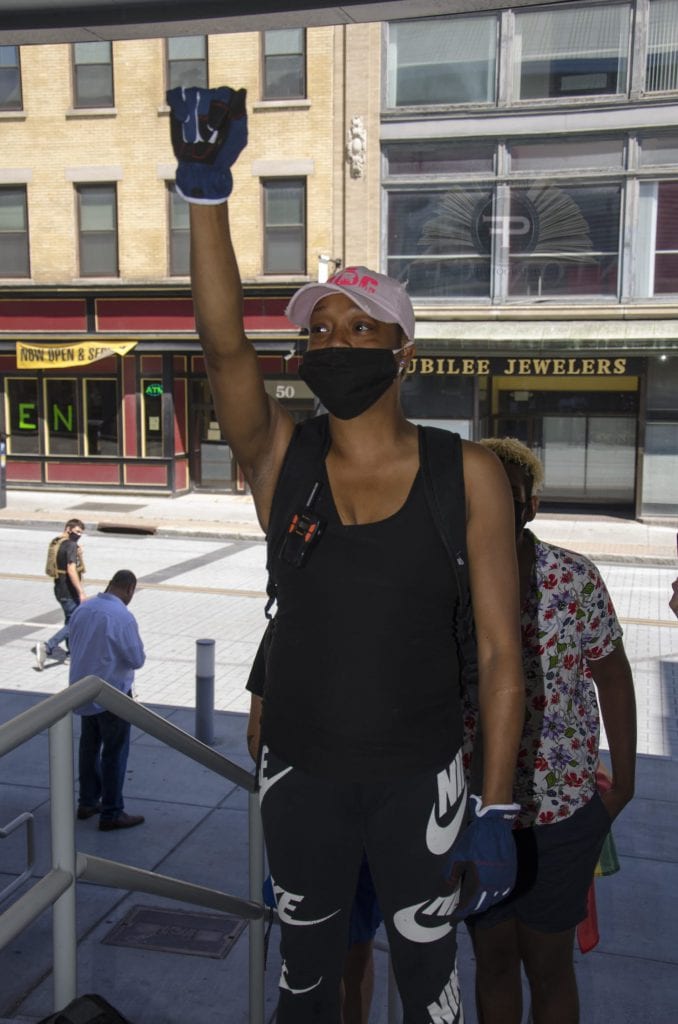 They aren't on the list. That's what the security guard tries to tell El Dey and others gathered at the start of the meeting.
"You're doing a wrong thing," El Dey says to Traynham, calmly.
"That's your opinion," a flustered Traynham says. "I'm just here to represent the Alert Partnership."
Someone asks what the Alert Partnership is.
"You can go online and see our platform," says Traynham. "I'm not going to go back and forth with you," he says, before escaping the scrum, before sliding inside.
The Alert Partnership, for the record, is an organization started by Traynham that works to build ties between overpoliced minority communities and law enforcement agencies. It's website says that the organization's goal is to help "heal the fracture between law enforcement and the residents that's caused by a lack of knowledge and misinformation."
"I just love people. My whole desire is that I would be a bridge to bring law enforcement and the community together. That's all. That's all I do. That's all I live for right now," says Traynham yesterday, when I spoke to him on the phone.
Traynham tells me that the goals of Alert Partnership are mechanical, not political. Alert Partnership is influencing the way in which laws are interpreted by agencies, Traynham says.
"The law is handed down, and then it's up to the individual agencies to determine how that law is going to look when they're dealing with our people. So we have to be at those tables, where the protocols are being made, just as we have to be at the tables of government, to influence the laws," he says.
Lukee Forbes, Albany resident and community coordinator at PULSE, a local community nonprofit, shows up nearly 20 minutes after the meeting has started, clad in grey sweats.
"I'm on the list, I'm on the list!" he says, to the security guard.
The security guard checks the list, shakes his head.
Forbes is a long-time community activist, who, when he was 15, was sentenced to three to nine years in prison for playing a part in physically attacking and robbing a stranger. He served seven of those years, and has dedicated his life to preventing other young people in Albany from making the same mistakes he did. He also has thrown himself into destroying the political system that would charge a child to such a long stint in prison, as if he were a full-grown man.
I spoke to Forbes yesterday, and he was adamant that he was supposed to be on the list of attendees. I viewed emails sent by Orville Abrahams, the director of the Albany YMCA and a member of the task force, which seemed to confirm that Forbes would be on the list.
Lukee Forbes has an existing relationship with Traynham and Alert Partnerships. He even designed Alert Partnership's website.
When I asked Forbes yesterday what he would have told the crowd behind the glass doors, if he had been allowed to take part, and he ran off a list of complaints. He started with Albany Police Officers Union President Gregory McGee protecting what Forbes called the "criminal activities" of his constituent police officers, to the high cost allegedly involved in maintaining police horses.
El Dey has more complaints about everyone who locked him and his compatriots out of the meeting.
"You guys aren't fit for the job, look at our communities suffering. Look at our workforce development programs: suffering. Look at our department of recreation: suffering. Look at those programs! Nothing's going on. At the end of the day you can't tell me there's not a blatant disconnect when it comes to committing the proper resources to take care of the people."
According to the city of Albany's Budget Office, Albany spent over $54 million on policing in 2019. The next closest expenditure was on fire and emergency services. The Department of Recreation gets about half a million dollars, while Youth and Workforce Services gets nearly $800,000.
El Dey went on.
"[Traynham] isn't associated with the community. He has his own private agenda that he's working on with Alert Partnerships. They are ignoring the fact that the people are not only showing their stance for justice, but crying out for it as well. The people told you what they want, they want it from the officers even more."
El Dey softens his voice, and then it hardens again.
"Maybe we could have put our narratives together. They ignored that. They dismissed that. And then what do they do? They pass resolutions under the peoples' noses without even informing the community. These guys are supposed to be our representatives. They put their own self-interest over us, they put their own ambition over us."
When I asked Trayhnam about Forbes' exclusion, he told me: "Lukee Forbes, although he's a part of the task force, he's not on the list. I tried to reach out to him today and my call went right to his voicemail, to apologize to him for that oversight. It's so very very unfortunate, and he's a great, great guy. And I just really apologize for that." He also said that Abrahams did not have the authority to add anyone to the list, and that he's "not sure what happened."
To that, Forbes said "even if I wasn't on the list, everyone in that room knew exactly who I was, and what I was there for. I felt that them leaving me out of that room was because they knew exactly what I was going to say."
Stuck on the walk outside the Times Union Center, standing in front of the glass windows, Forbes, infuriated, reads off Pastor Traynham's phone number. Many are on Facebook and Instagram live, and Forbes insists that those watching at home call Traynham to ask him why Forbes was left outside.
The meeting happening beyond glass doors is disrupted in other ways as well. Those stuck outside rattle the windows, and rap on the metal parts of the window, to make sure their presence is heard.
At some point, a young protestor starts doing a joyful "renegade" dance, even though there's no song playing. Legacy Casanova, an organizer from Schenectady, starts up a chant I haven't heard before: "We young, we lit, we taking over this shit."
"McCoy, do you think you have the social relevancy, the cultural relevancy, or the political relevancy to do politicking today?" says El Dey into a megaphone, calling out Dan McCoy, Democratic Albany County Executive, who had opened the session. "I think y'all are incompetent and lack integrity."
Megaphones are placed directly onto the glass window. "David," El Dey yells, in a taunting voice, into the megaphone.
"Come outside!" his fellow protestors respond.
They are calling out District Attorney David Soares. Swept into office in 2004 on a wave of progressive discontent with traditional prosecution, it is probably safe to say that Soares has not lived up to the liberal imagination as a prosecutor. From the 2014 sentencing of a 16-year-old Marquis Dixon to up to nine years in prison for the crime of stealing shoes, to opposing the state's new bail reform legislation, Soares has "sought an incarceration-first approach," claims insurgent candidate Matt Toporowski, who is challenging Soares from the left.
There is talk of rushing the door, the next time the security guard opens it.
"We're not going to do that," says El Dey.
"We can't do it?" someone asks.
"We can do whatever, but we're not going to," says El Dey, sparkling with barely contained laughter.
Eyes inside the meeting occasionally dart outside, although attention is mostly firmly kept on the proceedings at hand. The cameraman recording freely stares at the melee happening outside, but never swings his camera around to capture it.
The police are summoned by someone, presumably inside the building.
"If and when they come, we are going to hold the line," El Dey says, marking out an invisible stretch in front of the glass windows. "They'll have enough room to get in." If the police can maneuver inside, the logic goes, there will be no reason to arrest anyone.
The police come but after calmly informing the protestors that the glass window should not be hammered on, the police go. The metal parts are fair game, however, and I see Adma Walker, photographer and videographer for the movement, determinedly kick the metal wall over and over again, as if willing it to open, to part ways, to let them inside.
This story was originally posted on themandus.substack.com on June 20, 2020.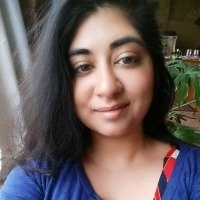 Latest posts by Jaya Sundaresh
(see all)