Andrew Yang endorses Schenectady activist in District 49 race
July 30, 2020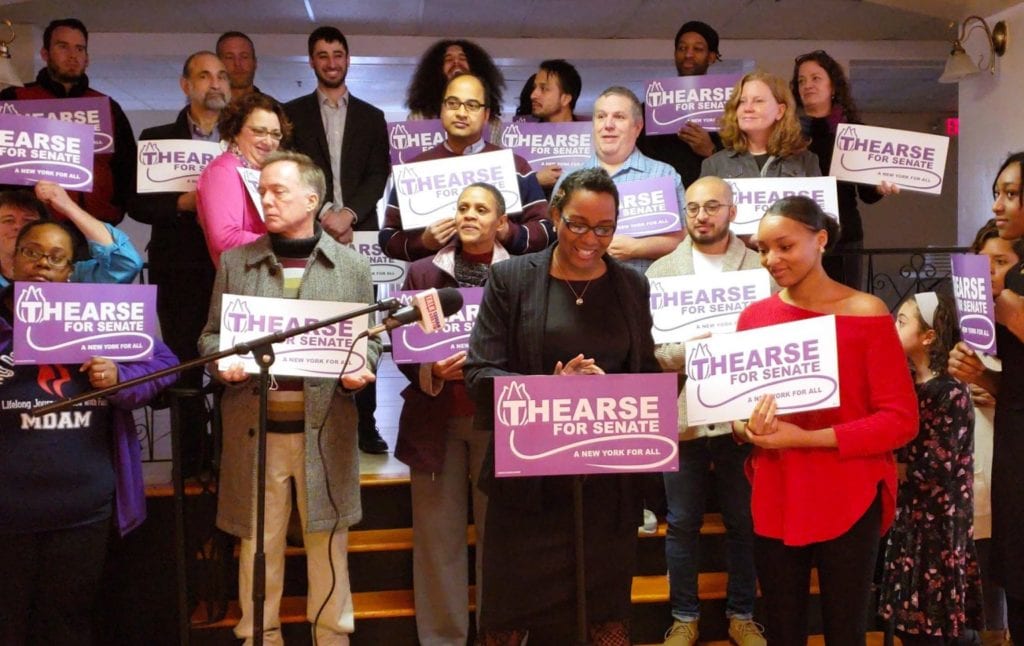 This article originally appeared on Them+Us Media
Former presidential candidate and Schenectady native Andrew Yang candidate has something to say about Thearse McCalmon's bid to unseat longtime State Senator Jim Tedisco (R-49).
And while seeking his endorsement last week in a phone call with Yang last Friday, McCalmon was listening.
"Now, we're not all going to agree, and that's okay, but we are at least on the same path," McCalmon said. "I think that's why he endorsed me."
Yang was impressed by the progressive activist's victory against establishment-backed Donovan McRae in the June 23 Democratic primary, her competitiveness in last year's Schenectady mayoral primary against establishment incumbent Gary McCarthy, and her journey from poverty to community advocacy.
The two share daylight on data protection and universal basic income, a proposal to support all constituents with a base living. During his campaign, Yang vigorously promoted the Freedom Dividend, a payment of $1,000 per month to all Americans. McCalmon favors starting a UBI pilot program in New York State.
"She won her state senate primary because people realize that she is in their corner," Yang said in a press release. "As someone who has experienced homelessness in her life, Thearse understands the importance of creating a human-centered society."
Yang often references a "human-centered" economy and society, which he defines as a reformed democratic and capitalistic system that has the capacity to battle dystopian challenges like job theft from automation and personal data theft from big tech companies.
When asked if she was also a "human-centered" capitalist, McCalmon didn't directly confirm or deny the label. She said that capitalism itself suffered through the COVID-19 pandemic and people need to thrive in order for "capitalists to make a buck."
"People misunderstand when you say 'capitalism,'" McCalmon said. "It shows that in order for the world to go around, in order for it to work, we need to understand the foundation that keeps it going, and that is people."
Under Yang's recent PAC, Humanity Forward, the 44-year-old entrepreneur has used his popularity boost in the Democratic presidential primary to endorse a slew of candidates across the country including Kentucky Senate candidate Mike Broihier, Queens Borough President candidate Costa Constantinides, and Russ Cirincione, running for New Jersey's 6th Congressional District.
The PAC's endorsement interview process was focused more around her life experiences rather than her policy platform, according to McCalmon.
She believes that Yang's endorsement will move the needle with libertarian and independent voters in the district.
McCalmon has already won the endorsement of prominent women's rights and LGBTQ+ activist Barbara Smith, Citizen Action, the Working Families Party, Planned Parenthood's political action committee, former Sierra Club president Aaron Mair, and a number of local progressive politicians and activists.
Facing Tedisco, a well-liked incumbent in a GOP-heavy district, McCalmon, as of now, faces an uphill battle. It's not yet certain how or if the Yang and Humanity Forward endorsement could improve her chances of turning the district blue. McCalmon stated that she will make no attempt to woo Trump voters or die hard Republicans in the district.
"Her opponent is a 70-year-old incumbent who is on the wrong side of many issues in Albany," Yang stated.
Yang and McCalmon also differ on certain political issues. Yang doesn't support Medicare-for-All and has previously advocated that UBI could eliminate the need for various public assistance programs.
She believes that Yang's position on UBI implementation is flexible. Under a pilot program, she has vowed to keep social services. As for healthcare policy, McCalmon said that it's OK for there to be some policy differences between the two.
Tedisco's campaign has not returned a request to comment on Yang's endorsement at press time.
(Them & Us's Editor in Chief is a former employee of Thearse McCalmon's Campaign)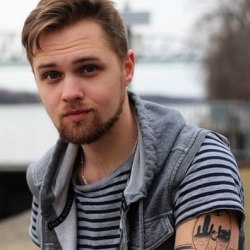 Latest posts by Tyler A. McNeil
(see all)