BLM LGBTQ+ activists: keep tearing down our flag at Gateway Plaza, we'll replace it
July 27, 2020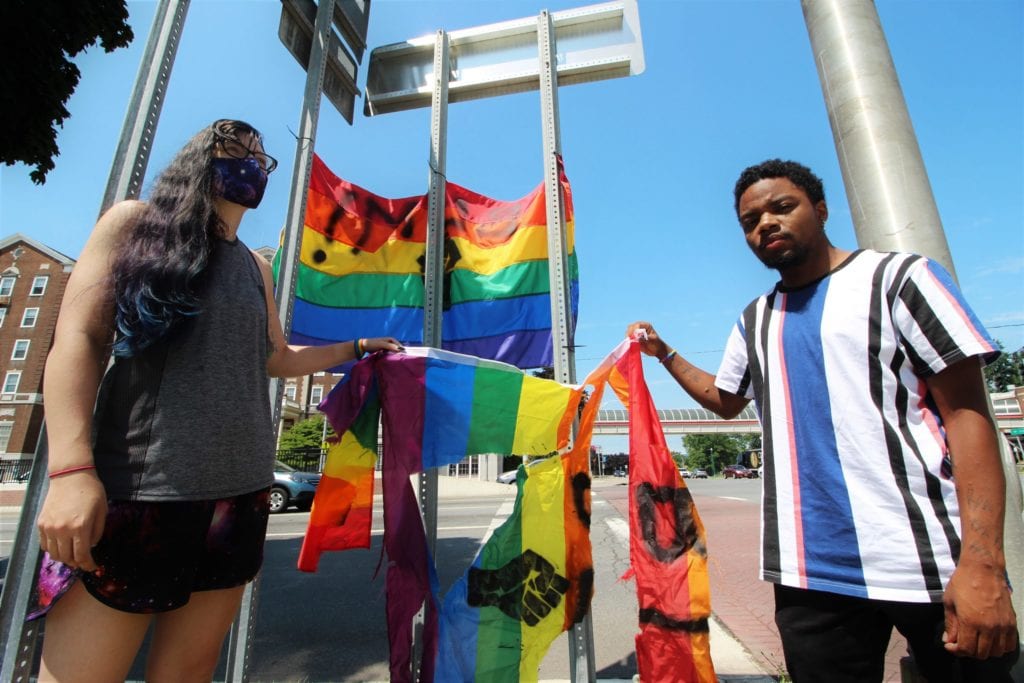 This article originally appeared on Them+Us Media
This is the fourth LGBTQ+ Black Lives Matter flag replaced in Schenectady's Gateway Plaza within nearly a month. Should vandalism continue, expect another flag.
And another flag.
And plenty of extra flags on standby.
"I have people contacting me like, 'you know, if it gets taken down again, I have a flag for you," said Legacy Casanova, a 24-year-old activist with local social justice group, All of Us.
The flag — rainbow stripes anchored with a spray-painted solidarity fist and Black Lives Matter inscription — had initially been hung between two traffic signs off Washington Avenue for the city's first-ever racial justice-themed pride celebration on July 4.
According to Casanova, who helped organize the event, the flag was meant to remain at the site, coinciding with a nearby LGBTQ+ public art structure.
It's unclear who or whom are responsible for thrice desecrating and, once, stealing the flag. However, Casanova, a Black transgender man, suspects malintent toward a symbol representing intersections of race, sexuality, and gender.
"If they're persistent on tearing it down, we're going to be persistent on putting it back up," Casanova said.
Fixed the blm flag someone ripped town in Schenectady. Hand stitched it together then went over that with my machine in…

Posted by Christina Morawski on Saturday, July 18, 2020
Christina Morawski, an asexual white ally, has been on board with that mission since she noticed the flag down at a July 6 protest for Yugeshwar Guindarpersaud, a Schenectady man assaulted by police. It was only two days after the intersectional Pride celebration.
Morawski manually pieced the second flag back together because unlayered vinyl, she said, is difficult to seam together by machine. She finished the job by overlapping the stitchwork with skin-toned threading, a symbol of resilience for "one people united."
"Cosplayers are useful in the revolution," Morawski said.
Now, she plans to fix the third flag, which she described as violently torn apart by someone who lacked "knife skills."
The 22-year-old got the fourth flag from a friend. With each color stripe stitched together, Morawski hoped it would add a layer of difficulty for any vandal seeking to tear it apart.
She doesn't know if the flag was eventually destroyed because, by July 24, it wasn't there. They replaced it with a cheaper design.
"I'm not really sure how long this one is going to last," Casanova said about the latest flag.
The design is vulnerable to backlash, not only from right-wing critics of the social justice sphere but from internal dissenters. While favored by many social justice activists during the last 30 years, intersectionality, the leftist theory in which marginalized peoples face overlapping oppression, hasn't been fully embraced by white LGBTQ+ nor racial justice advocates.
While putting up the fourth flag weeks ago, Morawski, Casanova, and other activists were allegedly harassed by a Black man who claimed that the group was mixing agendas and therefore watering down the cause of racial justice activists.
It's the same agenda, Morawski told him.
"I know the most marginalized groups are LGBTQ+ people of color, specifically transgender people, because you keep fucking hearing about them dying in the news," Morawski said. "That's why we have that."