Evicted houseless family alleges Josephs House mistreatment
October 7, 2020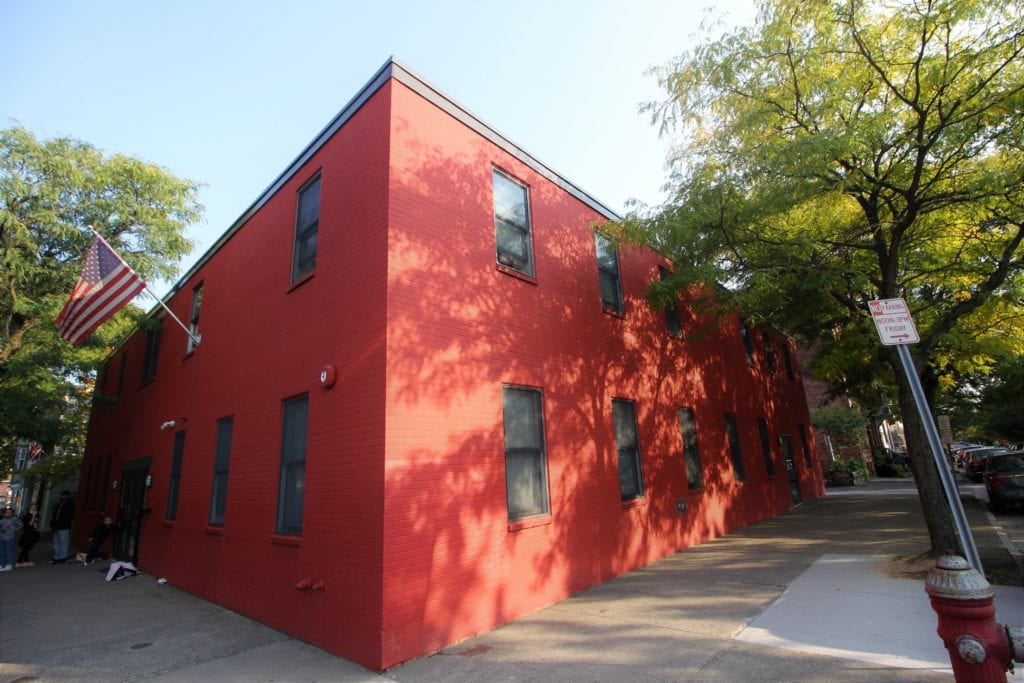 This article originally appeared on Them+Us Media
Daniel Griffin lost his job and house. Kayla Dzembo lacks mental health treatment for her postpartum depression and anxiety. Their two boys — Jackson, 11 months, and Jordan, 3, have lived without a family home, safety, and a consistent stream of nourishment.
It wasn't an ideal arrangement, but after a Joseph's House & Shelter staffer allegedly prevented them from fighting a fiscally unfeasible housing bill in court, things took a turn for the worse.
The couple claims that a shelter family advocate on Friday acted irresponsibly after failing to bridge communication with a state administrative tribunal for a hearing vis-a-vis the father's refusal to pay Rensselaer County Department of Social Services $144 per week.
Dzembo expected the staffer to redirect the court to call her because Griffin, unable to pay his phone bill with waning finances, had his service shut down. After waiting more than 20 minutes for a ring, Dzembo alerted the advocate, who reportedly responded "OK" before walking away. Upon return, the advocate, according to the couple's account, said the court would reach out to the 26-year-old mother.
Nope.
"I said, 'Look, they never called me,'" Dzembo recalled. "So she said, 'I don't know' and walked away."
They didn't make it to the hearing. There were critical consequences.
It all happened at once. The family lost numerous public assistance benefits and faced eviction. After going out for a routine morning stroll in Downtown Troy on Tuesday morning, Josephs House refused to let the family back in upon return.
An employee accused Griffin of threatening to harm him. Griffin denied the accusation.
"So all this is brand new to us," Yeah, so these guys could run over us and we wouldn't even know it.
Complying with confidentiality rules, Kevin O'Connor, executive director of Josephs House, declined to comment on the family's "personal matters publicly."
"We have basic expectations that the program's guests be safe to self and others, not threaten staff or other guests, and follow basic rules regarding living cooperatively with others in a shared community," O'Connor said in a statement.
The family quarantined has stayed at the shelter since mid-February. Before that, Griffin and Dzembo were staying at the Albany Medical Center because Jackson, a premature baby, was born in critical condition. The family's pockets quickly drained from medical bills and baby-sitting expenses.
They lost an apartment in Troy. Staying with the baby, Griffin lost his job making $23 an hour as a custom kitchen and bathrooms contractor for Ken Kelly, Inc.
The family moved into the Joseph's House in mid-February. During their stay, the couple recalled squalid conditions in the facility: his children witnessed intense attacks and residents smoking and overdosing on drugs; they couldn't sleep; Jackson, who doesn't eat meat, barely consumed the food; there weren't any toys around.
With COVID-19 abound by early March, the family's anxiety worsened. There often weren't paper towels in the bathroom and hand dryers were out of order. In-and-out guest rotations beyond the facility and supposedly lackluster ventilation terrified Griffin. He alleged that Josephs House employees selectively checked residents' temperatures at the entrance.
The couple's story prompted Equality for Troy to request that the State Attorney General's Office, New York State Justice Center, and State Office of Temporary Disability Assistance investigate misconduct at the shelter.
Josephs House hasn't yet responded to a request for comment on the family's experience.
In a separate interview with O'Connor last month, the director said that as long as residents can be "cooperative" and work towards finding separate lodging, they can stay at the shelter.
Shelter occupancy drastically went up during the novel Coronavirus pandemic. O'Connor said that occupancy was up 190% during the "worst part of COVID." As of Sept. 22, it was down to 80% in a single adult shelter.
The Center for Disease Control found that COVID-19 spreads quickly in houseless communities, but can be prevented in shelters with spaced out mats, de-densification, universal mask usage, and frequent testing, regardless of symptoms.
The organization has worked with more than 100 houseless people since January. Josephs House has only reported one positive Coronavirus case since March.
"Now people are coming back into the shelters," O'Connor said in the interview. "They're feeling safer about things."
Contrary to national typical trends, the couple quarantined in the Josephs House out of fear that their children, especially their premature son, could catch the disease around other vagrants outdoors. Families stay an average of 52 days in the shelter, according to the Josephs House.
In August, Griffin took a month-long renovation gig for a landlord at 481 10th Street. He planned to move into the renovated unit because it passed inspection from his family advocate. In a twist, the landlord asked him for threefold his available income, sold the building, and ghosted the father.
By early September, Griffin was once again out of work and he recalled the family's stress levels flaring up. They tried to apply for an apartment through Troy Housing Authority, but Griffin — who had only been charged with attempted burglary in 1998 and petit larceny together with Dzembo in Hoosick Falls back in 2016 — was denied housing based on a five-page laundry list of criminal charges including attempted arson, possession of a stolen vehicle, resisting arrest and manufacturing meth. The THA didn't check the right person, Griffin said.
"Once they put that in the system, it doesn't matter whether it's Rensselaer County, Saratoga County, and Albany County," Griffin said. "It's in that system for housing authorities that I'm a fucking monster.
DSS offered a $700 allowance for rent, but he said it vastly limited the scope of his options for a four-person family, especially in Troy. DSS told Griffin that the family's history of houselessness and poverty was not extensive enough to qualify for more programs.
In the same month, the agency upped his financial obligation to live at Josephs House, which he refused to pay.
In a Monday night phone call, Them & Us Media asked DSS for the highest-ranking employee present to comment on the matter.
"There's nobody available here, I'm sorry," said an operator before hanging up.
Theresa Beaudoin has been department commissioner since 2016. A receptionist from DSS Wednesday morning said that she would notify the commissioner about a request for comment.
While frustrated with DSS and Josephs House, Dzembo and Griffin don't want sympathy. They want access to mental health services, quality nutrition, and for their children to know a different life.
"He's about to be one-year-old on [Oct.] 24 and [Jackson] doesn't even know what a family home is," Griffin said. "All he knows is 13 running around and he can't sleep."
You can help the Griffin and Dzembo on GoFundMe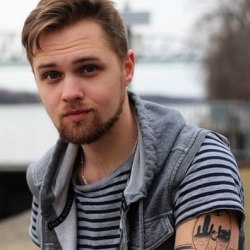 Latest posts by Tyler A. McNeil
(see all)