He's a 'law and order' candidate: Jamaica Miles on Angelo Santabarbara
October 1, 2020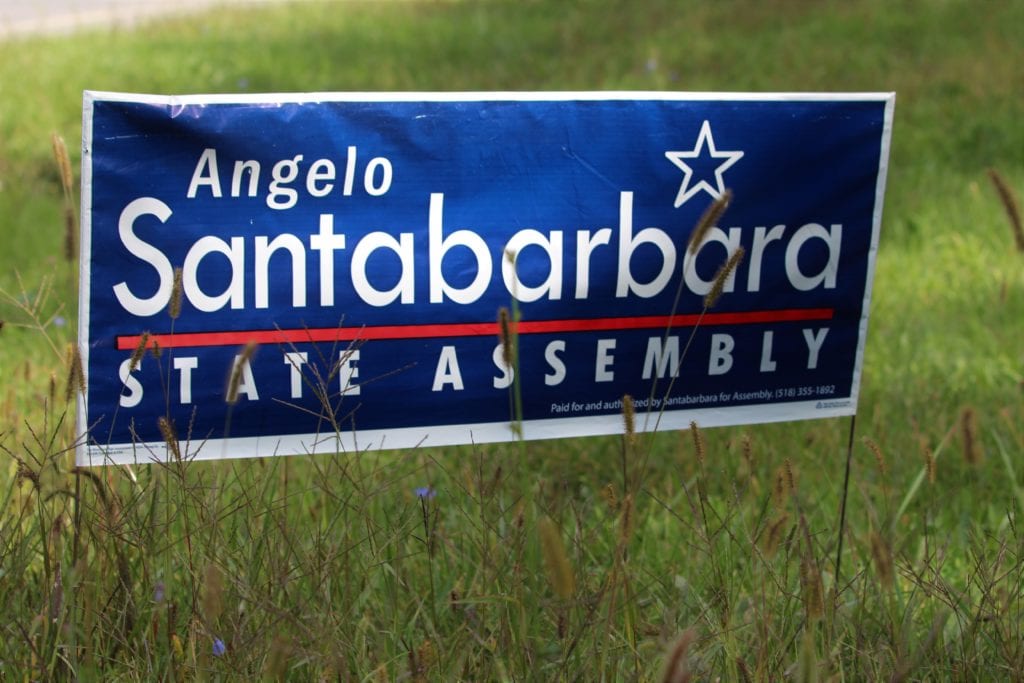 This article originally appeared on Them+Us Media
Jamaica Miles, a leader with Schenectady racial justice organization All of Us, is at odds with Democratic Assemblymember Angelo Santabarbara (D-111) for touting a law enforcement union's support on social media.
In an announcement on Facebook earlier in September, he shared an endorsement from the New York State Troopers Police Benevolent Association. "✔️VOTE for public safety on Nov 3rd," the caption read. It was a "tone deaf" statement, Miles said.
Santabarbara represents about half of Miles' home city, Schenectady. She criticized the lawmaker in an interview with Them & Us Media for being mum on racial justice issues, including a July incident when a Schenectady police officer was caught putting a knee on a Black resident's neck.
"In the same breath, he's willing to put all over social media about how this law enforcement support him," Miles said. [It's] not something I would be proud of."
Neither the Assemblymember nor his staff has responded to multiple requests for comment.
Council 82 of the New York State Law Enforcement Officers Union and the Schenectady County Sheriffs' Benevolent Association have also endorsed Santabarbara.
"We need individuals like Angelo Santabarbara in leadership positions to help law enforcement officers better serve the residents of New York State," NYSTPBA President Thomas H. Mungeer said in a press release.
Both Council 82 and NYSTPBA also back President Donald Trump for reelection.
Miles described Santabarbara as a "law and order" candidate and "white knight" politician playing to right-leaning white, middle-class voters.
Five days after George Floyd's death from Minneapolis police triggered national outrage over police brutality, Santabarbara posted a picture of the lawmaker with Schenectady County Sheriff Dom D'Agostino. The sheriff thanked Santabarbara for "standing with law enforcement on the side of public safety."
On June 1, he posted a gallery of photos showing officers joining hands with protesters during a Schenectady rally on June 1. He called it an "amazing moment that should be shared across the country ❤️."
Between June 2 and 3, the campaign page thrice posted a video of Santabarbara joined by local officers, deputies, and Amsterdam Mayor Michael Cinquanti in a call for healing and unity following Floyd's death. Santabarbara said at the event that addressing the crisis appropriately requires law enforcement "stepping up."
"We have seen law enforcement join hands with protesters," Santabarbara said. "We have seen positive messages come out of this crisis — things that inspire our community, things that allow us to move forward, and to do it together."
That was Santabarbara's last mention — direct or indirect — of the Black Lives Matter movement, at least on social media. Santabarbara's campaign has since posted a slew of photo-ops and videos with law enforcement and other first responders over the summer.
"He's playing to a base that may not be in his best interest, but definitely aligns with the white supremacy and systemic racism that put him in office in the first place," Miles said.
Campaign records show that Santabarbara's political action committee this year received $500 from the New York State Police Benevolent Association. Over his three terms, the PAC has received $3,250 from the PBA of NYS, $674 from D'Agostino's campaign kitty, and a one-time donation of $250 from both NYSTPBA and the statewide Police Investigators Association.
Much of the Santabarbara campaign's pockets are filled with cash from trade and labor associations including American Federation of State, County and Municipal Employees, New York State Nurses Association, Plumber & Steamfitters Local 7, and the New York State Professional Firefighters Association.
Flush with more than $60,000 for the race, Santabarbara faces off against Schenectady attorney Paul DeLorenzo. The Republican opponent lost to Santabarbara for the district's Conservative Party line back in June.
As a former Schenectady County legislator, Santabarbara was a registered Republican until 2010.
Chad Putman, a former candidate for State Senate District 49 in 2016, who donated to Santabarbara's campaign the same year, described the lawmaker as a "Republican registered as a Democrat" on criminal justice reform.
In the last session, he opposed the release of police personnel records (also known as 50-a), a state-run law enforcement misconduct investigative office, and publication of arrest-related deaths. He did, however, OK anti-racial profiling measures, mandated body cameras, and mandatory in-custody medical and mental health treatment.
Here's a list of his criminal justice positions in the Assembly:

| | | |
| --- | --- | --- |
| A 7463 – Prohibits the Suspension of Driver's Licenses Due to Inability to Pay Traffic Tickets or Fines | 07/21/2020 | No |
| A 2176 – Prohibits Civil Arrest of Individuals Attending Court Proceedings | 07/20/2020 | No |
| A 5045 – Amends Criminal Procedure Laws to Waive Certain Surcharges and Fees for Defendants Under the Age of 21 | 07/20/2020 | No |
| S 3595 – Establishes the Law Enforcement Misconduct Investigative Office | 06/10/2020 | No |
| S 8493 – Requires Police Officers to Provide Medical and Mental Health Attention | 06/09/2020 | Yes |
| S 8496 – Authorizes Disclosure of Law Enforcement Disciplinary Records | 06/09/2020 | No |
| S 8493 – Establishes the "New York State Police Body-Worn Cameras Program" | 06/09/2020 | Yes |
| A 10608 – Requires Law Enforcement Officers to Report Weapon Discharges to their Superior | 06/08/2020 | No |
| A 10609 – Requires Courts to Compile and Publish Data on Misdemeanors and Violations and Law Enforcement Departments on Arrest-Related Deaths | 06/08/2020 | No |
| A 4615 – Prohibits Police Officers from Racial and Ethnic Profiling | 06/08/2020 | Yes |
| S 7505 – Amends Criminal Justice Laws | 04/02/2020 | No |
| S 6579 – Amends Marijuana-Related Laws and Violations | 06/20/2019 | No |
| A 3675 – Authorizes Driver's Licenses for Undocumented Immigrants | 06/12/2019 | No |
| S 4572 – Establishes Parameters for Exemptions to Presidential Pardons | 05/21/2019 | No |
| S 1505 – Amends Criminal Justice Regulations | 03/31/2019 | No |
| A 6449 – Increases Number of Speed Cameras in School Zones | 03/19/2019 | Yes |
| S 2450 – Increases Penalties for Improper Gun Storages | 03/04/2019 | No |
| A 2142 – Requires Certain Marijuana Convictions be Sealed | 06/06/2018 | No |
| A 9016 – Authorizes Medical Marijuana for Opioid-Use Disorder | 06/06/2018 | Yes |
| A 3223 – Amends Penal Law for Victims of Human Trafficking | 04/23/2018 | Yes |
| A 3223 – Prohibits Individuals Convicted of Domestic Abuse from Purchasing Firearms | 03/30/2018 | Yes |
| S 5682 – Authorizes Phone Call After Prison Transfer | 06/15/2017 | Yes |
| A 10144 – Reduces New York City Speed Limit | 06/19/2014 | Yes |
| A 6357E – Authorizes Medical Marijuana | 06/19/2014 | Yes |
| A 9583 – Authorizes Demonstration Program for Red Light Cameras | 06/19/2014 | Yes |
| A 9206 – Authorizes Traffic Cameras on Long Island | 04/28/2014 | Yes |
| S 2230 – Establishes Secure Ammunition and Firearms Enforcement | 04/28/2014 | Yes |
The Assemblymember recently co-authored legislation with Republican State Senator Daphne Jordan to up the criminal penalties of committing a drive-by shooting after 11-year-old Ayshawn Davis was killed on Old 6th Avenue in Troy earlier this month.
He introduced legislation in 2019 with Republican State Senator Jim Tedisco (D-49) for courts to determine whether an offender should be held before trial based on their risk to the community and previous convictions — a response to what the pair of legislators, law enforcement agencies, and prosecutors considered a public safety defect in a bail reform measure passed earlier that year.
Santabarbara voted against the original reform but said in a press release that he does favor bail exemptions for non-violent minor offenders.
Miles, then a member of Citizen Action, opposed the bipartisan bill and claimed that it would roll back changes made to redefine violent crimes under the initial law. Bail reform had been favored by progressive activists and formerly incarcerated people, many of whom languished in jail while innocent.
"I think he is very comfortable leaning into a Republican position due to his district," Putman said. "He may see himself more as a moderate, but he is unashamed about teaming up with Senator Tedisco."
To be fair, Upstate New York is not reliably progressive, and his district, while majority Democrat — 27,000 active Democrats, 20,000 Republicans, and 2,500 Independents — was notably Trump territory in 2016. About 128,000 residents live in the district, a blanket of hilly countryside with Rust Belt urban pockets in Schenectady and Amsterdam.
Playing to Santabarbara's right, Delorenzo claims that Santabarbara isn't conservative enough for his constituency on a number of issues. Unlike Santabarbara, he's advocated for a full-repeal of bail reform.
Proponents of Santabarbara say that the Assemblymember has a likable personality and bipartisan appeal. Santabarbara has a mixed record on gun rights, which has opened him up to some scrutiny. He's taken progressive positions on abortion, education, and conservation. The father of an autistic teenager, he has been praised for his advocacy for those who have autism, even from Miles.
After ruling out a bid for the 46th State Senate District opened up by a retiring Republican, George Amedore, Santabarbara told the Daily Gazette in February that he identifies as an "independent voice" in the Democratic majority Assembly.
Black Lives Matter organizers across the region have criticized moderate public officials like Troy Mayor Patrick Madden, Saratoga Springs Mayor Meg Kelly, and Schenectady Mayor Gary McCarthy, for not supporting radical criminal justice reforms. Since June, local social justice groups have endorsed left-wing insurgent candidates, threatened primaries against incumbents, unearthed dirt on politicians, and organized demonstrations.
But Santabarbara's record with law enforcement hasn't attracted intense public scrutiny from the left.
He even has a strong relationship with Schenectady social justice activist William Rivas, who has extolled Santabarbara's "authentic" interactions with low-income residents at events. Throughout much of his tenure, the lawmaker has supported Rivas' COCOA House after school program, Save Our Streets initiative, and annual Christmas gift giveaway in the Hamilton Hill neighborhood.
Rivas, a criminal justice reform advocate, still believes that Santabarbara should be held accountable for his votes against criminal justice reform. However, judging the public official's character entirely on his connections with law enforcement, Rivas said, is wrong.
"It starts with that," Rivas said about Santabarbara's engagement with the community. "The truth is, if somebody is not coming from my community, how can they ever know how to authentically engage with my people if they don't first take part in it?"
Despite opposition to much of Santabarbara's platform and messaging on law enforcement, Stanley Fritz, political director for Citizen Action of New York, appreciates the lawmaker for being straightforward about his views. Fritz maintained that pushing Santabarbara in a progressive direction on criminal justice will require more community legwork.
"There was a time where you could very easily and with consistency and with no pushback get behind police officers," Fritz said. "I think those times are changing, and I think that it's time to wait and see what the organizing community says over the next couple of months."
A June report by Citizen Action and the Center for Community Alternatives called for candidates to reject contributions from law enforcement unions. Authors of the report found that a slew of lawmakers across the state made an about-face on bail reform after receiving campaign contributions from police groups.
Citizen Action hasn't endorsed Santabarbara against DeLorenzo.
During this year's Democratic primary, Citizen Action backed Sam Fein against John McDonald (D-108), Thearse McCalmon against Donovan McRae for State Senate District 49, and Patrick Nelson for State Senate District 43.
Senate District 49 overlaps with parts of Assembly District 111. McCalmon, Tedisco's progressive challenger, hasn't responded to comment on Santabarbara.
Miles believes that on-the-ground Black Lives Matter activists across the Capital Region are better suited to entertain radical change than elected leaders and state representatives.
"It's not Santabarbara," Miles said. "It's not any of our local mayors. They'll be the ones forced to do the things that the people demand."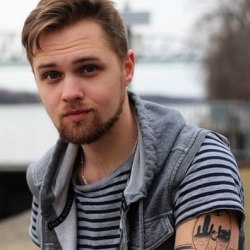 Latest posts by Tyler A. McNeil
(see all)