Housing activists to remain under Troy landlord's restraining order
January 11, 2021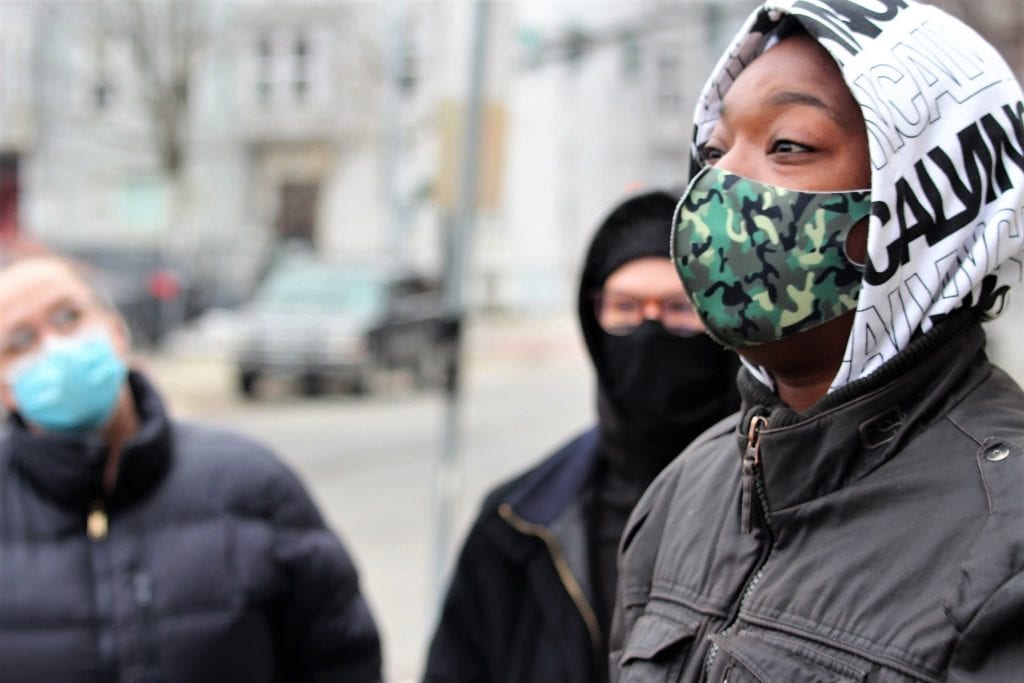 Three of four women arrested at landlord Michael Ginsberg's workplace in October while protesting an alleged eviction plead guilty to trespassing violations on Monday.
Queena Lana, Emily Kief, and Danny Smith are required to pay $120 in court fees and accept a year-long order of protection against them levied by Ginsberg. Authorities dropped Smith's additional charge of resisting arrest.
Rensselaer County prosecutors insisted that the group remain under a restraining order, which had been filed following protest by the landlord, a senior partner at Pattison Sampson Ginsberg & Griffin P.C.
In October, the group refused to leave the firm's parking lot until Chasity Moran regained access to her 4th Street flat. Ginsberg locked the 26-year-old out after, according to his account, she abandoned the property.
Defense counsel Mark Mishler characterized the protesters' actions as "civil disobedience" for a social justice matter.
"As sometimes happens in such cases, there's a penalty to pay because we live in this legal system that imposes penalties on people who engage in principled acts of moral courage," Mishler said after the hearing.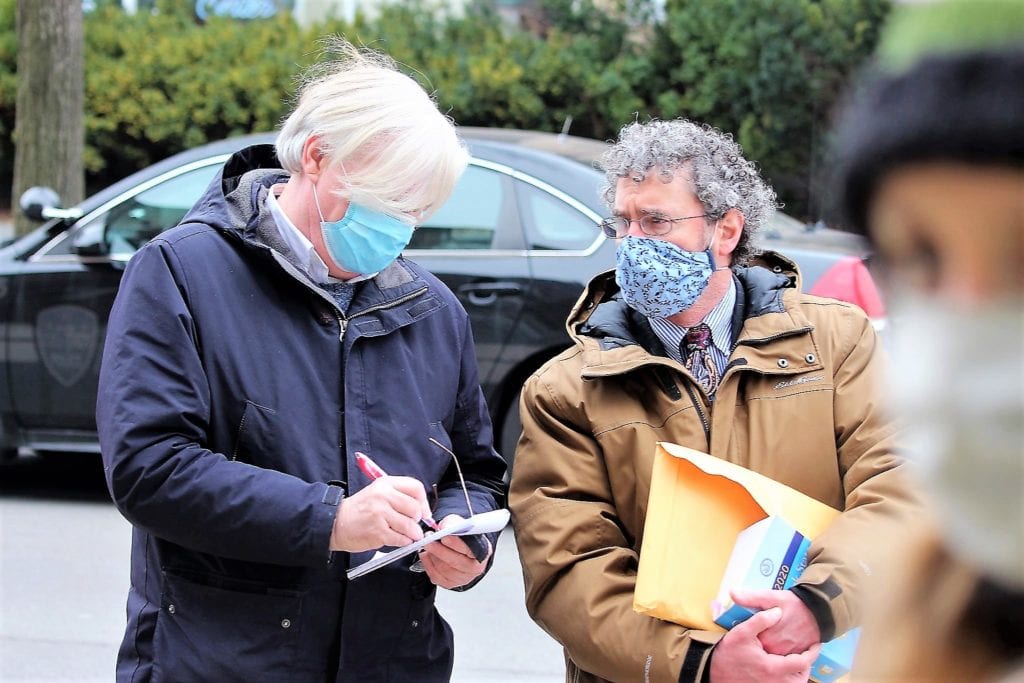 Ginsberg, who didn't respond to a request for comment at press time, has claimed that the protesters were misinformed and chaotic. They incessantly called the firm, knocked on the entrance door, and blocked employees from exiting through the back alleyway, he claimed.
A bevy of Troy police showed up at the scene and asked protesters to avoid trespassing on private property before making arrests.
Lana said that police failed to intervene after an unknown woman allegedly assaulted and threatened her at the October protest. Ginsberg has denied the report.
The activist also blamed police for not arresting the landlord after Moran claimed that she was illegally evicted earlier in October.
With the assistance of pro-bono housing advocate Caroline Nagy, Moran filed a complaint against Ginsberg days before the protest. According to Nagy's testimony, police advised Moran to break into the building.
"We would not be trespassing if [police] had done their job correctly," Lana said. "We stand for Chasity."
The group, including Luz Benbow, who pleaded not guilty to the charges, have self-identified as the "Ginsberg Four."
As a lead organizer for Troy 4 Black Lives and long-time racial justice activist, Benbow stands out among the four as a veteran leader.
Regarding her continued fight, Mishler said, "there are some additional questions that we're going to continue to work on."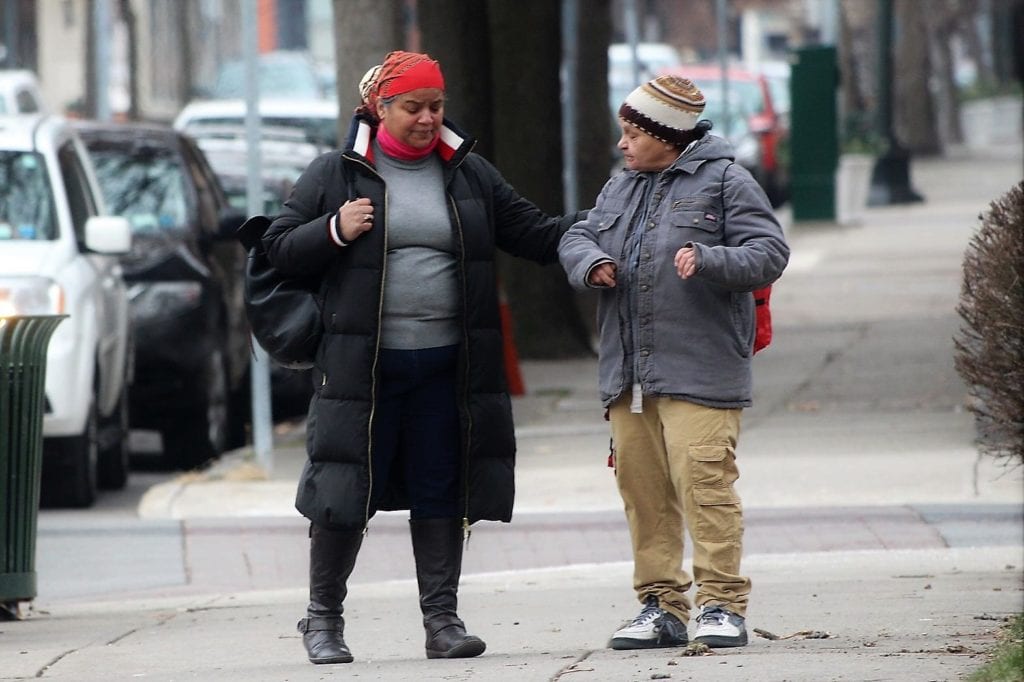 Moran's legal challenges, too, remain unresolved as Ginsberg, represented by fellow firm member Tom Lavery, demands $13,000 in unpaid rent and the OK to re-rent the flat.
Moran, represented by pro-bono attorney Matt Toporowski, seeks to move back in and requests $7,500 in damages and $10,000 in civil penalties.
The civil trial ended Dec. 14. Judge Matthew Turner hasn't delivered a verdict.
During the initial proceedings, Toporowski recalled Ginsberg and Lavery making flippant remarks while watching anti-eviction demonstrations organized by Troy 4 Black Lives.
"They're kind of like poking fun or acknowledging that there's these protesters," Toporowski recalled. "And just the whole thing is just a terrible taste in my mouth."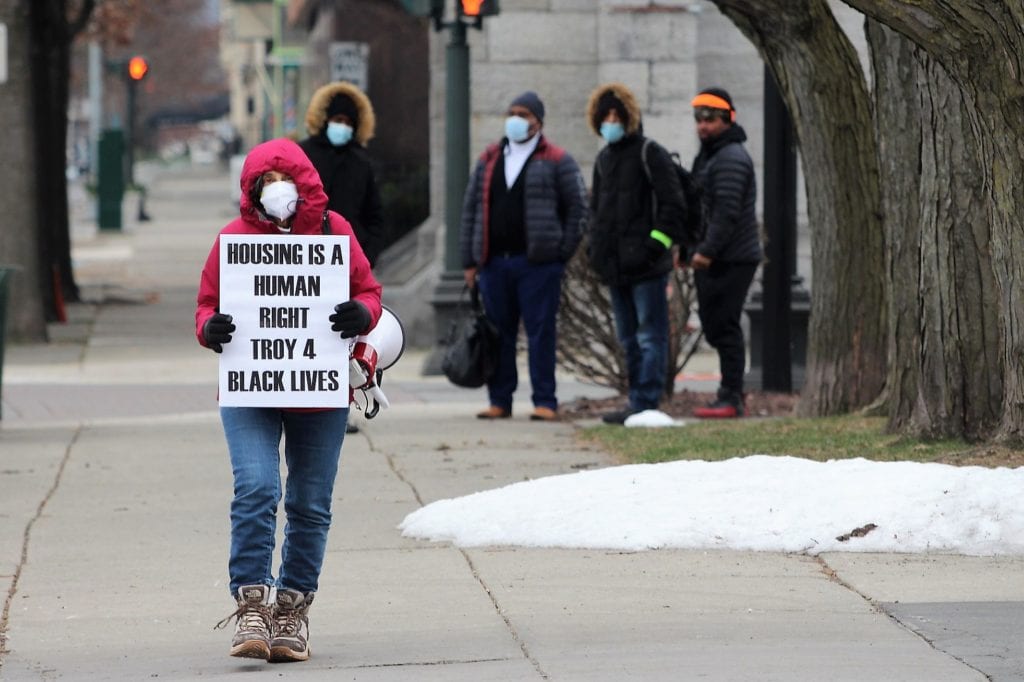 After protester Kristoph DiMaria chanted from the sidewalk on the morning of the  Dec. 11 trial date. Ginsberg, waiting for the court to open up, inched toward the window and commented on DiMaria. 
"There he is with the guitar," Ginsberg said while inching close to the window. "Did he bring an electric guitar?" 
While DiMaria played a folk jingle riddled with the landlord's name — apparently one of multiple songs since the proceedings began earlier that month — Ginsberg said, This might be heading for slander."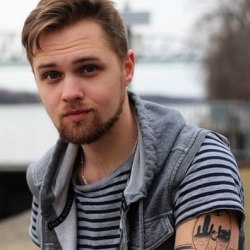 Latest posts by Tyler A. McNeil
(see all)