Ice cream parlor alleged racist hiring practices rankle Schenectady activists
June 30, 2020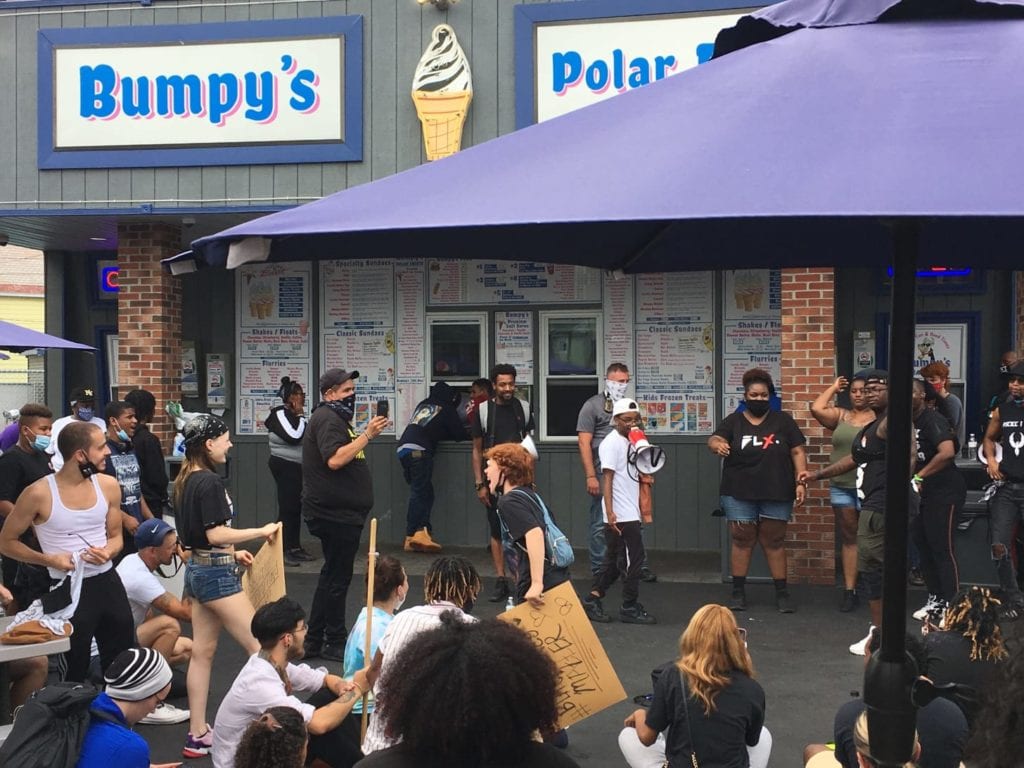 This article originally appeared on Them+Us Media
Denise Robertson stood outside of Bumpy's Polar Freeze Inc. on Sunday afternoon, clutching a megaphone. She stood, elevated, on a stone ledge as she gazed out into a crowd of rapt listeners. After taking a moment to steel herself, Robertson, a Black Schenectady resident, proceeded to tell a story about a painful experience she had been subjected to at the business.
Her powerful voice was amplified by the megaphone she held.
When Robertson visited the ice cream shop with her grandsons, David Elmendorf, the owner of Bumpy's, didn't allow them to play with the bumper boats attached to the ice cream shop, but let two young white children play with them. Aside from that, Elmendorf had, according to Robertson, muttered "now I'm serving my ice cream to little n*s."
By the time she finished telling her story, Roberston was visibly anguished. She said that it was unacceptable for her two Black grandchildren to be subjected to such hate; hate that she has also been a victim of her entire life.
Elmendorf was last week accused of sending text messages to one of his managers that were rife with racial slurs. He also said that he refuses to hire Black people.
"Black lives matter. I mean what I said. I've been through this all my life, watching, watching, watching, what has happened to my son. My grandkids," Robertson yelled to supportive shouts and applause.
Robertson was one of a large group of protestors who turned out on Sunday, led by local activist organizations All Of Us and BLX, a new, grassroots activist group dedicated to opposing white supremacy. The groups converged on the Schenectady ice cream shop and set up camp there for hours, demanding that the business close immediately.
The event revealed the way in which local protests and rallies, which have been frequent in the area and across the country over the last few weeks, have evolved into sharp, goal-oriented events. The afternoon swung between impassioned and angry pleas for justice and equality, to joyous dancing. It was a moment to reclaim for Black people a space which they had been locked out of.
Police blocked State street in either direction against traffic, but some nearby vehicles still honked their horns in solidarity with sign-wielding protestors.
The Bumpy's protest ended with three young Black male employees walking off of the job after a few hours of tense interactions between them and the protestors. At least two of the employees had been hired either that day, or the day before.
Messiah Anderson, one of those employees, left his post to cheers. He received a donation of $270 that was spontaneously gathered from protestors, as well as a promise for help with finding a new job. He said that he ultimately recognized the walk-out as his way to stand with his community and do the right thing for himself. Another job opportunity, he added, would come.
"Everything happens for a reason," said Anderson. "If the establishment is not wanted by a community, you have to go with your better judgment."
It was unknown as of Tuesday whether or not a new job had been secured for And25erson.
It was unclear whether or not Elmendorf was present at his business on Sunday, which closed just after 6 p.m. Officially, Bumpy's was not authorized to be open in Schenectady, after being slapped by the Schenectady County health department with a shutdown order over a health code violation.
But, throughout the afternoon, a few customers showed up to buy ice cream anyway. One family, upon hearing the protestors shouting "Black Lives Matter!" and "Don't buy from a racist!" through the bars that surround the shop, left.
A white couple, however, walked up to the Bumpy's window, bought ice cream without sparing the protestors a glance, and left.
The organizers seized an opportunity to shoot down the idea that a business which, in their own words, exploits Black money, Black bodies, and Black labor, could ever be allowed to operate.
"I see people big mad that they can't buy some ice cream from some racist piece of shit," activist Mikayla Foster yelled to the crowd outside Bumpy's. "White supremacy has no space, no place and no home in Schenectady," said Foster, who organizes with the Black-led Schenectady organization All of Us.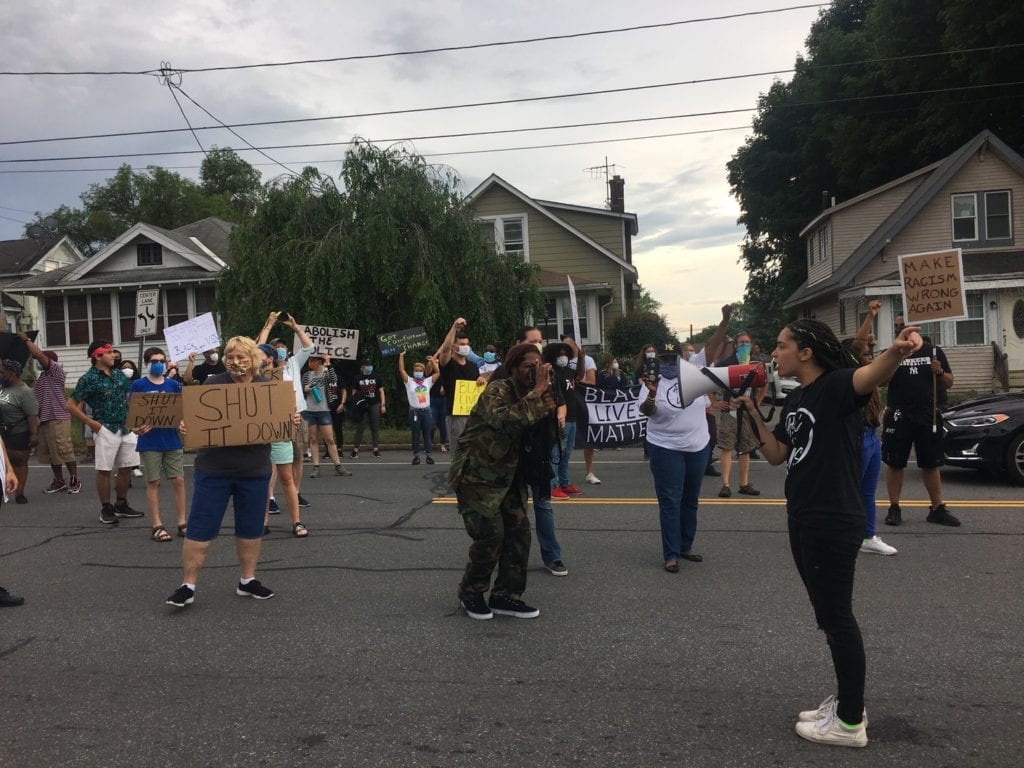 Others made the sometimes incoherent political symbols that adorned the Bumpy's building the target of their ire.
On the roof is a "Blue Lives Matter," flag, an American flag with a thin blue line across the middle horizontally, which is a symbol associated with support of police officers. According to the activists on site at Bumpy's who gestured angrily at the flag, the symbol developed specifically to hit back against the Black Lives Matter movement and against racial equality.
"I know y'all seen the Blue Lives Matter flag out there," Foster cried. "Because Bumpy's is fucking racist."
Right next to that flag was a rainbow flag, which signifies LGBTQ pride, as well as a flag with blue, pink and white horizontal stripes, which stands for the transgender community.
"Did y'all fucking forget who threw the first punch at Stonewall?" Legacy Casanova asked the crowd. (Casanova, who is a trans man, was referencing the 1969 New York City Stonewall Riots, considered to be a catalyst event in the progression of the gay rights movement in the Unites States.)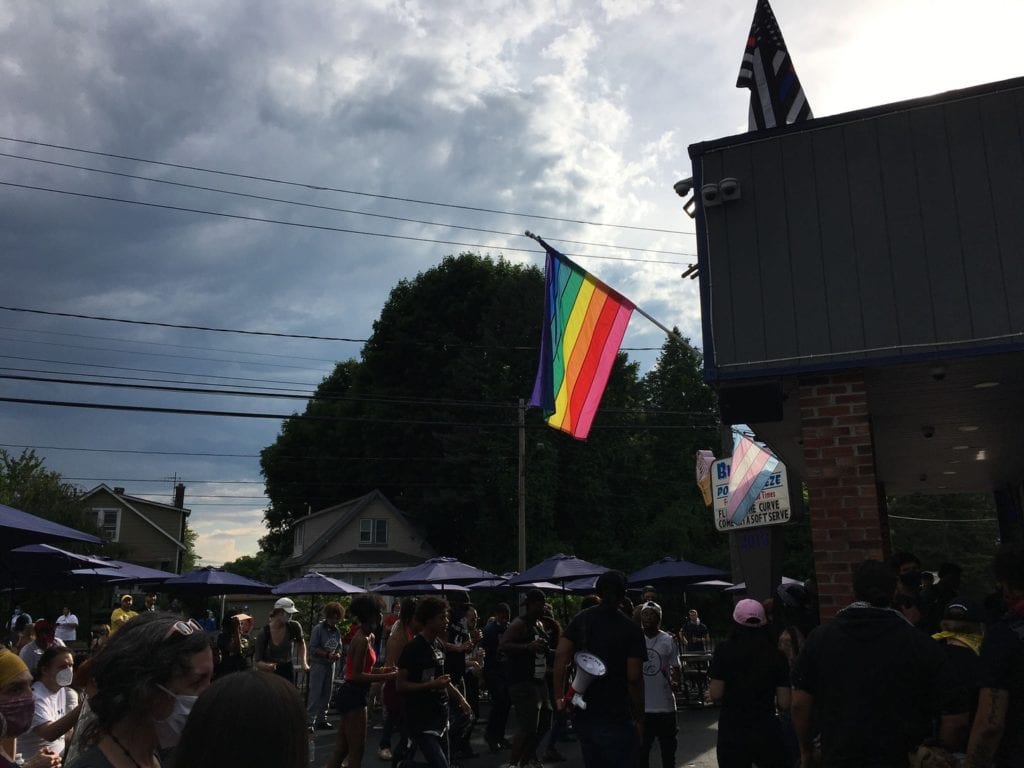 "Black trans women!" the protestors screamed back.
Throughout the protest, a petition circulated through the crowd demanding an end to Bumpy's.
However, the activists reminded the crowd that, while petitions have their uses, racist businesses rely on customers to continue to thrive, and standing up to systemic racism locally will require solidarity and direct action. It's important to hit such businesses financially, said the activists.
"When we remove you, we will replace you with Black-owned businesses," the organizers called, vowing to permanently shut down the ice cream store.
As the speeches on Sunday wound down, organizers promised that the Bumpy's shutdown was only the start. Any local business that participates in Black oppression, racism, and exploitation, they said, should consider their days numbered.
"We're tired. This has been going on for years, and we're not letting this shit slide no more!" BLX activist Aliyah Johnson said.
"It's been 400 years of uncomfortable for us," Foster added to raucous cheers. "So we're going to make you real fucking uncomfortable, Schenectady."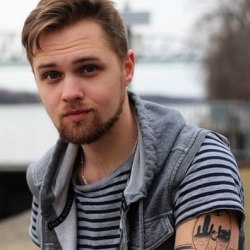 Latest posts by Tyler A. McNeil
(see all)