'I'm right here with the taser': Questions remain after police shoot man
A 911 call from an alleged home invasion robbery early Monday morning ended up with a man shot by police in the street a block away — and police not yet saying if the two events were directly related.
According to the Albany Police Department, at around 12:50 a.m. on Monday officers were called to Morris Street between New Scotland and Dana Avenues for the report of a group inside a home with a gun against a person's head. The dispatch reported no further details and said the call disconnected.
Around 23 minutes later, as officers were still searching the area for a suspect apparently fleeing the area on adjacent roofs, an officer reported a man walking on New Scotland Avenue with a "razor blade to a dog's neck."
Another officer can be heard asking "is anyone on with a taser", to which an officer confirmed he was on the scene with a taser. Around 20 seconds later the man was shot multiple times and critically wounded.
The Times Union identified the man as Jordan Young, a 32-year-old resident of Albany. Dr. Alice Green, a civil rights activist and executive director of the Center for Law and Justice, told the newspaper that she is serving as the family's spokesperson as they are in the hospital and considering their legal options. She said that the family confirmed that Young suffers from schizophrenia and bipolar disorder and carries a pocket knife when walking his dog. It's unclear if Young was involved in the preceding gun incident, but he is listed as having lived at the address where the initial police call took place.
"We're working with (the family), trying to get some answers for them and hoping that this young man survives," Green said at a New York State Writers Institute event Tuesday night. "The last I know, he was stable, but still is in critical condition."
Albany Police also confirmed to the Times Union that the man is Black, and the responding officers white. According to Dr. Green, Young had been arrested outside his home two weeks prior and the family is alleging he was beaten by police while in custody.
Police claimed that Young was carrying a knife when officers spotted him Monday morning. He then allegedly "sprinted" at officers with the knife in his hand, according to Police Chief Eric Hawkins, who told members of the media that he found the shooting was "unavoidable" after viewing body camera footage from three different angles. He did not release or show any of the footage to the press or public.
Following shootings across the country, it's now common for police departments to quickly release footage to answer rapid public outcry.
Common Council-member Gabriella Romero, who represents the 6th ward where the shooting took place, says she was briefed by Chief Hawkins on the day of the shooting and has been in contact with Nairobi Vives, the chair of the Community Police Review Board, about next steps. Romero was among three council members shown the body camera footage on Tuesday.
"After watching what transpired via body camera footage, I found myself asking many "what if" questions," Council member Romero said in a statement. "What if Albany enforced a rigorous procedure to de-escalate without using deadly force? What if the two officers that first arrived on scene were trained and equipped with tasers? What experiences or neurodivergence in Jordan's life led him to respond to the police officers with frustration and apprehension?"
Romero added that the CPRB should be seeing the footage by the end of the week and the chief has promised that it will then be released publicly. Dr. Green said she is expecting to view the footage on Thursday.
Throughout Monday and Tuesday, local community members and activists were making increasingly vocal calls to see the footage and many asked why a Taser wasn't used.
An initial statement released by Albany police did not mention the use of a Taser, but radio transmissions obtained by Albany Proper include an officer on scene twice reporting "Taser deployed" simultaneously along with "shots fired."
When asked by reporters on Monday morning, Hawkins would only say that he "believed an officer attempted to use a Taser."
"We asked if they had tried to use the Taser instead of shooting, and no one knows the answer to that question, which blows my mind," Dr. Green said. "They either used it or they didn't."
Albany Mayor Kathy Sheehan did not appear at the Monday press conference with Hawkins, but released a statement saying she was "grateful for the men and women of the Albany Police Department and my thoughts are with the officers involved in this traumatic encounter." The shooting took place four days after the city announced raises and a new contract for the union representing Albany police officers.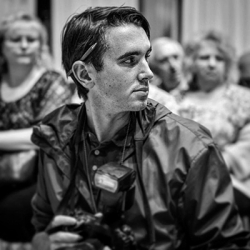 Latest posts by Patrick Dodson
(see all)