'In the dark': Troy activists urge streetlight triage to deter crime, anxiety
August 27, 2020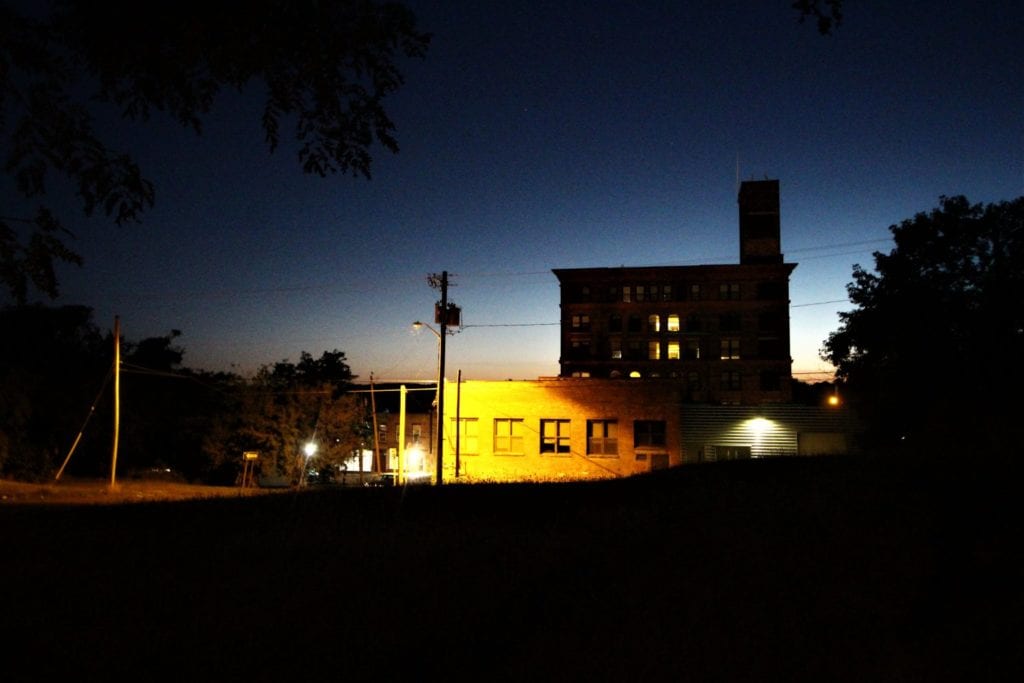 This article originally appeared on Them+Us Media
Shadows blanket a crumbling basketball court and a stretch of weeds littered with broken glass and hypodermic needles on Cragin Avenue. Not much farther, two lights, each with mustard luminescence, paint the front siding of three houses while the sound of fireworks and youthful voices fill the late-night summer air.
The surrounding neighborhood has long been flush with crime, including the fatal shooting of 18-year-old Donnovan Clayton on June 5.
He was shot in the dark.
A spate of residents believe that patches of darkness — stretches of pavement without streetlights or fixed bulbs, are part of the problem.
"I think if they were to light this park, there would be fewer people doing drugs in it, there would be fewer people shooting up," Cragin Avenue resident Elizabeth Heller said while standing in an unweeded field. She kept her dog close to avoid broken glass.
According to Heller, who will only go outside at night accompanied by her husband, the lighting is inconsistent. She pointed to one streetlight, which was once damaged for about six months.
Heller has been living at the end of Cragin Avenue for three years now where multiple shootings and a drug overdose have occurred nearby. One time, after alleged shooters escaped in darkness through the bushes next to the park, Troy Police asked Heller to install security cameras.
"Even if there were cameras, there's no way to see out here," she said.
Jose Campos, a resident who lives just south of 101st Street, the boundary between North Central and Lansingburgh, won't park his car in a poorly lit portion of 5th Avenue. There have been a series of vehicle break-ins in the same section.
The lighting is often broken even closer to Glen Avenue, he said.
Storms, car accidents, and shortages, are among typical reasons for disrepair, according to National Grid's regional spokesperson Patrick Stella. He claimed that 30 out of the company's more than 4,000 streetlights in Troy had been listed for repair as of last month.
"National Grid does patrol our streetlights and make repairs when we identify lights that are malfunctioning," Stella said in a statement. "We also rely on customers to report lights that are out."
City administration helps out, too. About every two months, a group of Troy Police spend a night patrolling neighborhoods for bulbs in disrepair. Traffic Department staff also periodically report damaged fixtures to National Grid.
There's only one municipal position committed to forwarding residents' complaints to National Grid as part of its description: the engineering aide. This person is also dedicated to connecting with other utility companies, installing sidewalks and curb cuts, traffic striping, and managing the city's seasonal paving program.
Chip MacLasco, a former Water Department employee, has occupied that position since March. The role was previously held for 15 years by Paul J. Carroll, who retired in October. An assortment of municipal employees managed streetlight reporting during the interim period.
MacLasco is still "feeling in" his position and digitizing a list of damaged streetlights, according to Deputy Mayor Monica Kurzejeski.
"I'm not sure where he is in that process as far as being able to have a full document and a running document somewhere of exactly what you're talking about," Kurzejeski said in a meeting with streetlight activist Rhea Drysdale and Them & Us Media on Aug. 7. "But it's certainly something that we have to really bring online when we're going to self-manage that."
Kurzejeski is the lead coordinator behind the city's pending push to buy streetlights from National Grid and upgrade each head to LED. Currently, the city only owns a handful of streetlights, which were set up in Congress Park for a film, Martin Scorcese's Age of Innocence.
For now, the deputy mayor believes monitoring should be a "team effort." The city doesn't have the personnel numbers nor the financial capacity to dedicate resources to reporting street lighting, Kurzejeski said.
That felt like a watered-down message to Drysdale, who believes that there should be at least one staff member dedicated, more than MacLasco, to patrolling and forwarding street lighting complaints to National Grid.
Kurzejeski claimed that there are a number of community members that already report outages to the city.
"It has to be done in a partnership, Rhea," Kurzejeski said. "And I understand the 'them and us' mentality, but this community has to pull together in order for this to be collectively good."
---
For more than a month, community activists Tasheca Medina and Drysdale advocated for sweeping street lighting improvements. They even organized an event to address the subject, Light Up Troy.
In the beginning, the pair believed that National Grid was blocking's city administration's attempt out of a contract (that was unfounded); that the city pressured Susan Dunkel, owner of Sweet Sue's Copper Pot, to keep her permit for Monument Square despite her reportedly offering the space for Light Up Troy (Kurzejeski denied that); Medina and Drysdale repeatedly claimed that Carroll's position was unfilled (it wasn't).
Drysdale explained that much of the misinformation before Light Up Troy, sometimes expressed publicly, was a result of ill communication with primary sources in City Hall, especially with Kurzejeski unavailable for a fraction of late July and early August.
She's been in contact with Kurzejeski mostly through email since the Aug. 7 meeting, mostly harping on the deputy mayor to release a third-party streetlight audit. Drysdale added that National Grid provided details aplenty about street lighting logistics, but acted indifferent to the pairs' demands.
Light Up Troy Demands by Tyler A. McNeil on Scribd
(Bob Shevy, National Grid's Troy account manager, expected Drysdale to forward a list of unreported lights from Light Up Troy attendees. It didn't happen.)
"I am just dumbfounded by the attitude that this community — again a community that may not have internet access, or food or housing — has to report every outage to National Grid or the city in order to have it fixed," Drysdale said in a phone call. "That is not public works, that is not public service, and there are just so many things wrong with that."
Drysdale counted about 70 streets with flickering, dead, or dim lighting infrastructure last month while cycling and filming alongside friend Jay Nova after dark.
Touring Them & Us Media via car through Troy after dark on July 28, Drysdale frequently turned her headlights off to show neighborhoods swallowed in darkness. At one point, 10th Street was so dark that the dashboard's cyan glow was the only light touching Drysdale's face.
"Hi Tyler, do you want to get murdered?" Drysdale said in a deadpan tone.
Though she has lived in Troy for 13 years, Drysdale didn't walk around in the Hillside neighborhood until one day — ditched by a drunk friend after work, refusing to call a ride-hailing service out of COVID-19 worries, and sharing one car with her husband, who was home with children asleep — she decided to walk from Downtown Troy to her suburban residence in Frear Park. The 37-year-old woman on July 6 was catcalled and once offered a ride from a strange pick-up truck.
Drysdale's isolated experience walking alone in the dark, Medina said, revealed significant disparities in living conditions between Troy's middle class and lower class enclaves. "She was terrified and I say 'hey, I go through this all the time.'"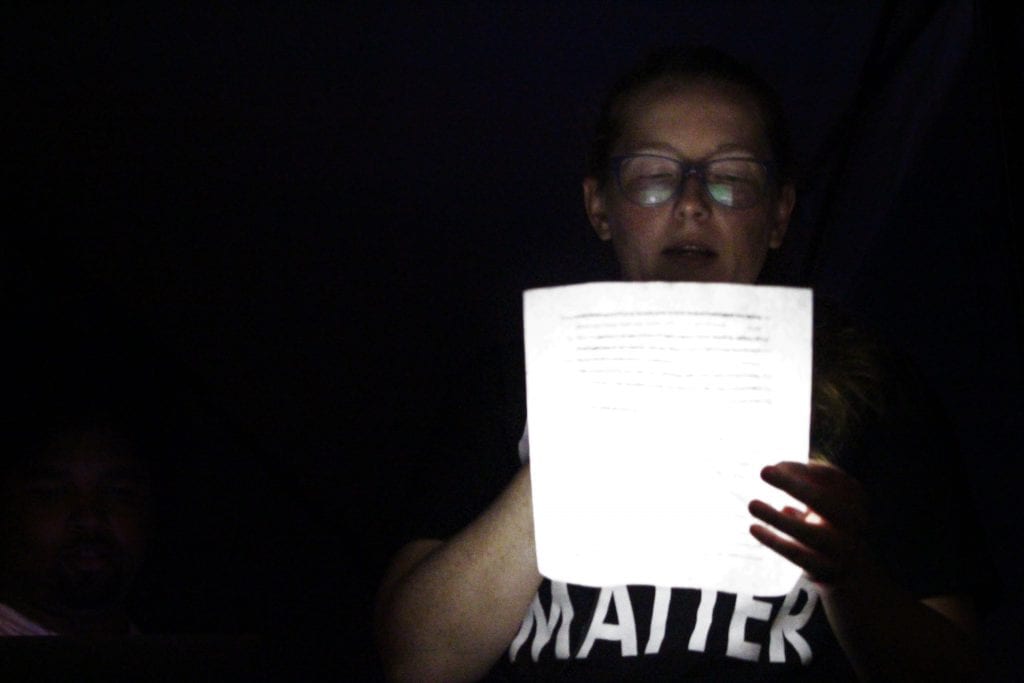 As early as the 1930s, Medina's neighborhood, North Central, as well as swaths of Lansingburgh, South Troy, Hillside, and Downtown Troy, had been "redlined" — labeled on maps as an investment risk for mortgage lenders and insurance providers. It was often neighborhoods that had significant populations of people of color that were rated the highest-risk for finance. Federal law banned redlining in the 1970s, but the devastating effects of sustained divestment across decades have led to poverty, blight, and violence in Troy and in urban areas across the country.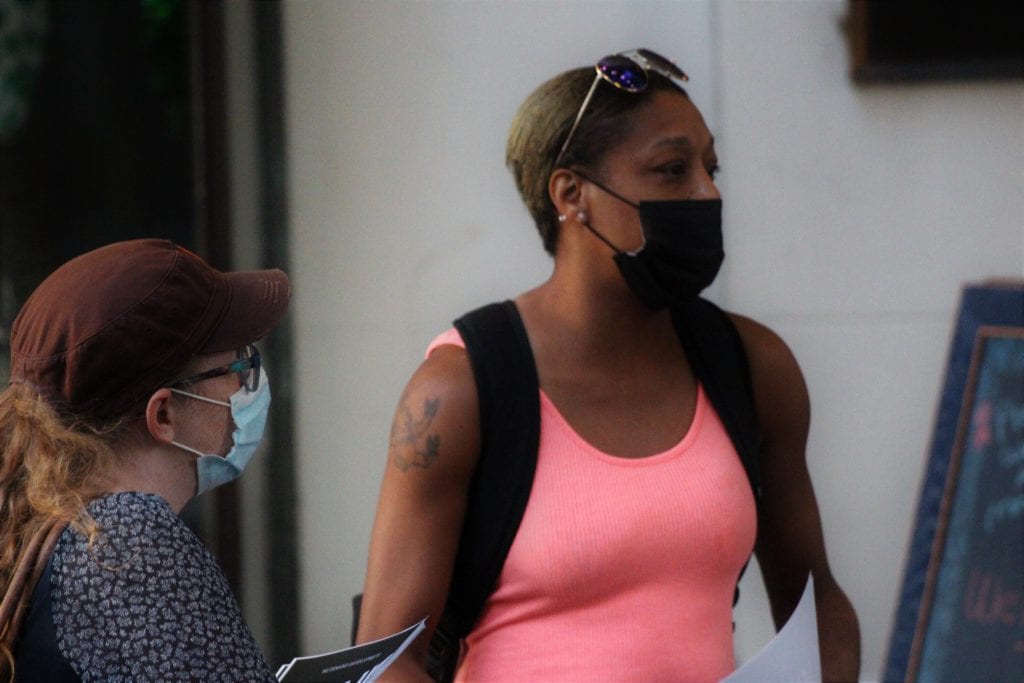 Drysdale and Medina's street lighting campaign is focused on prioritizing lighting additions, repairs, and upgrades in formerly redlined neighborhoods. Carless residents living in dark, high-crime areas, they say, are more vulnerable to physical danger and anxiety.
Some studies show that brighter levels of light can elevate the amount of time people spend walking, bolster community spirit, and increase the number of people outdoors. North Central and Hillside residents suggested brighter neighborhood lighting to increase the "perception of safety" in focus groups facilitated three years ago by poverty reduction program One Troy.
After numerous shootings nearby, Medina fears going outside at night or even visiting a bodega. Medina's own son was shot in an alley just above 101st Street last September. He survived. She still thinks about the perpetrators who were able to flee the scene of the crime in the darkness.
"If you look at the areas where the shootings are happening, it's pitch black," Medina said.
University of Chicago researchers in 2016 found that felonies and property crimes dropped more than 35% throughout newly lit areas in New York City.
Comparable research has uncovered inconsistent results. Lighting experiments only reduced crime in a handful of American cities, a 2007 systematic review found. Trial results from another study in 2015 showed that areas with decreased lighting in England and Wales had unaltered crime rates.
Them & Us Media asked National Grid if the company has studied street lighting and crime.
"National Grid's mission is to provide safe and reliable energy to more than 1.6 million customers in Upstate NY," Stella responded in a statement. "As far as lighting needs, we rely on our municipal customers to bring us their street lighting plans so we can work with them to provide that service."
---
"[National] Grid is everywhere today on the lights," local socialite, business owner, and close pal Vic Christopher texted Drysdale on July 29.
During a nearly week-long patrol, National Grid was spotted predominantly around Monument Square and the Collar City Bridge. Drysdale and Medina had previously joked that they were hallucinating repaired street lights across the city.
National Grid's Troy account manager, Bob Shevy told local operations earlier that week to focus on Drysdale's list as well as other broken bulbs to provide better lighting in the downtown area for Light Up Troy and another event the same night, Troy Night Out. Concurrently, 518 Craft owner Jeremy Cowan also requested several lights fixed around Monument Square to brighten outdoor seating for his guests.
Local operations already had a backlog of 30 unrepaired lights at the time. National Grid has a self-imposed five-day window to make repairs on reported damages unless it's wiring-related.
"It's good to have [Drysdale's list] because some of those weren't on our list," Stella said. "We weren't aware of them, but we go out there and repair them as quickly as we can."
Typically, only one engineer is assigned to fix broken street lights in Troy, Waterford, Latham, Watervliet, and Cohoes during weekdays. However, three trucks patrolled the area because of the list.
After 18 reports, Medina called it shameful that she had to make a "spectacle" to get the company's attention. Drysdale opined that the patrol was a public relations stunt.
"We make repairs every week," Stella said in response to Drysdale's assessment.
National Grid is no stranger to criticism. Consumer advocates argue that the company's expansive reach hinders competition within its territory, allowing unfavorable price control. Its local service has a one star rating on Yelp, a 1.8 star rating on Facebook, and a 2.5 star rating on Google Reviews — all of which include mostly negative grumbles on household billing rates for gas and electrical services.
The company currently serves about 26% of the Upstate New York population, which is 8% of its total coverage in the Northeast.
Carroll, the city's former engineering aide, received about 20 calls praising the utility provider for its work among a vast majority of complaints in his 15-year run on the job. The 55-year-old retiree is convinced that the company received more slack than it deserved.
"They got a job, they got so many things going on and they do the best they can," Carroll said. "That's all I can say."
When National Grid bought Niagara Mohawk Power Corporation in 2002, it inherited a chunk of streetlights across Upstate New York. Municipalities like Clifton Park and Colonie have pushed for direct ownership following state legislation passed in 2015 to empower public entities in streetlight negotiations and convert infrastructure to LED-grade technology.
Officials in Mayor Patrick Madden's administration started discussing streetlight improvements in late 2016. Looking to secure funding for upgrades, they went with neither National Grid — despite the public utility offering $4 million-plus offers in 2018 and 2019 — nor a municipal bond from the New York State Power Authority, which had been the city of Albany's approach.
Private company Siemens Industry Inc. last August won a bid to help purchase and convert all of the city's luminaires and upgrade other city-owned utilities through a $9.7 million loan.
Here's how Kurzejeski expects the remaining process to bear fruit:
Each year, streetlight maintenance charges take up nearly half of the city's electric bill. The purchase will save about $1 million annually.
While using less energy, LEDs can last upwards of ten years longer than the current lineup, high-density sodium streetlights.
Long-term cost savings granted from so-called energy-efficient facilities and LED luminaires will eventually eliminate Troy's debt to Siemens Industry Inc.
The city will have more autonomy over broken streetlights.
Smart City technology located in LED nodes opens the door to scheduled dimming, video cameras, custom events operations, emergency assistance, asset management, parking monitoring, and public WiFi.
Siemens Industry Inc. has already upgraded utility systems at the Knickerbacker Ice Rink, the Troy Police Precinct, six fire stations, City Court, two Public Works facilities, and two parking garages.
Street lighting upgrades remain a work-in-progress. Price negotiations have been ongoing for nearly a year now. According to Kurzejeski, a company-wide pricing formula glitch in the winter and pandemic-induced deceleration throughout the spring hindered progress between city administration and National Grid.
City attorneys are currently reviewing the final sale document. Kurzejeski didn't disclose the price, but said it is "just a couple hundred thousand dollars cheaper than it was in savings."
After the Madden administration sends out a letter of intent to purchase streetlights, National Grid has upwards of three months for review and after that, likely another three months to process an agreement through the state-run Public Service Commission.
Based on the current rate, Kurzejeski expects the conversion to begin come 2021.
Once installations begin, the deputy mayor said that the city will consider replacing lights in high-crime neighborhoods early on, among a number of other factors. Kurzejeski added that city officials haven't had any "formal discussion" on the relationship between street lighting and crime "but you certainly know that it's there when you go to an area to put the lights back in."
"When we looks at these areas, say it's a high-crime area or a high-traffic area, we know it's a high-traffic area, or we know there's a lot of accidents, we'll analyze this area and say, 'do we need to add more light here or do we need to take one of the lights out," Kurzejeski said.
FBI data shows an overall five-year decline in reported violent crime across the city between 2015 and 2018, 428 to 283 offenses, and a six-year property crime dip between 2,182 reports in 2014 and 1,411 reports in 2018. Daniel DeWolf, a spokesperson for the Troy Police, told CBS6 that calls dipped during the peak months of the Coronavirus, but later reported that crime was on the rise further in the spring.
---
Medina and Drysdale believe poor lighting is a public health crisis and neither the city nor National Grid, they claim, are stepping in quickly enough to assist the matter. Nearly two months into the initiative, they're still looking for officials to satisfy their list of demands.
Drysdale has even considered physically marking poles with broken lights from street to street to get the city's attention.
"We have kids running around, playing in the street because some of their parents are in jail," Medina said at Light Up Troy. "They're out here, fending for themselves and instead of the city and officials that we elect to do something about it, they leave us over there in the dark and let us know that our lives do not matter on this side of town [North Central]."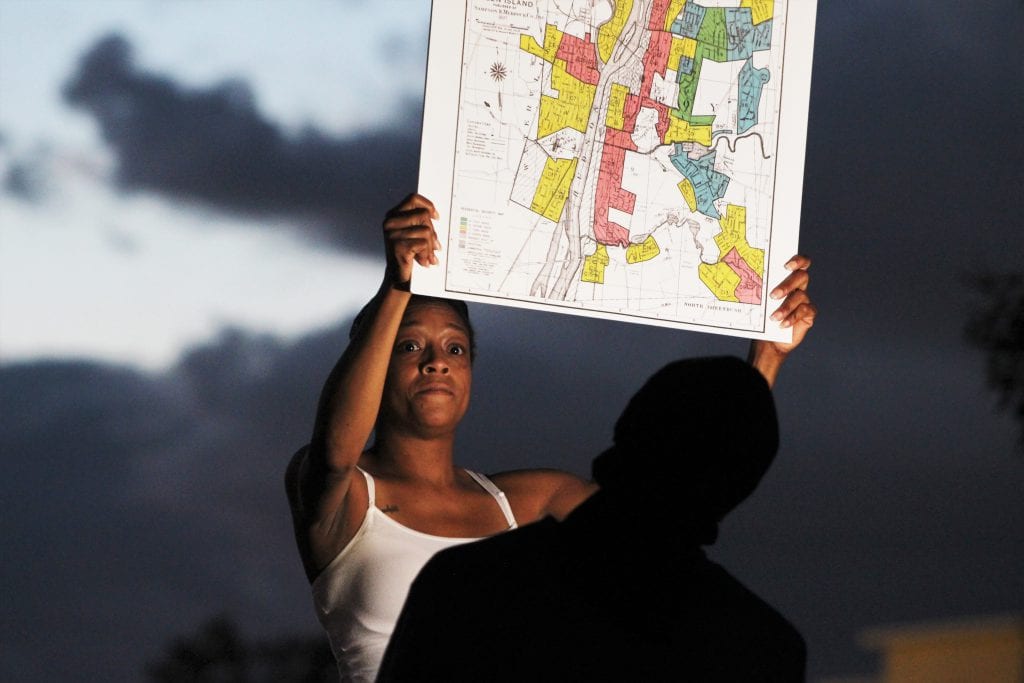 It's a South Troy problem, too, said a raspy woman in her fifties on Hill Street. She recently discovered "little orange needles" on the sidewalk close by her South Troy home. The lifetime resident refused to disclose her identity.
"[I wish] you could see all the people who are friggin' hiding out there in the dark," she said. "I'll get it straight: the drug dealers."
Emphasizing criminal activity, she pointed down the street to the Troy Food Market. It was burglarized three times this year.
Drew Patel, a business partner at the neighborhood store, painted a picture of where some suspected burglars have escaped in the past. The canvas was mostly black.
"Night time is very dangerous," Patel said.
Two months ago, the family-owned business bought and barred windows and brighter LED storefront in an effort to deter crime. Open until 10 p.m., it's a static beacon of the block, outshining the closest tangerine-colored street lights nearby.
Nearly two miles north, the brightest lights aren't always beaming from street poles, but 40-watt solar-powered LED building attachments.
Since January, 80 out of 100 LED torchlights have been installed in North Central and Hillside under One Troy. The remaining LEDs will be distributed by the Troy Rehabilitation & Improvement Program (TRIP) in the darker fall months.
Beverly Hickman, 65, offered torchlights from house to house as a member of the project after COVID-19 delayed the handout process. Property owners had the final say on installations in the largely multi-family unit area. A challenge for Hickman, North Central, and Hillside are teeming with absentee landlords.
"I can't reach them to sign the waiver and I just show [tenants] the lights," Hickman said.
Absentee land ownership is among a slew of intersecting quality of life issues in the area targeted by One Troy: vacant and abandoned buildings, food insecurity, unemployment, crime, and childhood poverty.
The Empire State Poverty Reduction Initiative funds the program. Through a request from city administration, ESPRI provided Troy groups with a total of $600,000 last year.
Under a state-enforced deadline, One Troy has until March to pass out 20 torch lights. The LED attachments can only be distributed between 101st Street to Hoosick Street as a stipulation of the grant.
It's a limited effort, acknowledged Christine Nealon, president and CEO of TRIP.
"There are some street lights that need to be added or replaced," Nealon said. "So, I don't want to represent ourselves as the answer, but this is one way for folks to be involved and to have a little bit of corporate power so to speak."
National Grid last upgraded from mercury vapor to high-density sodium streetlights in the early 2000s. HPS luminaires were an industry standard across the country for about 30 years until the 2010s.
Serving two terms in office, a flurry of constituents in Downtown Troy and part of Hillside have complained to Councilmember Anasha Cummings about inadequate street lighting. Cummings has worked with city administration on purchasing and conversion plans as chair of the Planning Board.
"The core of it is, as is most of our infrastructure in the city, old and defunct," Cummings said.
In comparison to LEDs, HPS luminaires typically have a narrower light spread, shorter lifespan, more heat, and emit an orange or yellow glow.
But if implemented improperly, it can have drawbacks, too. The American Medical Association in 2016 suggested cities use a dimming feature on LED lights during off-peak periods. Too much LED brightness impairs vision in dark areas, providing a false illusion of safety, as well as blindness and environmental pollution, AMA reported. The U.S. Department of Energy argues that much of the dangers lack evidence.
In response to citywide LED rollout plans late last decade, some Philadelphians expressed concern over potential ecological hazards and sleep complications. Others in the major Pennsylvanian city have even requested lights brighter than 100-watts in high crime areas.
According to Kurzejeski, residents recurrently complain about poor street lighting in neighborhood meetings. The deputy mayor said that many don't know about the reporting process until the city tells them.
Complaints don't always get rattled off to public officials. Councilmember Sue Steele, who represents Hillside and Frear Park, claimed she didn't hear about broken streetlights from constituents since her term began in January (Drysdale, who lives in the district, asked Steele about the sale and conversion in early June, in which the councilmember said she would reach out to Kurzejeski).
Steele has witnessed two luminaries out for nearly six months near her home on Peoples Avenue, though. She's confident that city ownership would increase repair response time and even reduce nearby traffic accidents.
"As far as reducing crime, that's very complicated," Steele said. "There's a lot of factors that go into crime reduction."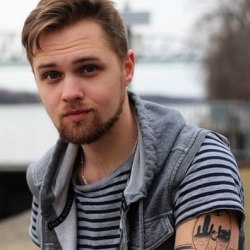 Latest posts by Tyler A. McNeil
(see all)