Is Lukee Forbes right about Coccadotts' white supremacy?
August 19, 2020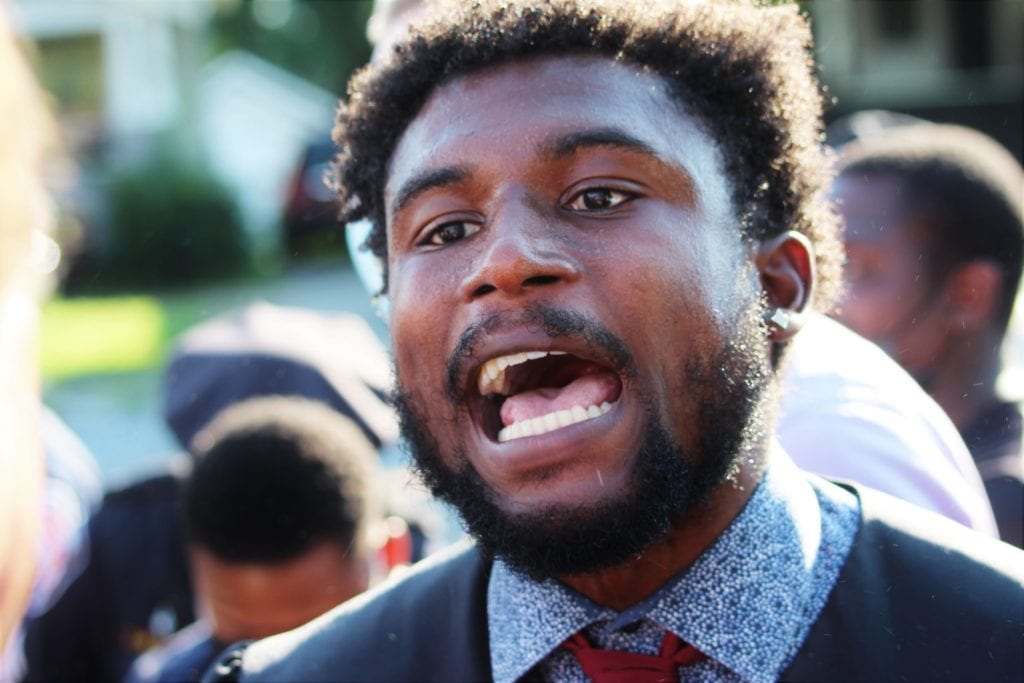 This article originally appeared on Them+Us Media
A driver leans hard on the horn as his pick-up truck whizzes down Central Avenue. It's a blatant show of support, but it's impossible to know who the driver is supporting. There were two competing protests happening outside Coccadotts Cake Shop in Colonie.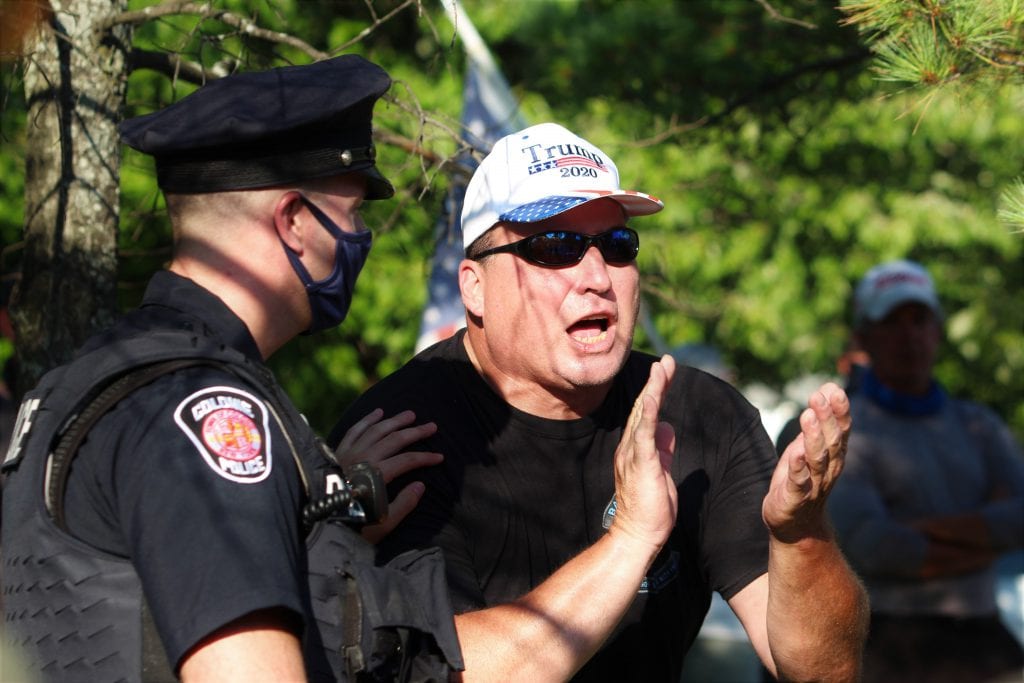 The first cohort of protesters on Thursday afternoon were local Black Lives Matter supporters who were fired up against cake shop owner Rachel Dott's alleged racial insensitivity. The second? Right-wing counter-protesters. About 20 Black Lives Matter protesters were separated from the sea of about 50 mostly-white, mostly-Trump supporting counter-protesters by a line of Colonie police officers, who told press that they were "just trying to keep the crowds separate."
Lukee Forbes and Legacy Casanova stylized the protest as a trial of Dott and her husband, Luke, owner of next-door Dott's Garage.
Forbes even wore judge robes and pounded on a gavel. He yelled "order in the court" at the rowdy, angry pro-Trump crowd, to peals of laughter.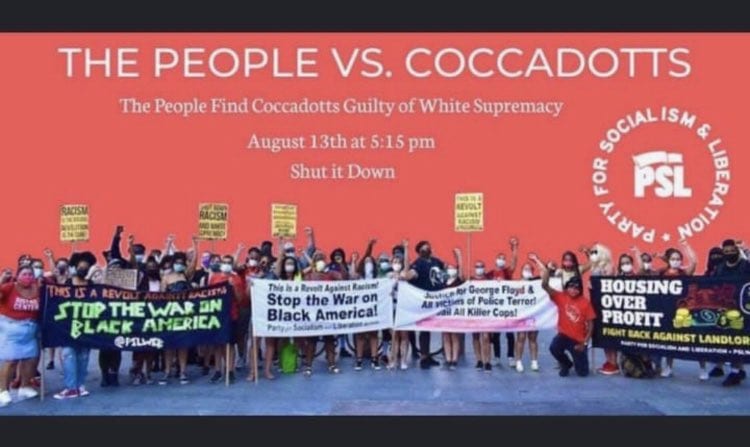 "Court is adjourned!" someone shot back at Forbes and his comrades.
"It's just Cancel Culture," a pro-Coccadotts protester told Them & Us Media. "It's just taking things down that you don't like because you don't share the same views."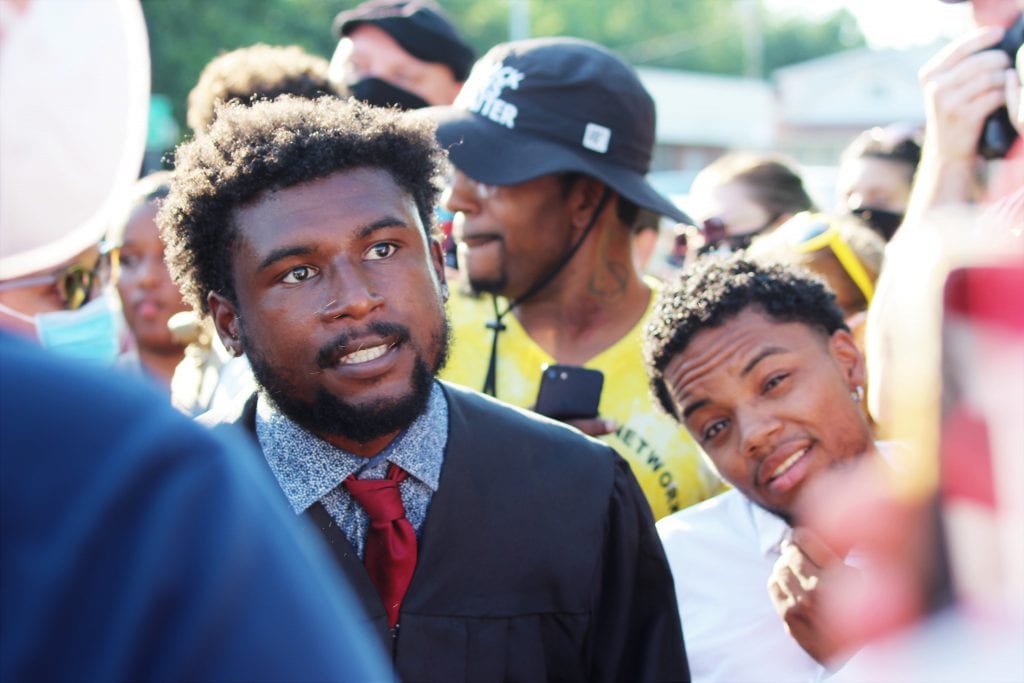 "Go home, commies!" bellowed another, as Forbes shouted into a megaphone.
"This is fascism!" yelled another counter-protester. "You're fascists!"
The Black Lives Matter protesters say they were motivated primarily by reports that years ago, Dott fired her then-co-owner for being gay. (These reports were never confirmed and Dott's former co-worker lost his lawsuit.) But it is true that Coccadotts has only come onto the radar of the racial justice movement recently; it was only two weeks ago that images of a Trump-themed Coccadotts cake surfaced.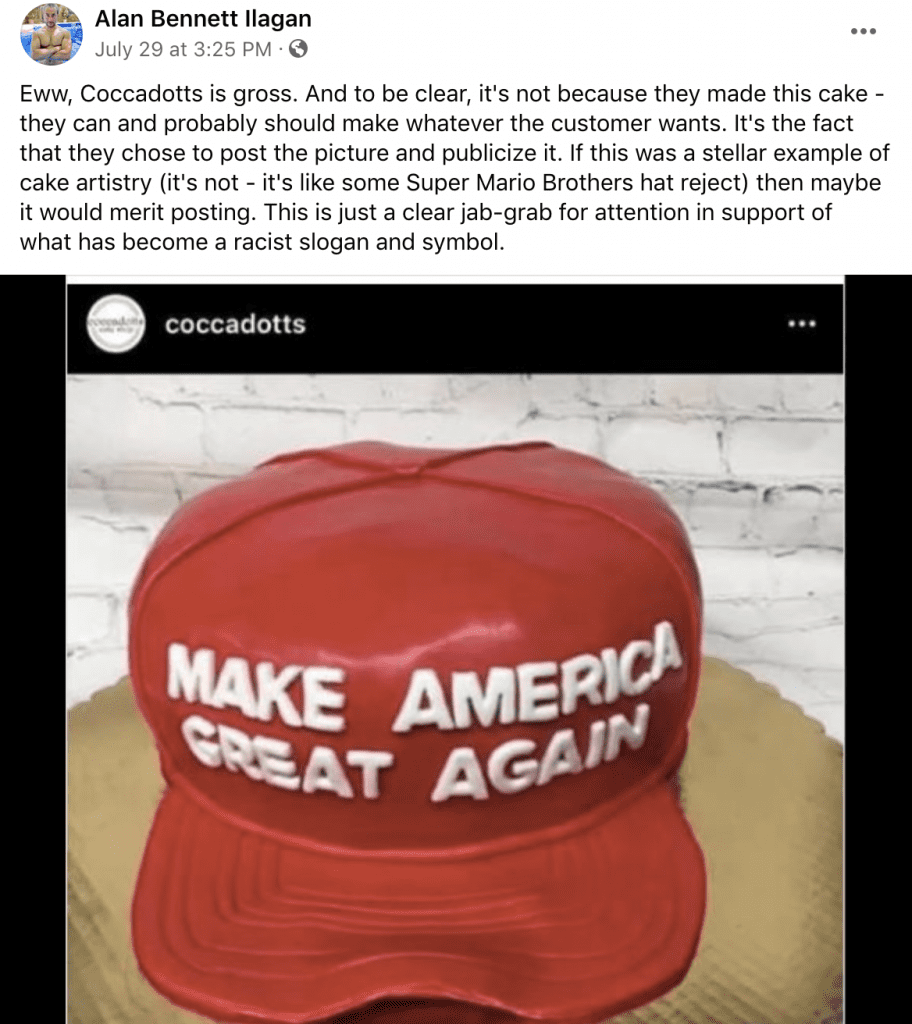 Casanova, one of the primary organizers, confirmed to Them & Us Media that the Trump cake was not the reason for the protest.
"The media has been making it seem that [the protest] was about the cake," Casanova said on Monday.
"It wasn't about the cake. No [social media] post has said it was about the cake. Because [Coccadotts] has a right to their political views, but they don't have a right to do social injustice."
It isn't only, however, the "social injustice" of alleged homophobia that has these activists angry.
"Coccadotts protest was not because of a cake! It's bc of their perceived loyalty to white supremacy & hatred of the LGBTQ community," reads a post written by activist Tasheca Medina. Forbes and Casanova shared the post.
The "perceived connection" to white supremacists rests in the activists' belief that Coccadotts is connected to white nationalist organizations, including the Proud Boys, which is a national hate group recognized by the Southern Poverty Law Center.
Casanova told Them & Us Media that "the whole thing with Coccadotts is white supremacy. Members of the Dotts family are Proud Boys. One of the Coccadotts' ladies has Proud Girl pictures."
In an Aug. 4 Facebook post, Lukee directly accuses Rachel and Luke Dott of being Proud Boys.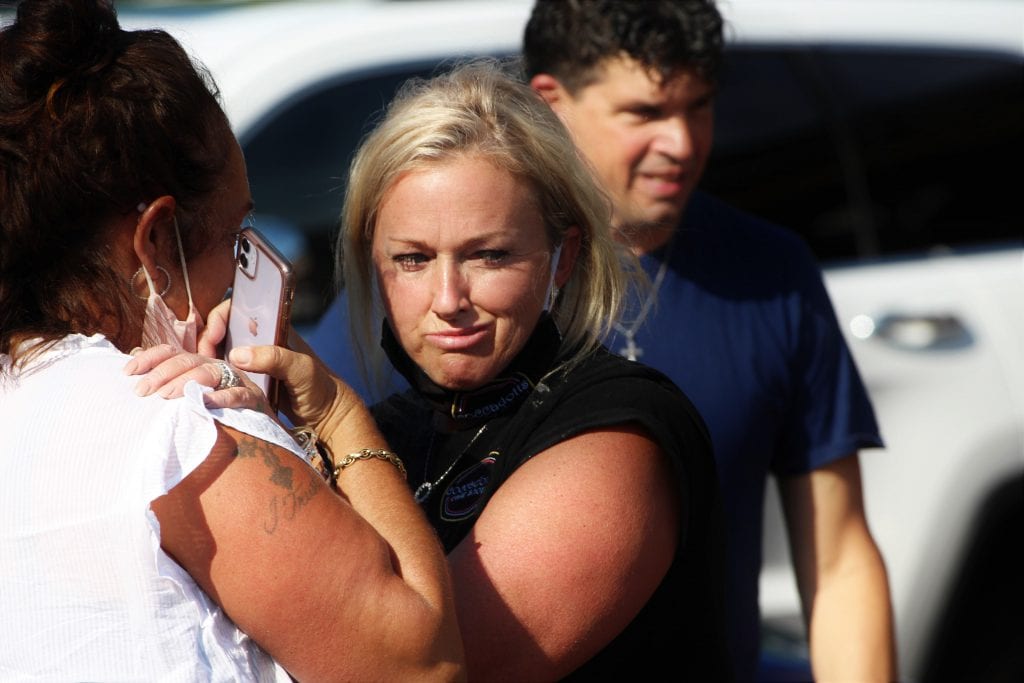 However, this connection has not been proven, there is no evidence for it, and it is denied by Coccadotts' owner, Rachel Dott.
A woman identified as "Erica Cocca" was in 2017, identified on anarchist website Love and Rage Media as a member of the Proud Girls, a women's group associated with the Proud Boys.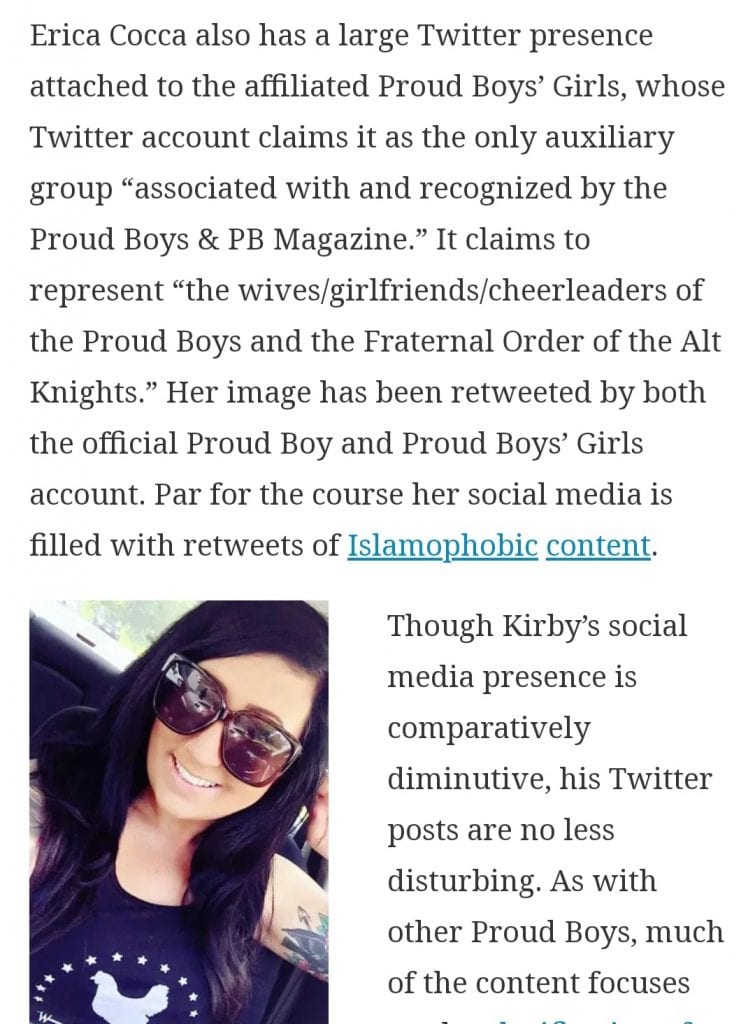 This screenshot from Love and Rage Media's website is what Forbes directed Them & Us Media to when questioned on Coccadotts ties to the Proud Boys,
There is no evidence that Erica Cocca is associated with Coccadotts at all, nor is she the owner, as Forbes has claimed. The owner of Coccadotts, again, is named Rachel Dott, whose maiden name is Cocca.
The picture of Erica Cocca looks markedly different from Rachel Dott. Dott confirmed to Them & Us Media that Erica Cocca has nothing to do with Coccadotts.
Another allegation is that Coccadotts is supported by Grace Baptist Church, a Lansingburgh independent fundamentalist Baptist church that has significant alt-right leanings. Forbes believes this to be so because American Shooter Supply, a gun supply store on Central Avenue in Colonie, not far from Coccadotts, has vocally supported both the cake shop, President Donald Trump, and Grace Baptist Church on its Facebook page.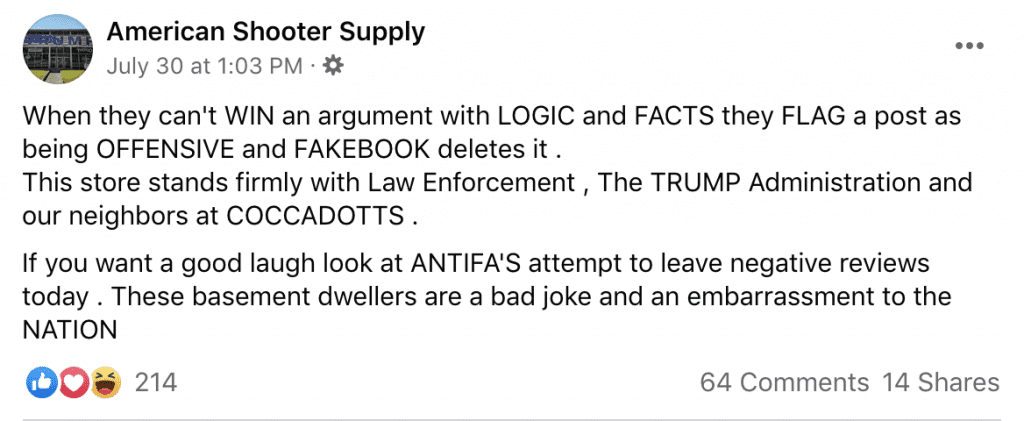 "I definitely believe that," Forbes said when asked if Coccadotts shares the same views as American Shooter Supply because the gun store supports Dott.
When Casanova was asked if condemning Coccadotts' for the views of American Shooter Supply was a kind of guilt-by-association, Casanova agreed and said that it was, but also said that isn't a problem.
"You ever hear the saying, birds of a feather flock together?" Casanova asked.
Forbes noted that neither representatives from Dotts' Garage nor Cocadotts told their defenders — many of whom held "thin blue line" flags, Gadsden flags, and who wielded pro-Trump imagery — to get off their property. However, Black Lives Matter protesters and media were asked to stay off Dotts' property.
Another public Facebook post, written by Forbes, declares that "the owners of DOTTS Garage and Coccadotts affiliation with the proud boys is a conflict of interest with the county's code of ethics according to article 18 section 806 and 805-A(d) New York state general municipal law."
Forbes is referring to state statute under which each municipality in New York must have a code of ethics. These rules usually apply to conflicts of interest — whoever is employed by a municipality must not have outside interests that would unfairly influence them in their actions.
When questioned on whether the Dotts' supposed affiliation with the Proud Boys was the reason why activists believed there was an ethical violation, Forbes spoke about Dott's Garage's relatively low rating on Yelp — unsurprising for a company that tows cars for parking violations — and its' D- rating from the Better Business Bureau, which the garage received for failing to respond to two complaints against it.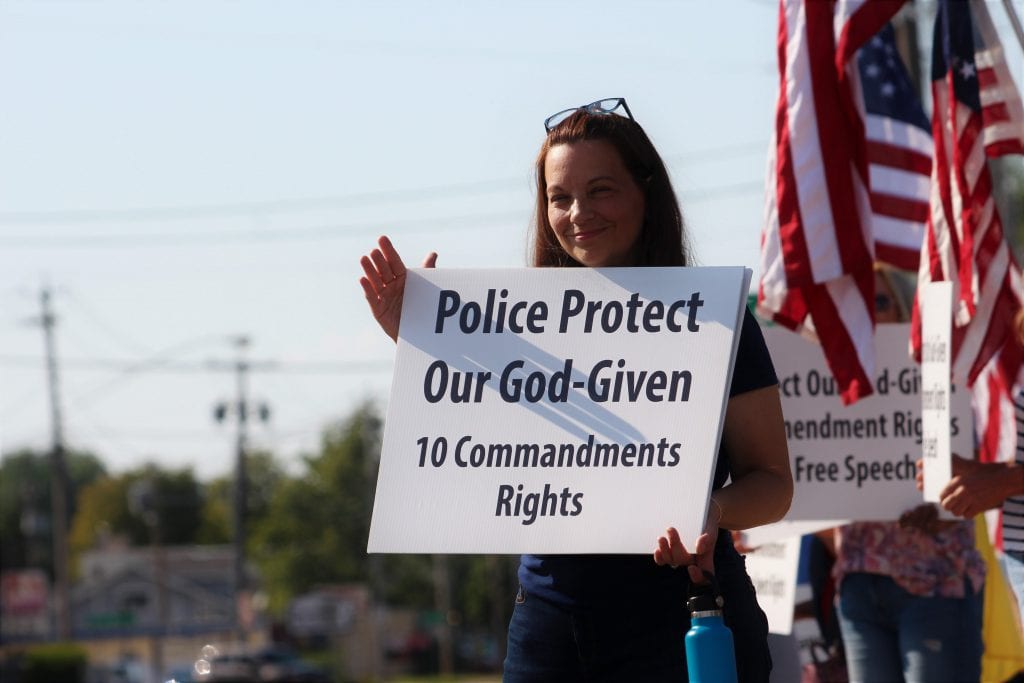 Again, it is unclear that either of these marks against Dott's Garage Town of Colonie ethics standards. Dott's Garage is contracted by the town.
"If something came to our attention, we'd explore dumping a contractor," said Tim Macpherson, an attorney with the Town of Colonie. "For example, if someone were to write to us, we'd have to do an internal review."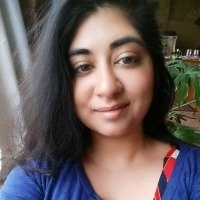 Latest posts by Jaya Sundaresh
(see all)