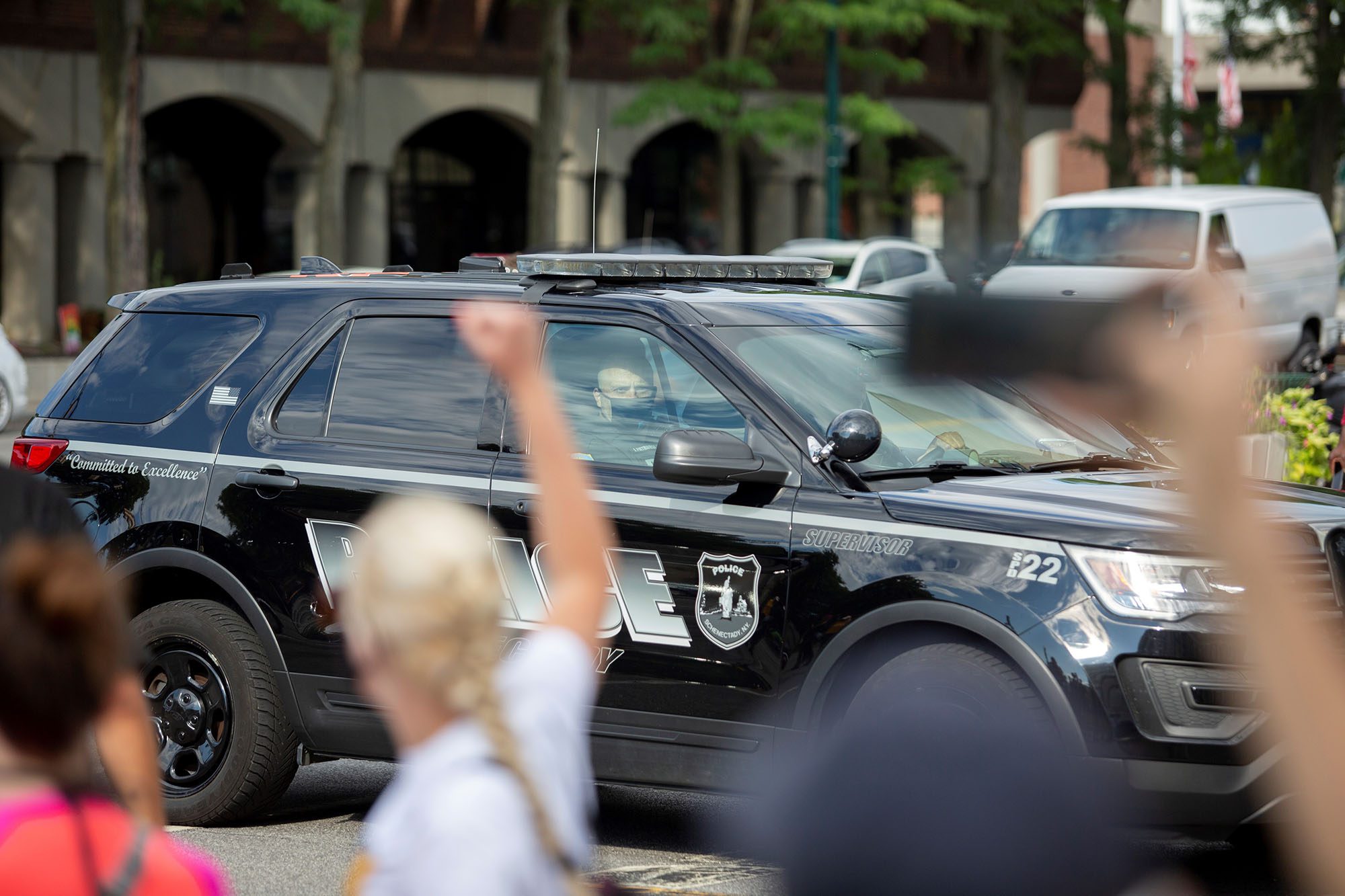 Schenectady school board approves cops-in-schools proposal
UPDATED MARCH 31st:
The Schenectady Board of Education voted 4-3 Wednesday evening to approve a controversial plan to put more cops in city schools.
The plan would expand a pilot program that launched late last year, establishing a permanent police presence in the district.
Under the contract between the district and the city police department, six officers would be assigned to city schools, with one in the high school, three in the middle schools and a supervisor floating between the Washington Irving Adult & Continuing Education Center and Steinmetz Career & Leadership Academy.
Voting against the plan were Jamaica Miles, Erica Brockmyer and Nohelani Etienne. Voting in favor were board president Cathy Lewis, Bernice Rivera, Ann Reilly and Princella Learry.
The meeting was lengthy, with many residents speaking against the proposal, though some voiced support for it.
One speaker, a senior at Schenectady High School, suggested that the Board put the cops-in-schools proposal before voters.
"Electing people whose sole responsibility is to represent us but don't take our thoughts and concerns into consideration is a bit of a slap in the face to the people of this community," she told the Board. "I genuinely hope you will do the right thing and let the people speak for themselves if you won't listen to them."
The district's contract with the police department runs through the 2024-2025 academic year and will cost about $300,000 annually.
---
The Schenectady Board of Education is expected to vote Wednesday on a controversial proposal to expand the number of police officers in district schools. 
Last year the district launched a pilot program that placed two veteran city police officers at Schenectady High School.
Under Superintendent Anibal Soler Jr.'s proposal, four more officers would patrol city schools, with three cops at each of the district's middle schools and one supervisor floating between the Washington Irving Adult & Continuing Education Center and Steinmetz Career & Leadership Academy.
The agreement between the school district and city of Schenectady would establish a long-term police presence, with "community engagement officers" assigned to city schools through the end of the 2024-2025 academic year.
Though the cost of the pilot program was covered by the police department, the enlarged cops-in-schools program will be funded by the school district. It will cost $300,000 in its first year, and increase by 2% annually in subsequent years.
Gherian Foster, a Schenectady resident who works in the district and whose son is a senior at Schenectady High School, told Albany Proper that there have been some behavioral issues at city schools but "I'm really saddened to see that the first go-to is 'Let's police them.'"
"I think about the investment we could be making literally anywhere else in the district," Foster continued. "It starts with the students and talking to them and finding out what they're experiencing and what they need."
At a Board of Education meeting earlier this month, the proposal received sharp criticism from city residents, who questioned whether it would really make students safer and pointed to studies suggesting students of color are more likely to be arrested than their white peers when police are present in schools.
"Do I feel Schenectady could be doing a better job when it comes to safety?" said Raechel Mullin, who has four children in Schenectady schools and also works as a paraprofessional at Oneida Middle School. "Yes. But policing is a slippery slope. … Authority and intimidation is not how to get the best results. We could use more counselors and paraprofessionals. The truth of the matter is that these children don't need policing – they need love and compassion."
Soler has said he sees the program as a way to improve the relationship between the community and the police.
"We're not asking them to be a heavy," Soler told the board of education in February. "We're asking them to come in and build relationships with kids."
He rejected the notion that cops in schools increase the likelihood of youth getting ensnared by the "school-to-prison" pipeline.
"There's no definitive evidence that a cop in a school is going to send someone down that road," Soler said.
District documents describing the community engagement officer program say it is "designed to provide law enforcement, education and counseling to District students, and is an attempt to deter criminal behavior through positive interactions with students during school hours."
The plan for police officers in Schenectady public schools grew out of the state-mandated police reform process that the city embarked on in late 2020.
That effort came out of the anti-police brutality protests that occurred in the aftermath of the death of George Floyd, with many pushing for dramatic changes in how communities of color are policed.
Though many activists called for a reduced police presence, many municipalities have gone in the opposite direction, increasing police budgets and launching new police programs.
Foster said students of color were deeply impacted by the social justice protests of 2020, as well as the school closures and shuttering of support services caused by COVID-19.
"Our students are in a way different situation because of what COVID did," Foster said. "There's a real need and they're crying out for support and I'm so sad they're receiving such a militant response."
Latest posts by Albany Proper
(see all)