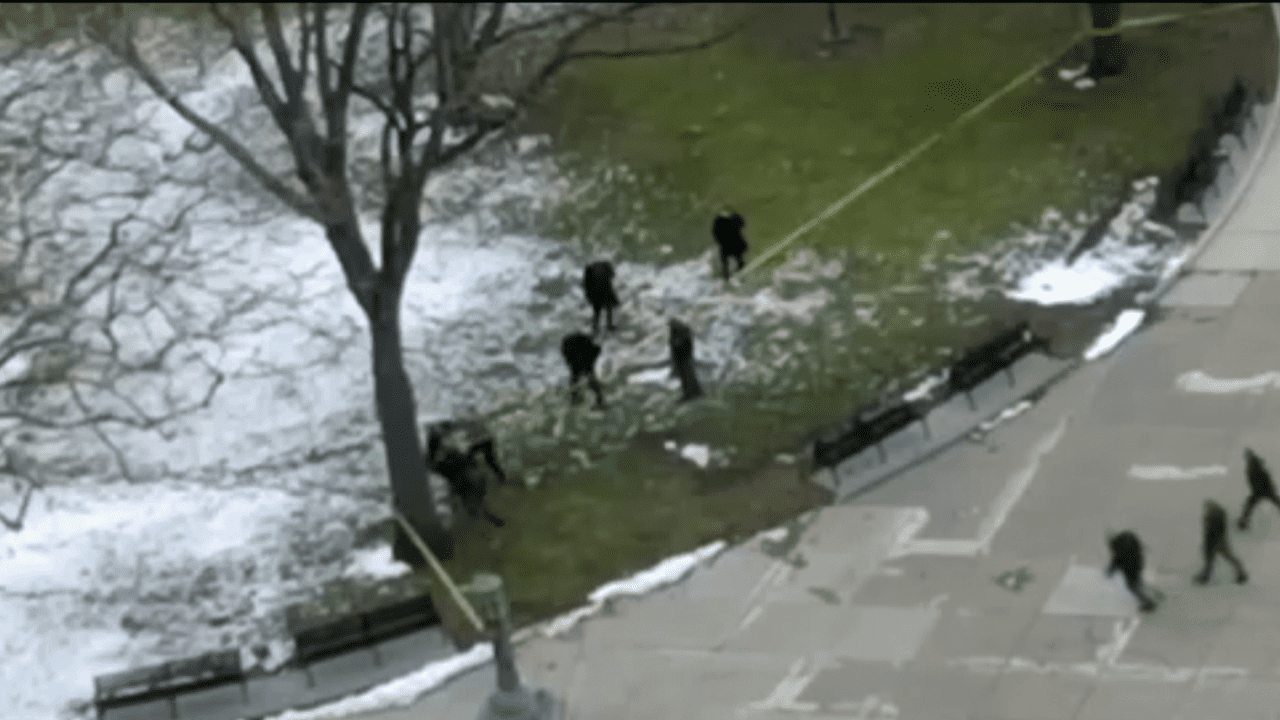 State police sacked a Black activist. January footage shows swift, dramatic escalation
At least 11 state troopers appear in recently obtained footage charging towards a recumbent Black activist, Lexis Figuereo, 22 seconds after he was caught entering a freshly-taped crime scene in East Capitol Park. Figuereo's body was covered within a blink's time.
The area was ground zero for a clash between "Stop the Steal" rally-goers, including the far-right Proud Boys, and counter-protesters the same day, Jan. 6. Figuereo arrived in Albany from Saratoga Springs as the melee simmered, 50 minutes before experiencing violence directed at him.
"I think that you have a group of officers that were fed up to that point that they were honestly just probably looking for a reason to put their hands on somebody," said Jasper Mills, Figuereo's defense attorney.
Around 12:15 p.m. the activist considered cutting through a crime scene en route to drive his car unlocked away from Trump supporters on State Street. This is what two security cameras atop the Capitol building captured as he reached the yellow tape:
Trooper John Rinaldi caught Figuereo on the cusp of entry. Additional forces across the park slowly moved in.
Figuereo gestured towards State Street before inching back to the tape.
Rinaldi appeared to grab at the activist as Investigator David Hurley arrived.
Upon exit, both men sacked him from two directions. Campaign hat-donned surrounders subsequently poured in.
Troopers engaged in a quick tit-for-tat with fellow left-wing activist Brandon Brown, who stormed in from Washington Avenue. Bystanders have posted clips of Brown restrained.
Police lifted up Figuereo's body after covering him for more than 40 seconds.
The inaudible footage sheds some light on the lead-up to Figuereo's arrest, a chronicle of escalating actions re-hashed by witnesses and officials under conflicting narratives.
"After being told that he was under arrest Figuereo attempted to quickly walk away from the arresting officer," state police spokesperson Kerra Burns said in a statement.
Brown, who stood around a group of BLM activists near Washington Avenue at the time, recalled Figuereo slowly walking away before Rinaldi and Hurley face-planted his comrade.
On the ground, Figuereo suffered an asthma attack as multiple troopers allegedly pressed on his back and neck with illegal knee holds. Brown reportedly suffered the latter treatment while arrested face-down.
State police have since brushed off the allegations.
"If anything, somebody could've got seriously hurt or killed as we've seen," Figuereo said in reference to past cases, including the death of George Floyd last May.
Figuereo suffered several cuts and bruises to his face and hands, as well as a sprained wrist. He rejected immediate medical treatment to avoid spending more time in custody.
Pictured in city police body cam footage, the bruised and wide-eyed arrestee in custody told officers that he eventually complied to marching orders.
"It was uncalled for," Figuereo told Albany Proper. "If anything, the cop [Rinaldi] could've walked me to my car or some shit."
BLM supporters blasted the arrest as racially-biased and excessive. Local social justice nonprofit All of Us supported legal fees.
Figuereo accepted a plea deal of $150 for disorderly conduct from Albany County prosecutor David Szalda on Tuesday. He was originally charged with resisting arrest, assault, disorderly conduct, and criminal possession of a weapon — a collapsible tracking stick described by police as a "black expandable baton."
Hurley wrote in a Jan. 11 incident report that Figuereo and Rinaldi sustained facial abrasions from a "brief struggle." Both Hurley and Rinaldi initiated arrest before the suspect "started to flee," the document noted.
Figuereo was among four East Capitol Park arrestees named in a troopers division news release Jan. 7. The agency updated the narrative in March to include charges against right-wing rally-goer Dominic Wierzbicki, who allegedly used a taser during the early melee.
On the day of Figuereo's arrest, police only released details on the apprehension of Alexander Contompasis, a white anarchist accused of stabbing two members of the Proud Boys.
Burns explained that the agency released information "as available" per an active investigation.
Mills disputed that.
"Picking and choosing what information to release and picking and choosing what information to publish or to keep quiet," Mills said. "It's not anything new."
Activists have challenged the law enforcement narrative since it surfaced in early press reports
News affiliates far and wide regorged the police narrative, which vaguely mentioned Figuereo "physically resisting arrest" and troopers having him "subdued." In press statements, authorities didn't include the amount of time bridged between the melee and alleged encroachment.
Multiple stations did not immediately respond to a request for comment. News10, which had a videographer on-scene, declined to comment.
Darrell Camp of TALK 1300, a right-wing radio station, was the only reporter to publish raw footage of police after they tackled, as reported, "some guy who just started to run." Camp later clarified that he was too busy interviewing rally-goers to capture proceeding moments.
The footage captured officers bending their knees near Figuereo's upper body and holding him down. He appeared motionless on the ground.
Figuereo first publicly addressed the experience in a Jan. 7 videocast interview with Shawn Young, an organizer for All of Us. 518 Independent and Albany Proper were the first media outlets to publish his claims against police.
Traditional media outlets, Figuereo claimed, didn't seek out his testimony early on.
The Times Union contacted both Figuereo and Brown in January, according to Editor-in-Chief Casey Seiler.
Their coverage of the park chaos, Seiler said, sourced both officials and cross-ideological witness accounts, including members of the Proud Boys. When asked about the credibility of law enforcement narratives, Seiler touted the newspaper's record on police accountability.
"The police are more obliged at least to give an official response to journalists who inquire," Seiler said. "Activists, be they the right or the left or participants of any broad, confusing incidents are not obliged to talk to you, but you are obliged to reach out to as many as you can."
Seiler highlighted coverage of a press conference co-hosted by All of Us lead organizer Jamaica Miles, Young, and Figuereo as an example of activist-sourcing efforts. From the event, the newspaper underscored claims of biased policing without directly mentioning police brutality allegations.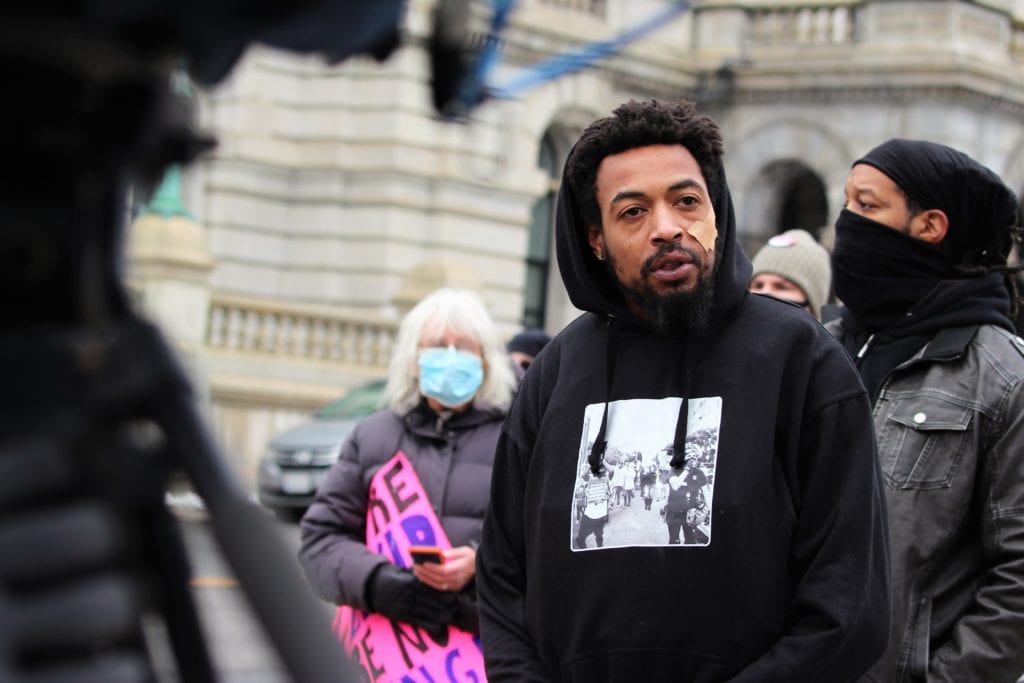 Activists at the press conference addressed the violent police encounter, Gov. Andrew Cuomo's handling of underlings, and police-fed press coverage.
Miles is convinced that the press conference didn't set the record straight. In a later interview with Albany Proper, she claimed that hasty, press release-sourced reporting left a scar on the local BLM movement.
Crime reports should be handled by the press delicately because "there are people involved."
"These are impacted folks that have their own story to tell that are demanding we get to tell our stories and that white mainstream media isn't going to whitewash it and tell it for us," Miles said.
Figuereo expects to soon file a civil lawsuit against state police.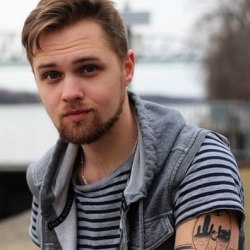 Latest posts by Tyler A. McNeil
(see all)