Troy PBA President posts meme some say is insensitive to protesters
June 6, 2020
This article originally appeared on Them+Us Media
The president of the Troy Police Benevolent Association (PBA), Nick Laviano, yesterday posted to his Instagram story several memes that seem to display a contempt for Black Lives Matter protestors, according to Troy Democratic Socialists of America (DSA)*.
Nick Laviano, @TroyNYPolice PBA President, justifies police brutality before it even happens. @MayorMadden will you finally stand up for the people of Troy against the violence and provocations of the TPD?? @CBS6Albany @timesunion @troyrecord @NY1 pic.twitter.com/uvdgFExBW2

— Troy DSA (@TroyDSA) June 6, 2020
Morgan Johnson, a member of Troy DSA, said that to her, the quote sounded "pretty offensive."
"I read 'protecting the sheep' meaning like white fluffy Trojans from the wolves, meaning #Black Lives Matter. I don't know if that's how he meant it, but that's how we read it," she said.
After Troy DSA posted screenshots of the meme on Twitter, commenters made the connection that the quote was popularized by Dan Grossman, a nationally-known law enforcement trainer who has been criticized for advising police officers to use excessive and lethal force against civilians.
An excerpt from Grossman's book details his view that society can be classified as "wolves," "sheep," and "sheepdogs."
"Then there are the wolves," the old war veteran said, "and the wolves feed on the sheep without mercy." Do you believe there are wolves out there who will feed on the flock without mercy? You better believe it. There are evil men in this world and they are capable of evil deeds. The moment you forget that or pretend it is not so, you become a sheep. There is no safety in denial.
"Then there are sheepdogs," he went on, "and I'm a sheepdog. I live to protect the flock and confront the wolf." Or, as a sign in one California law enforcement agency put it, "We intimidate those who intimidate others."
Laviano, when contacted on Sunday, did not deny that he posted the meme.
"Look, you may not like that quote, that there's no elegant way to protect the sheep, and I get that, because you've never been in my position as a police officer. Okay? That was for my police officers, my brothers and sisters that are out there.
"I stare down evil and when I mean evil, I'm a God fearing man. I'm talking to people that would do harm to you and your kids. I had to respond to a call where a stepfather beat his kid to death and left him in the basement for three days. I've seen all this stuff. They haven't seen any of this stuff," said an emotional Laviano.
But Dan Seel, also of Troy DSA, isn't convinced. "To me it's sadly more of what we've come to expect from Troy PBA, which is this arrogance, a presumption that they have the right to enact violence on whoever they want, for whatever reasons they want. Rather than them being accountable to the community, they see themselves as standing apart from all of us, being accountable only to themselves," he said.
As to whether the quote implied anything about Sunday's upcoming protest march, Laviano vociferously denied the connection to pre-emptive police brutality that Troy DSA made.
"It's just appalling that they would try to flip the script here and take away the substance from this movement that the that the Tory residents are trying to do. It is it is absolutely a disgrace. And it just shows their true colors and their true agenda of what they're trying to do," said Laviano, who went on to criticize Troy DSA for not being residents of Troy, and for criticizing Troy police from the "ivory tower".
"I don't condone police brutality whatsoever," Laviano continued.
Seel took exception to the argument that those civilians criticizing Troy PD were coming from a position of privilege or not understanding the community.
"We're not sitting in the ivory tower when we can actually go out and have a conversation with our neighbors without needing to bring three or four squad cars down to back us up. Every time every time the police have stopped outside our apartment at either the two places we've lived, downtown and South Troy, there have been threats of physical violence made against us in our neighbors for the simple act of recording and asking questions. So I don't know what he considers the community and maybe it's white people in Lansingburgh, but I don't see him as involved in the community at all. I see him as causing fear in the community," said Seel.
Troy DSA also criticized Laviano for also posting a meme that poked fun at calls to defund the police.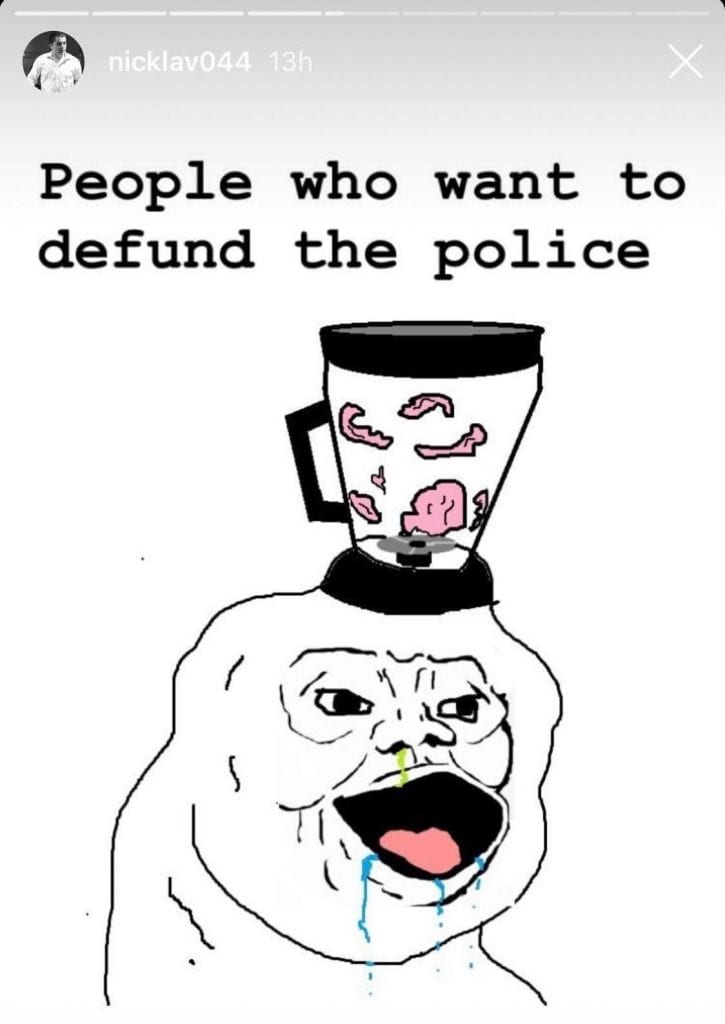 When asked for comment, Laviano said that he was in favor of reforms to the police department, but thought calls to abolish or defund the police went much too far.
On Wednesday, Laviano wrote a message on the Troy PBA's Facebook account that expressed sympathy for the death of George Floyd, the Black man whose death at the hands of four Minneapolis police members in late May has prompted weeks of nationwide protest, some of which have turned violent. The message called for increased funding to the Troy Police Department in order to help reform the department, and called for increased ties between the department and the community.
In 2018, Laviano's PBA publicly opposed then-Troy Councilmember David Bissember's proposal to declare the city of Troy a sanctuary city; one that does not communicate the personal information of those detained with Immigration and Customs Enforcement (ICE).
*The author is a dues-paying member of DSA.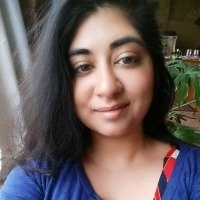 Latest posts by Jaya Sundaresh
(see all)