U.S. Capitol riot suspect once claimed election meddling in Malta
April 6, 2021
Two months before allegedly storming U.S. Capitol grounds, a local right-wing organizer was convinced some Saratoga County ballots were tainted.
To the tune of the moment, Bill Tryon in a Nov. 6 interview claimed that election officials barred members of the public during the last presidential election from viewing the polling data in a suburban town south of Saratoga Springs. It's among a number of fringe claims embraced by Tryon, leader of the nationalist Liberty Bell Alliance 76. 
"There's something wrong behind the scenes — and then in Malta, they wouldn't allow anybody to view the count," Tryon claimed. "And then incredible amounts of ballots showed up and they were being discharged — the ballots — and they were all for one side and no other candidate."
"I mean, it's unrealistic to think that something really deceptive wasn't going on and I believe it was," Tryon added.
Tryon later added that the story was passed down from a now-forgotten source. He lives on a farm more than 30 miles south of Malta.
Barbara Thomas, president of Saratoga County's League of Women Voters, was hitherto unaware of Malta meddling claims. It was her first time witnessing "discharged" in an election narrative.
Tryon doesn't remember what he meant by "discharged", but said it sounded like he was referring to ballots taken away from the final count.
Thomas trusts the local results.
"I think that we have a very competent and professional board of elections," Thomas said. "And they really try very, very hard to follow the law and I have every confidence that they did."
Republican presidential incumbent Donald Trump was defeated in Saratoga County by 7,166 votes to Democratic challenger Joe Biden, 68,471 to 61,305. From 12 total polling sites, Trump lost Malta by 928 votes to Biden, 4,997 to 4,069.
The Saratoga County Board of Elections did not immediately respond to comment. The board is co-managed by Democrat William Fruci and Republican Roger Schiera.
Proceeding Malta remarks, Tryon opined days after the last election that area residents were resisting socialism by rejecting progressive Democratic challengers such as Thearse McCalmon, Patrick Nelson, and Joe Seaman.
Tryon is a registered member of the Conservative Party and contributing political columnist for the Ravena News-Herald. Having abandoned "liberal" values during fatherhood, the now-70-year-old holds a seemingly paleoconservative worldview spiked with anti-technology sentiments and conspiracist ideation regarding Marxist movements, influential bankers, and cosmocracy.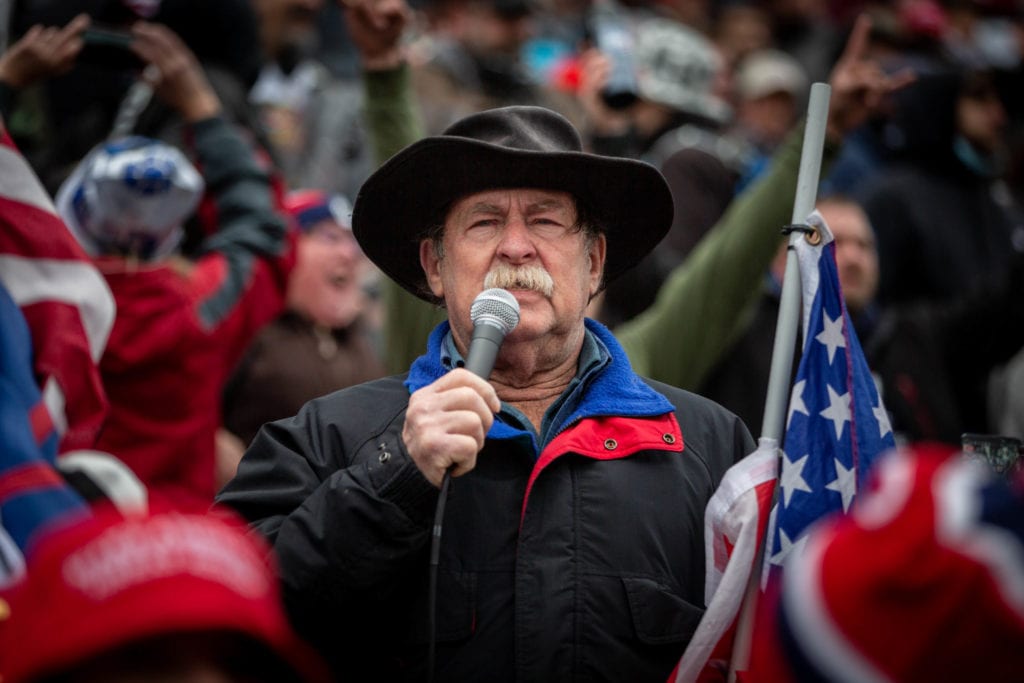 He identifies with members of the "anti-establishment" conservative movement. Among local officeholders, Tryon is fond of unapologetic right-wingers like Rensselaer County Executive Steve McLaughlin and Rep. Elise Stefanik (R-21).
Tryon has welcomed hardline politicos to speak freely at Liberty Bell Alliance 76 events. One freshly resigned Albany County legislator aired homophobic remarks to a crowd a Fort Pinnacle last month. Others such as gubernatorial candidate Mike Carpinello and 20th Congressional District candidate Liz Joy have used the group's podium to relay their campaign messages.
Joy lost by an 80,000-vote margin against Rep. Paul Tonko, 219,705 to 139,446, the closest matchup against the Demoratic incumbent in recent history. The Glenville activist, who is running again, challenged the legitimacy of her defeat.
"Yeah, people were waking up," Tryon told Albany Proper in November. "People had had enough."
"And that's why this is so discouraging — this presidential race," he continued. "And it's pretty darn obvious to anybody who has eyes and ears that something happened on election night."
"They shut every one of those county offices down."
Trump's lead from early returns slowly eroded as states began counting mail-in ballots. As defeat became more and more likely, Trump's campaign attempted to overturn key losses in court. Refusing to concede, the former president backed supporters' unsubstantiated claims of widespread voter fraud in Arizona, Nevada, Pennsylvania, Michigan, Wisconsin, and Georgia.
GOP lawmakers in 47 states have responded to the rhetoric with so-called election integrity proposals to limit early voting, polling sites, and non-traditional ballot submissions — a push critics liken to suppression tactics enforced against minority voters in the segregationist south. Roughly 360 voter restriction bills and counting have been introduced since November.
From the get-go, the former president's ardent supporters, including members of the male-only Proud Boys fraternity and fringe QAnon believers, corralled around efforts to overturn or aggressively re-probe Biden's victory.
Tryon allies posted a slew of fake news friendly to the rhetoric on Liberty Bell Alliance 76's Facebook group. Tryon's wife, Jill, at one point, shared a statement misattributed to right-wing provocateur Candace Owens, which posited that Deep State officials would "all hang as the result" of their "coup d'etat" against Trump.
Liberty Bell Alliance 76 hosted several "Stop the Steal" rallies outside the state Capitol building in December and January. Tryon urged members to attend every Saturday per Trump's request. Most of the events were non-violent.
On Jan. 6, before Congress verified the presidential election results, a bloody melee broke out in Albany between "Stop the Steal" rally-goers and Black Lives Matter counter-protesters. So far, four attendees have been charged in direct connection with the fight.
Tryon attended a much larger "Stop the Steal" rally Washington D.C. at the time of the incident. Other local attendees included Joy, James Bonet of Glens Falls, Brandon Fellows of Schenectady, Sharon Pineo of Malta, and Alan Marschner of Schenectady.
The demonstration turned ugly after nationalist rally-goers violently clashed with police and ascended the U.S. Capitol building walls in an attempt to stop Congress from verifying the election results. Before storming inside, some chanted "hang [Vice President] Mike Pence." The building was evacuated.
YouTube footage shows Tryon holding an American flag, carrying a laptop, and waving a cell phone marked with the name of him and his wife. "All we want to do is enter and tell our representatives that we want our country back," Tryon said to a crowd. "We're not gonna take this!"
The thick mustachioed liberty lover later told an interviewer that he was pepper-sprayed by police after entering the U.S. Capitol.
On March 31, Tryon was arrested by federal authorities at his Coeymans home in connection with his activities in Washington D.C. He pleaded not guilty to misdemeanor charges of knowingly entering or remaining in any restrictive grounds without lawful authority; knowingly engaging in disorderly or disruptive conduct in any building or grounds; violation of codes of violent entry and disorderly conduct on Capitol grounds.
He is not allowed to leave the 32-county Northern District of New York under provisional court orders.
Jill claimed to Hudson Valley 360 that Tryon was kicking leftists out of the crowd and an unspecified entity is attempting to silence her husband.
BLM activists, some of whom encountered Liberty Bell Alliance 76 members in the past year, responded to news of his arrest with derision and glee.
At "Back the Blue" events over the summer, Tryon and company advocated against demands to "defund the police" or reallocate police budgets following the death of George Floyd by Minneapolis police in May. The year-old group has also rallied against COVID-19 restrictions, abortion rights, gun control, and the governorship of Andrew Cuomo.
Tryon said that most Liberty Bell Alliance 76 members are either Tea Party activists, farmers, and community members "seeing a danger to their children's lives."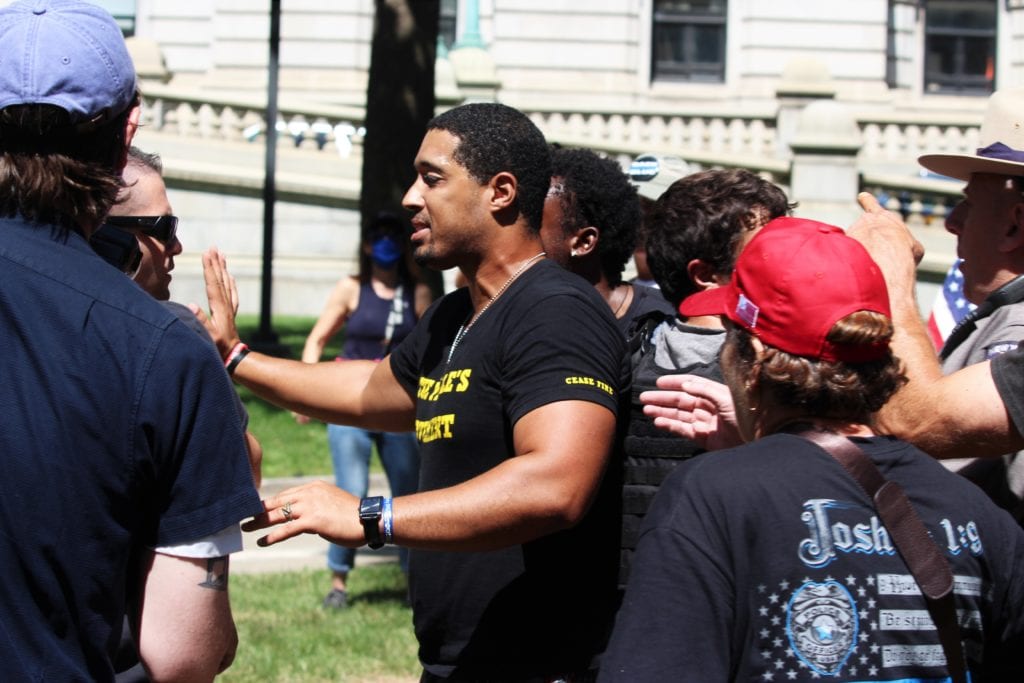 The alliance was partially inspired by a patriotic festival first organized by Tryon in 2000. He was impressed by Freedom Fest-goers' passion for reenacting American Revolutionary War scenes.
While many are complacent with technology and socialism, Tryon opined, others are rising up to preserve the legacy of American heroes. (Leftists argue that institutions often neglect the country's history against marginalized people).
"These new social Democrats want to come in and throw [away] the memories, and throw [away] the history of the men and the boys that stormed Normandy and won our world all the way from [the Battles of] Lexington and Concord to the present," he said days after the presidential election.
Tryon currently faces a high-stakes legal battle. If convicted, the activist could face more than $100,000 in fines or upwards of a year in prison for his charges.
His next court date is Apr.13.