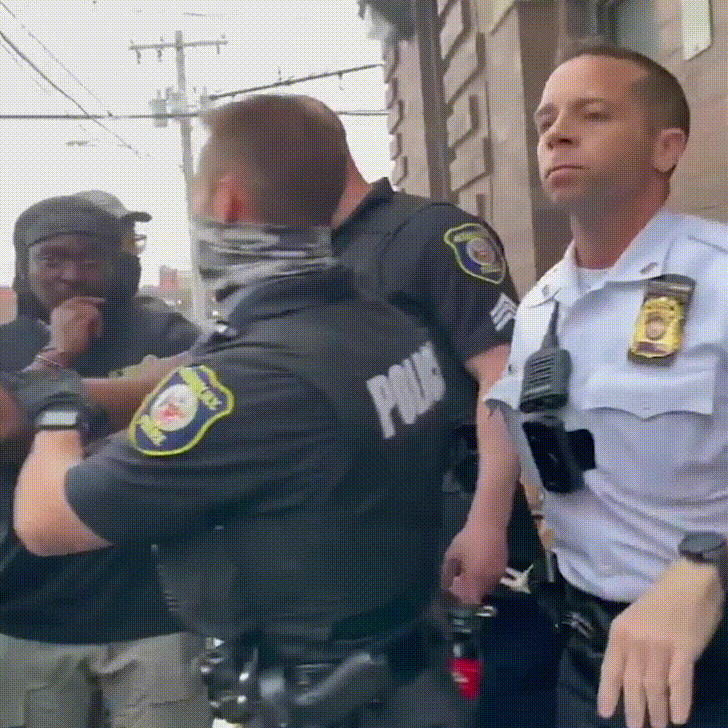 Video contradicts Albany's account of protester aggression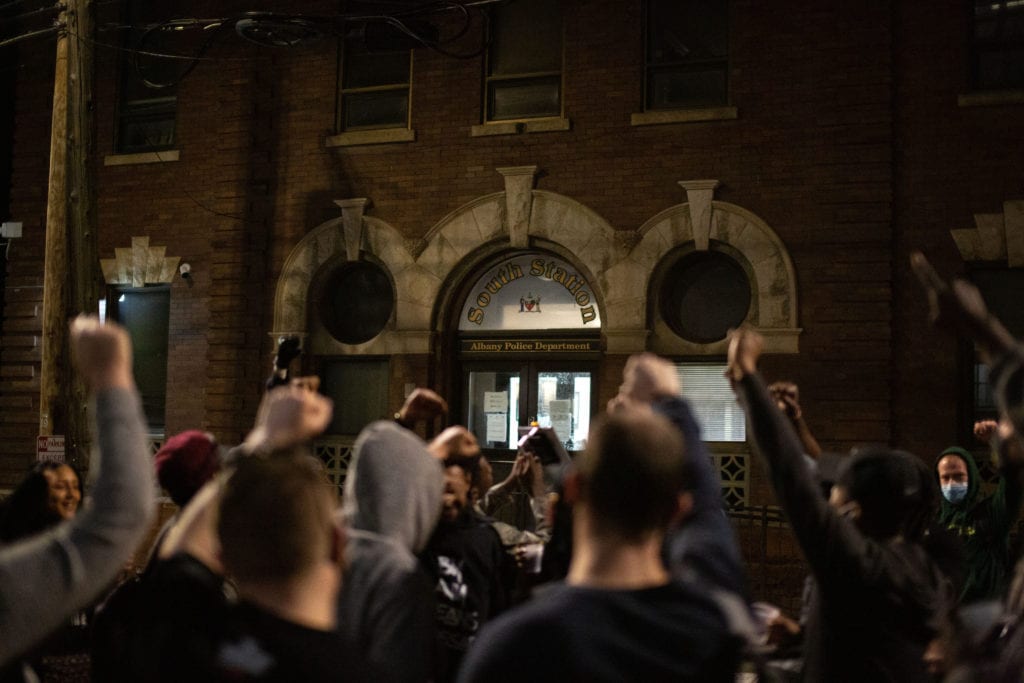 An Albany police lieutenant became aggressive with protesters outside the South Station on Wednesday, leading to escalation that resulted in a broken window and indiscriminate pepper-spraying of the crowd.
You wouldn't know it by the official account of the evening by Mayor Kathy Sheehan and Police Chief Eric Hawkins.
By their account, one would infer that a mob of angry protesters stormed the station hell-bent on destruction.
"We had a situation where individuals were provoking our officers and attacking officers at our station," Hawkins told reporters during a press conference that night.
"The Albany Police Department respects the rights for individuals and groups to peacefully protest," Hawkins said. "We are here to safeguard constitutional rights." He made no mention of his lieutenant's attempts to silence a protester by confiscating a megaphone.
Video taken from the scene contradicts the official narrative presented by the city — it instead shows attempts by Lt. Devin Anderson to knock away a flashlight and a megaphone from protesters outside the main entrance. At one point he forcefully rips a megaphone away from activist Chandler Hickenbottom, who claims she was injured as a result.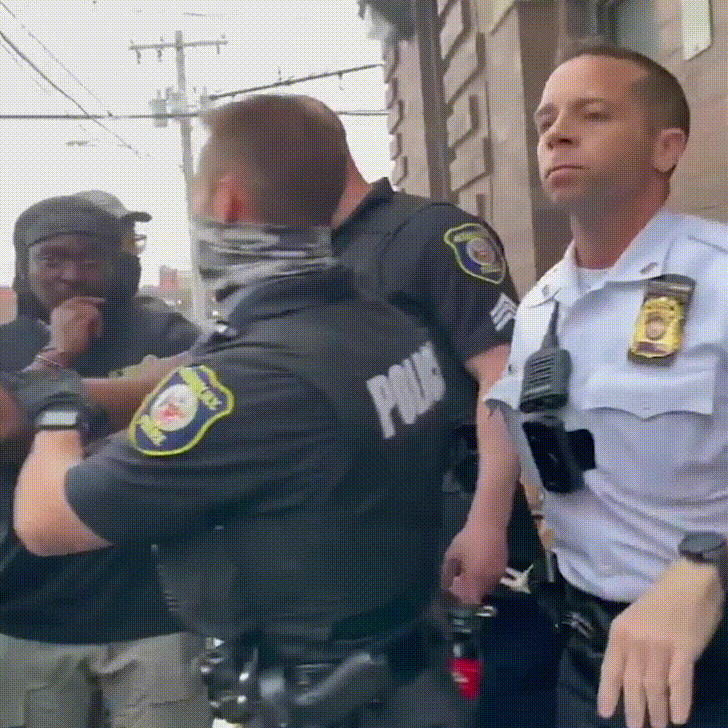 During the same press conference, Mayor Sheehan proudly referred to Albany as a "city of protests" and said, "we have a police department that is trained and that is very well experienced in dealing with peaceful protests."
In the last year, Black Lives Matter protests in Albany that were met with police responses have seen sharpshooters on rooftops and entire neighborhoods tear-gassed. The mayor's office did not respond to a request to clarify the city's position on megaphones.
The city is already being sued by a street preacher who said Albany police violated her civil rights in 2019 when they confiscated her megaphone and forced her out of Townsend Park, where she had a city hall-issued permit to preach. A judge recently ordered Albany to pay $14,000 of Rev. Cheryl Hawkins' legal fees after the police department refused to release camera footage to her attorneys under a Freedom of Information Law request.
Meanwhile, in an interview posted to Facebook, Hickenbottom questioned why they were immediately met with aggression while breaking no laws.
"We're out here just chanting not really understanding why you're already ready for a confrontation," she said.
The crowd of more than 50 Black Lives Matter protesters arrived at the station's front entrance following a rally in Townsend Park and a march around the city. The original event, organized by Legacy Casanõva, was to call attention to the killing of Duante Wright in Minnesota, another victim of what has been a spree of police violence against Black people across the country.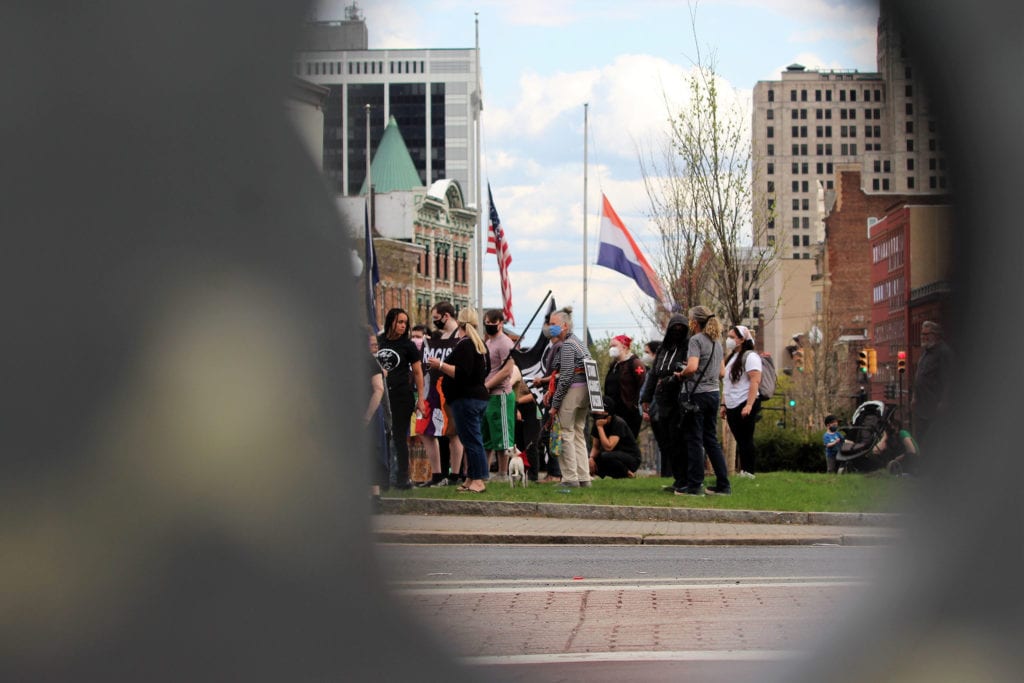 The Times Union's Eduardo Medina reported that a 14-year-old girl was among those hit with pepper spray by South Station officers. Also injured was prominent local activist Amy Jones, who just hours earlier had participated in a virtual panel discussion with Pennsylvania Governor Tom Wolf.
Anderson, an Altamont resident who has been with the Albany Police Department for 14 years and earns an annual salary of $99,665, has been named in multiple civil rights lawsuits, including excessive force and abuse claims in 2017 and 2012.
In an interview with WAMC last year, Anderson made pointed remarks towards the recent Black Lives Matter movement against police brutality.
"They don't know me. They don't know anything about me," Anderson said. They're making assumptions based on social media and news media and rumors and stuff like that with – they're ignorant. They don't – they have no knowledge of what actually happens."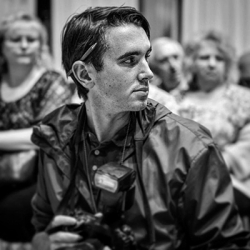 Latest posts by Patrick Dodson
(see all)