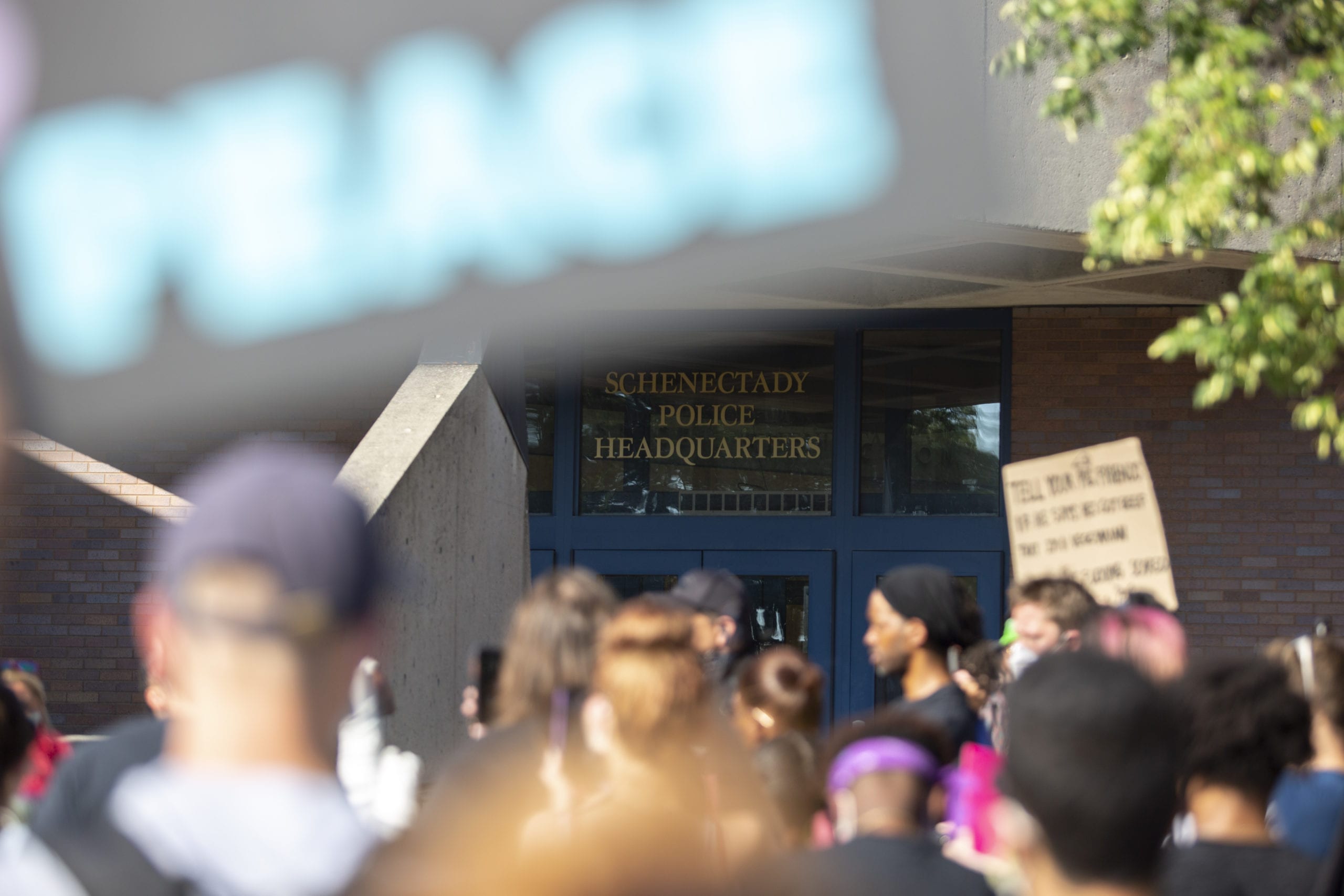 Schenectady cop had a scheduled suspension while knee-to-neck arrest played out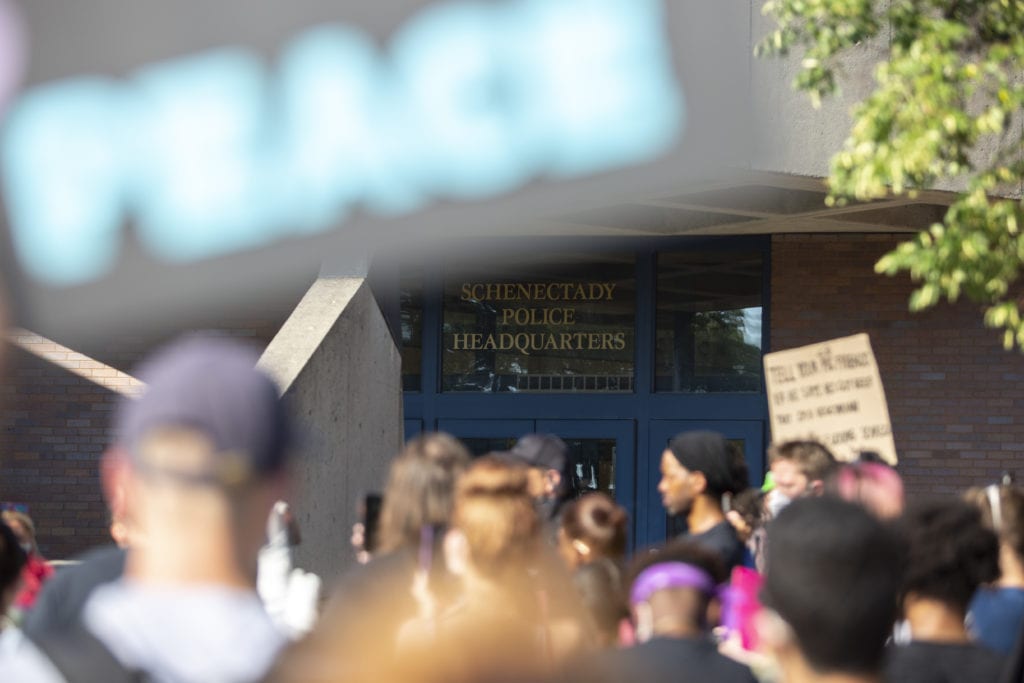 According to documents released to Albany Proper, Schenectady Police Officer Brian Pommer had a pending unpaid suspension for a 'Standards of Conduct' disciplinary charge when he was caught on video forcefully arresting a city man using a banned knee-to-neck restraint.

The Schenectady police union has since gone to court to keep his disciplinary records from being disclosed to the media.
Today, the city's corporation counsel released the previous suspension charge following an order from the court to release records that are not in dispute as part of the legal proceeding. Albany Proper had sought his full record under a Freedom of Information filing.
According to the suspension paperwork, on April 6th Pommer was sent to Bumpy's Polar Freeze in Schenectady to enforce COVID-19 social distancing requirements. Governor Cuomo had required all non-essential businesses in the state to close through a 'New York on PAUSE' executive order. In addition to businesses closing, the order also banned "all non-essential gatherings of individuals of any size for any reason."
The resulting charge noted that Pommer displayed "unsatisfactory work performance and inefficiency in carrying out his work assignment" at Bumpy's.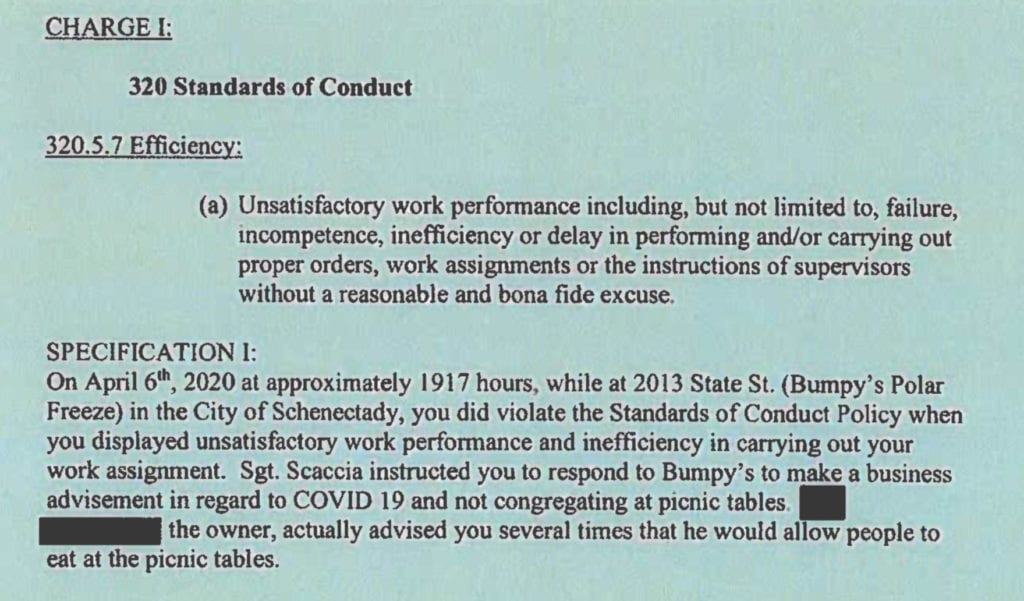 The union didn't dispute the charge and Pommer admitted to "making unprofessional and inappropriate remarks concerning his duly constituted authority, the authority of the Department to enforce social distancing, and the social distancing orders themselves and the constitutionality of closing non-essential businesses."
Mayor Gary McCarthy signed off on the suspension agreement.
Bumpy's was in the news this summer after Black Lives Matter protesters rallied outside the ice cream shop over racist allegations against owner David Elmendorf. The owner was arrested after pointing a pellet gun at protesters, and Schenectady county would eventually shut the business down through a court order and fine Elmendorf $10,000 over failure to comply with COVID-19 restrictions.
Jamaica Miles, co-founder of community group All of Us, pointed to a possible "pre-existing pattern of favoritism" after hearing of the charge.
"He chose at his discretion to ignore a white business owner that was in violation of COVID restrictions," she said.
She compared it to the case of Pommer's forceful arrest of Yugeshwar Gaindarpersaud months later, saying "the difference between those two is skin tone."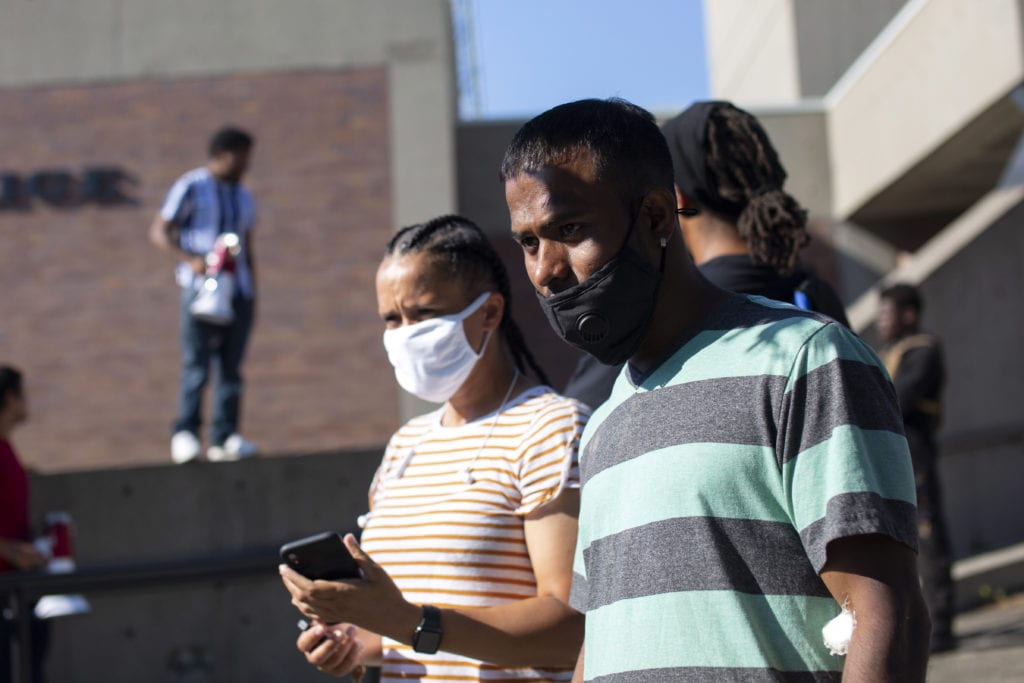 The Bumpy's incident resulted in a notice of discipline in Officer Pommer's record, a three day suspension without pay, and his removal from an "entry team" position on the department's SWAT Team.
His suspension for the Bumpy's incident was already scheduled when he was on duty and sent to a neighbor dispute involving Gaindarpersaud.
Shawn Young, also of All of Us, saw that timeline as troubling.
"You have someone who has clear issues with carrying out his duty," he said. "Why wasn't he on desk duty?"
"That speaks to what we're always talking about. The police policing the police."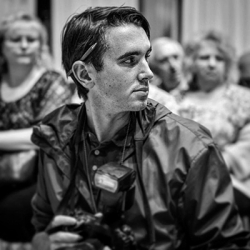 Latest posts by Patrick Dodson
(see all)