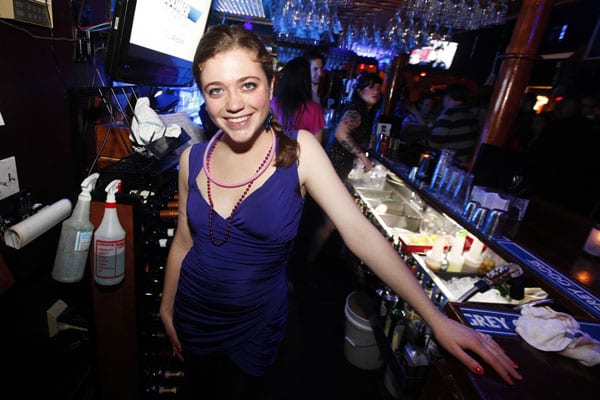 Interview with Brittany: Bartender, Elda's on Lark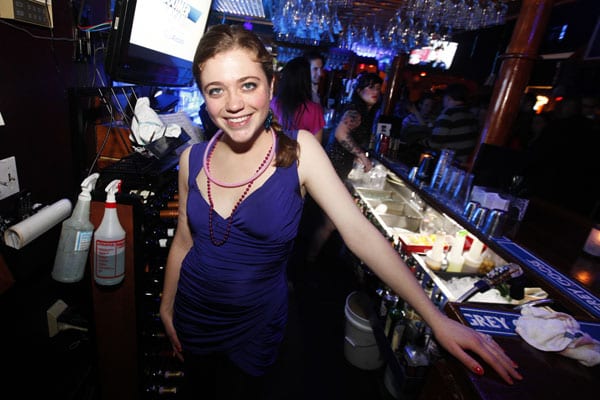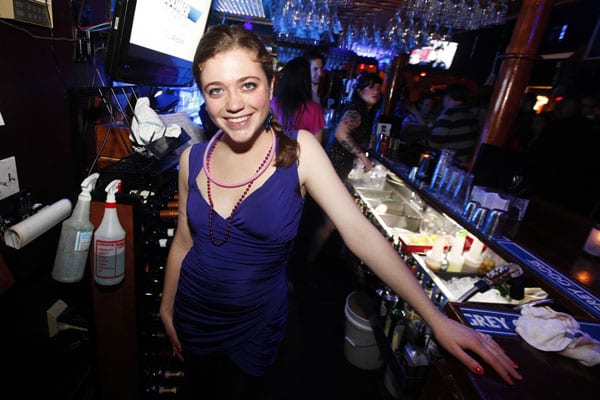 Note: this interview is part of a series done by St. Rose students in Daniel Nester's ENG251 class. Meet Brittany, a bartender/server at Elda's on Lark, as interviewed by Krista Liuzzi:
The crowd is slowly coming in for the dinner hour. How many years have you been working at Elda's on Lark Street? What brought you into bartending?
I have worked for two and a half years at Elda's. I have been a waitress for two years and a bartender for a half a year. I was going into law school, and I needed a side job, with the hours that were convenient for school. I was leaving my old school where I was in food service and I didn't want to travel all the way.
This place seems very modern and chic, but still casual. There's the black hand chair in the other room and painting on the walls. I noticed there is an upstairs to the restaurant. Does that affect the type of clientele you get here?
We get all types of people that come into this place. Patrons include businessmen on up to people in lounge pants. It's very laid-back type of restaurant.
What is your opinion of the Cabaret law that is going into effect?
I don't agree with it. We are on a busy street, and we are mostly busy two nights. To cut the hours shorter… patrons won't want to come in for that. With the high volume in the area, when you agree to live here, you know that you live in Center Square. You can't complain about what is going on down here when you agree to move here in the first place.
I don't think it is going to stop people from being any safer. People are still going to have to party at home before they come out. And that means they have to drink twice as much before they come out. Adults will get drunk faster and they won't monitor their alcohol intake. More people will be out of control, and binge drinking will occur more often.
When I came here last, you were preparing for Lark Fest. Were you working that day? How did that go?
Yes! Yup. It was a lot harder this year, it was very confusing. There were special cups that were made for Lark Fest. There were no venders outside, unlike previous years. This year the police didn't allow open containers outside. So through Heineken Beer, we had to put everything in specific cups. They didn't plan it accordingly they weren't allow to bring beer outside. Officers told festival attendees they could have beer in the cups, but not liquor. It caused confusion. We couldn't monitor what they had in their cups.
We had bouncers were at the door to look in their cups. But the rule did not make sense; people were coming in saying that was not the rule, and they were told by police differently. Organizers of the festival should have told our mangers the rules beforehand.
Unbelievable.
Next year they are going to have to sit down tell the mangers and staff about the new rules and policies that are going to be in effect. It was hard to have people come up to the bar and have to pour everything into a cup. Everything had to come from a bottle. It makes my job harder. It was confusing, but it was great for bar business though. So I can't complain. It was a good success, just next time let the mangers and staff knows what is and isn't allowed.
I have met people who are bartenders and waitresses and most of them mention they either like the job or don't. Some even say it is hard to make the different types of drinks and remember orders.
I love it. It's fun making up your own drinks. When you have more of a certain kind of liquor you want to use up, you come up with a drink or a shot to sell. Coming up with them is pretty cool. And learning how to make them is all in the process.
The benefits of a bartender are that you don't have be so professional. As a server you are taught to act in a certain way. As a bartender it's more laid back, you have the freedom to chill and get to know the customers that come in. You also have the regulars that come in; I have my regulars that I have met so getting to know them is pretty neat. The hours are the negative–I am here working twelve hours straight. How our business works is you can't bring bartenders on later. You need someone here to open the bar. So it is unbeneficial to have one bartender open, and then have someone in middle of a shift. It is just not that easy.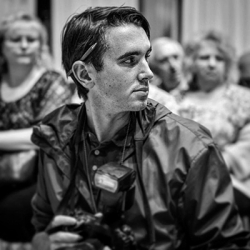 Latest posts by Patrick Dodson
(see all)