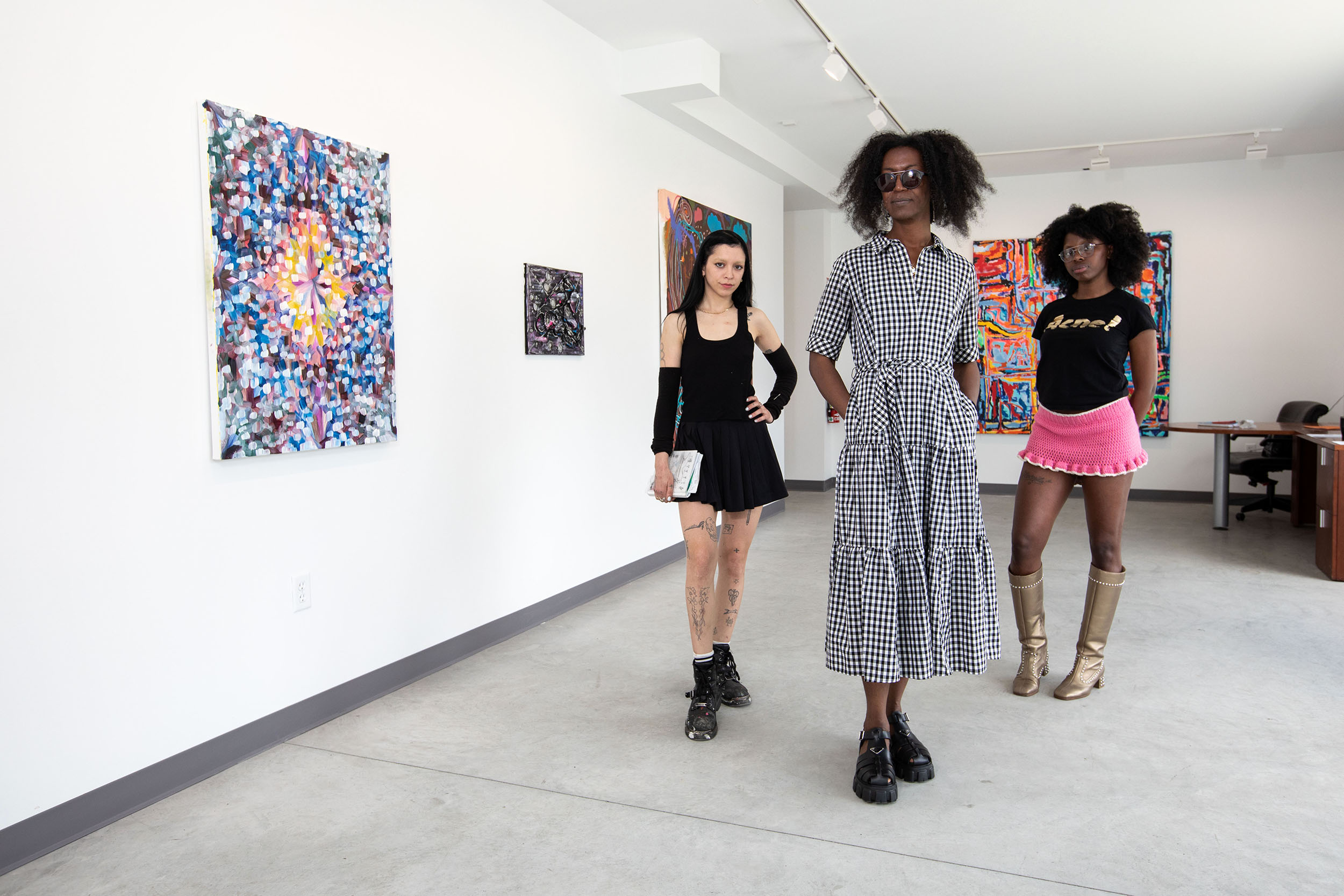 New gallery brings NYC artists to the South End
There's no need to travel to a chic Chelsea gallery to see the work of Richard Tinkler, who the art critic Jerry Saltz recently called "one of the best painters out there right now."
Instead, just head down to Albany's South End neighborhood where Gallery Albany quietly opened its doors on South Pearl Street last month.
The space is owned by Uman, a Somalia-born artist who made waves as a NYC-based "outsider artist" beginning two decades ago and now lives near Cooperstown. The gallery's inaugural show, image unavailable, is open by reservation through June 6th at 485 S Pearl Street. The show was curated by Brittany Adeline King and Zoë Argires, who also bring with them up-and-coming and underground artists they know from working in the New York City art gallery world.
In total 15 different artists are represented in the show.
We recently sat down with the trio to hear about their path to Albany and the collaborative vision for the space.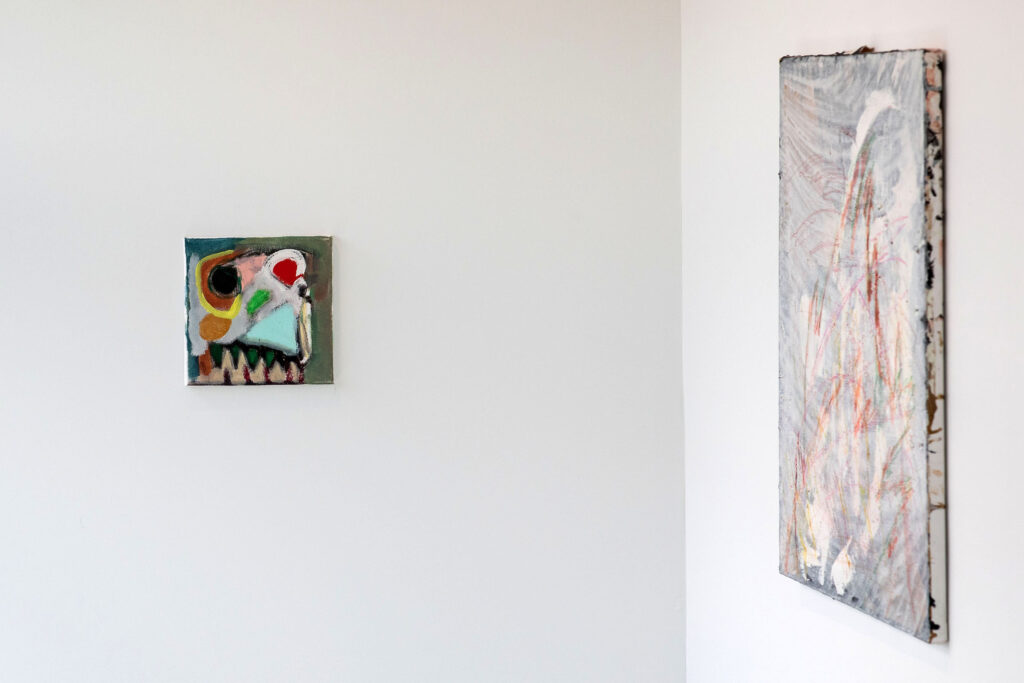 // Albany Proper:
Can you talk a little bit about the current show?
// Zoë Argires:
It's a show of abstract paintings that come from a totally intuitive place within the artists. The show was organized all through artists that we work around and that we know. Sort of like a community environment. And we thought it would be a great inaugural show for Uman's space because what a lot of Uman is doing is opening up and sharing her space and opportunities with a wide community of artists.
// Albany Proper:
How did you end up opening a gallery here in the South End?
// Uman:
It was first my studio. I was looking for a studio space in this building and it just made a lot of sense to have the front section be a gallery because I have a lot of space in the back to work and it's a perfect place to show my friends work.
// Albany Proper:
So what kind of vision do you have for for this gallery space?
// Uman:
Artist-run space. Artist residencies. Solo shows. I'm just very much going with making it up as we go.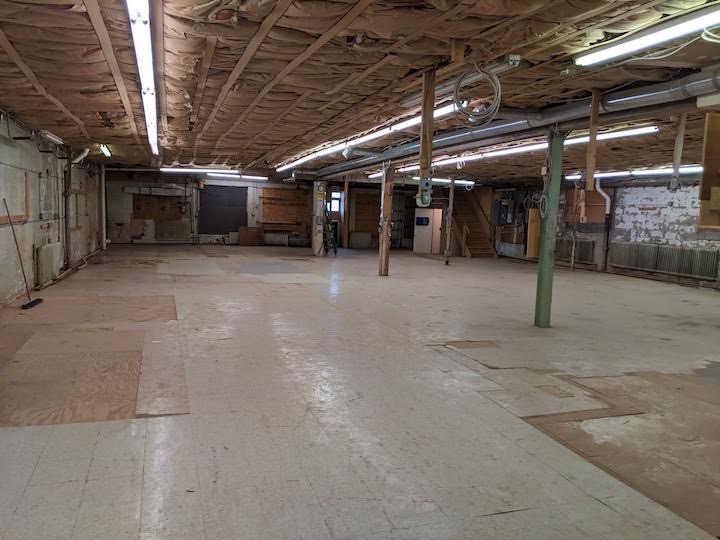 // Albany Proper:
Do you think there's more opportunity for artists and gallery spaces around this neighborhood?
// Uman:
I think so. I think Albany lacks a lot of it and there's good art schools and from what I know there's a lot of artists in this area. But you go to places like Hudson and the Catskills and they have much more spaces for artists. Albany is just very scattered, you know. And I think that's a good opportunity for people to come in here and open spaces and it's an up-and-coming city but maybe you can't say that since it's an established old city.
// Zoë Argires:
It feels like a lot of stuff from the Catskills are kind of bleeding out further and further.
// Albany Proper:
It seems like it's a lot of word of mouth so far. What's the reaction been like?
// Zoë Argires:
A surprising amount of people have been reaching out just from different corners of the internet. And yeah, very word of mouth. Sort of underground. We're trying to make it as out there as possible. We want to share it with as many people as possible. It's basically just doing that through social media.
// Albany Proper:
How do you hope to involve the Albany community?
// Zoë Argires:
We're talking about doing maybe a walk through with the elementary school down the street. We're talking about maybe having a class or some students come by and just see the show and talk about painting.
// Brittany Adeline King:
Also do a workshop with them and have them make art in the space. Interacting with the art and how it affects them, and the opportunity to view themselves as artists. We feel like it's so important for kids that age to engage with creative outlets. Especially on a level where the works are interfacing with a New York art scene that has so much to offer in rural neighborhoods that might otherwise view art on a more institutional level, like a university or a museum.
// Albany Proper:
What's the reaction been like in the art scene down in the city when you tell them that you're going to Albany on weekends?
// Zoë Argires:
They want to come with us! They're like, that's so cool. You know, they're really interested I think to come see it and catch a ride with us driving back and forth.
// Brittany Adeline King:
It's also such a good opportunity to be interacting with and learning more about the artists included in the show. For instance, I drove up to the exhibition today from New York with artist Lloyd Foster who has two works included in the exhibition. Just spending that time on the drive up talking more about our work and individual practices felt so important. And seeing the show and our work in an environment that's completely different from a bigger city. Like something of a residency or retreat, it's an incredible and powerful way to think about the context of one's work and the possibilities of what and where it could be.
// Albany Proper
How important is it to have an artist-owned gallery space?
// Uman:
I think it's very important. Yeah. Because we all have to work for other galleries. And at one point I thought, you know, if anything, I will just hang my paintings and this will be like my permanent museum. That was one of the thoughts before everything evolved to this. I could just sell them to people directly and not give galleries 50%. And I just think it's important also for artists who can do it to do it and help other artists show their work or have space to shuffle.
// Albany Proper
So anything else you'd like to add?
// Zoë Argires:
I think that one of our main things is we don't see enough just straight painting shows that are coming from a place of intuition on the artists part. And just exploration in painting itself, that so many artists are leaning on rirght now. I don't know. In the city I think there's a lot of great shows up. But we've been wanting to see more of an openness and humanity in the curation of painting shows.
// Brittany Adeline King:
Zoë and I have often discussed how interesting doing this as a collaborative curatorial project has been, with us pulling from two different ends. We often end up with two different ways of viewing the idea behind the exhibition as a whole, but also the works. Thinking about spiritualism and thinking about mediums, and all these moments where the materials that are used are so ambiguous, for instance, like, some of them have silver leaf, or braids, or cloth married to the canvas. It created a lot of conversations about what abstract painting is regarding materials. And we really challenged each other trying to determine what works in this regard and what would be best for the show. But the works all have this fluidity to them together in the space and we're really happy with how everything came together.
I guess the only thing really left to say is thank you to Uman for inviting us and for opening up the space to us. There's been a lot of creative freedom behind the way that we've been organizing things and it's been incredibly refreshing.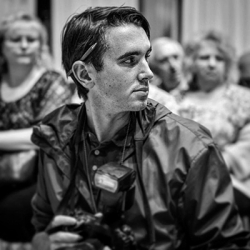 Latest posts by Patrick Dodson
(see all)