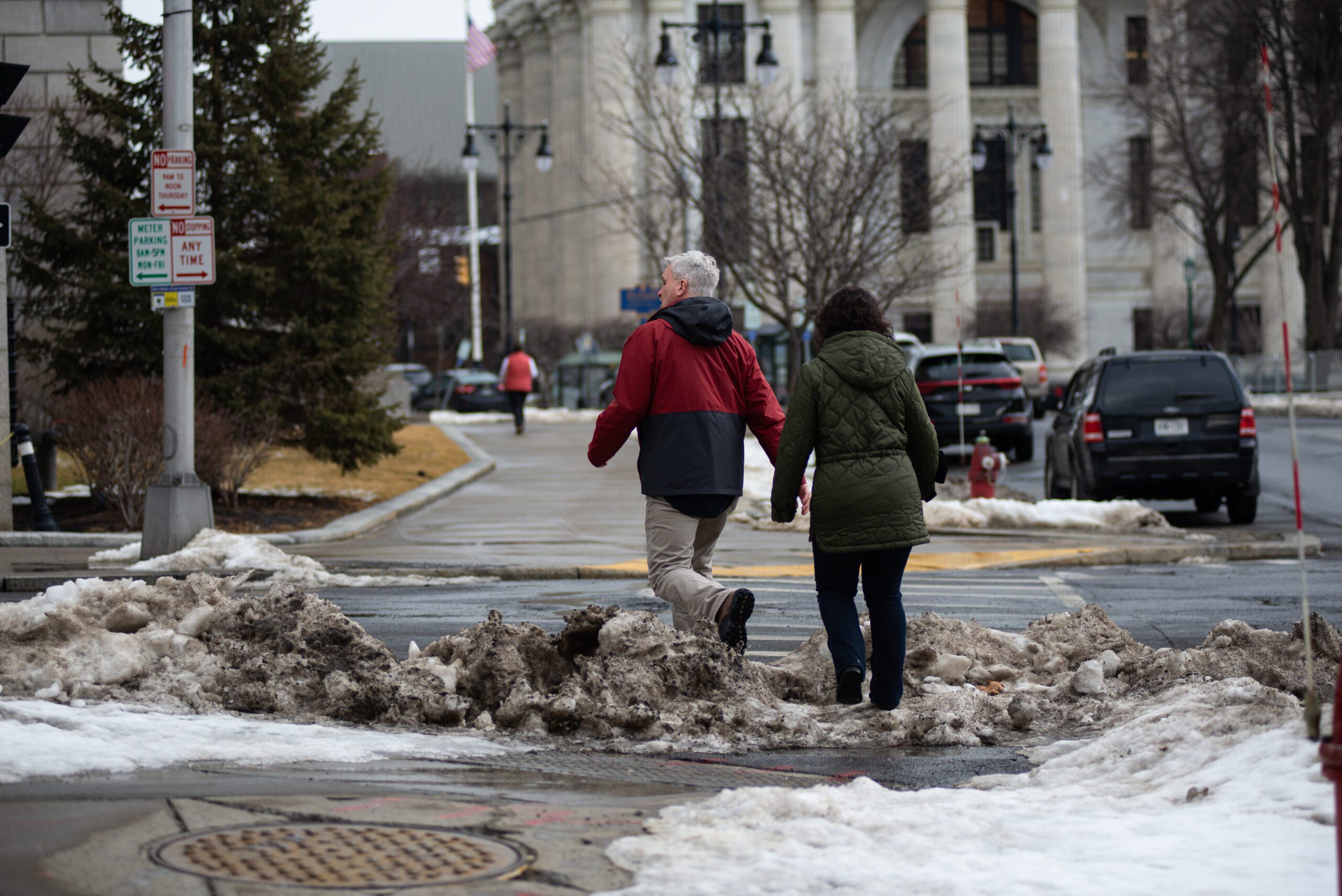 After snow storms, Albany pedestrians feel left out in the cold
When the weather is mild, Jean Joyce likes to get outside and enjoy the fresh air. But as someone with a disability who needs a walker to get around, traversing the sidewalk means paying close attention to every crack, bump and heave that might trip her up.
"And that's in good weather," Joyce said.
In the winter, and especially after the recent snow and ice storms, Joyce is one of many Albany residents who finds it nearly impossible to make the simplest of trips along the sidewalks. Indeed, Mother Nature often leaves the city with slick surfaces, and plows create walls of snow at crucial intersections and crosswalks. Those who need to get around on two feet or two wheels often choose between the danger of slippery sidewalks or the risk of going into the street.
"We have heard horror stories of people being even killed in traffic accidents because they had to navigate the traffic," Joyce said.
The last snowstorm in early February was particularly challenging for Joyce and others, especially since it left a layer of hard ice that seemed to paralyze the city's response.
"How many times have we been calling for the last week or week and a half, and you're just not going to do anything?" Joyce said, referring to the city's lack of enforcement for property owners clearing their sidewalks — which didn't come until a week after the storm. "That was the consistent message: 'We're not doing anything.'"
Unfortunately, that's nothing new. Joyce is a retired special education teacher who has lived in Albany for decades, and she knows these dynamics well. "As long as I have lived here, [the city has] not done a good job of clearing the curbs," she said.
Two distinct problems
The way Andrew Neidhardt sees it, the issues of wintertime walking can be split into two categories.
"I think about it as two separate problems that happen. One is the problem imposed by nature, and one is the problem imposed by our own systems," said Neidhardt, founder of the advocacy group Walkable Albany.
The first problem: Snow falls on the sidewalks, and it's up to property owners to clear them and make them safe for walking or rolling.
"By and large throughout the city, that's basically taken care of. There's obviously huge gaps in that," Neidhardt said, especially at vacant lots. But "that's inherent in the choice we have to put this problem on property owners," he said.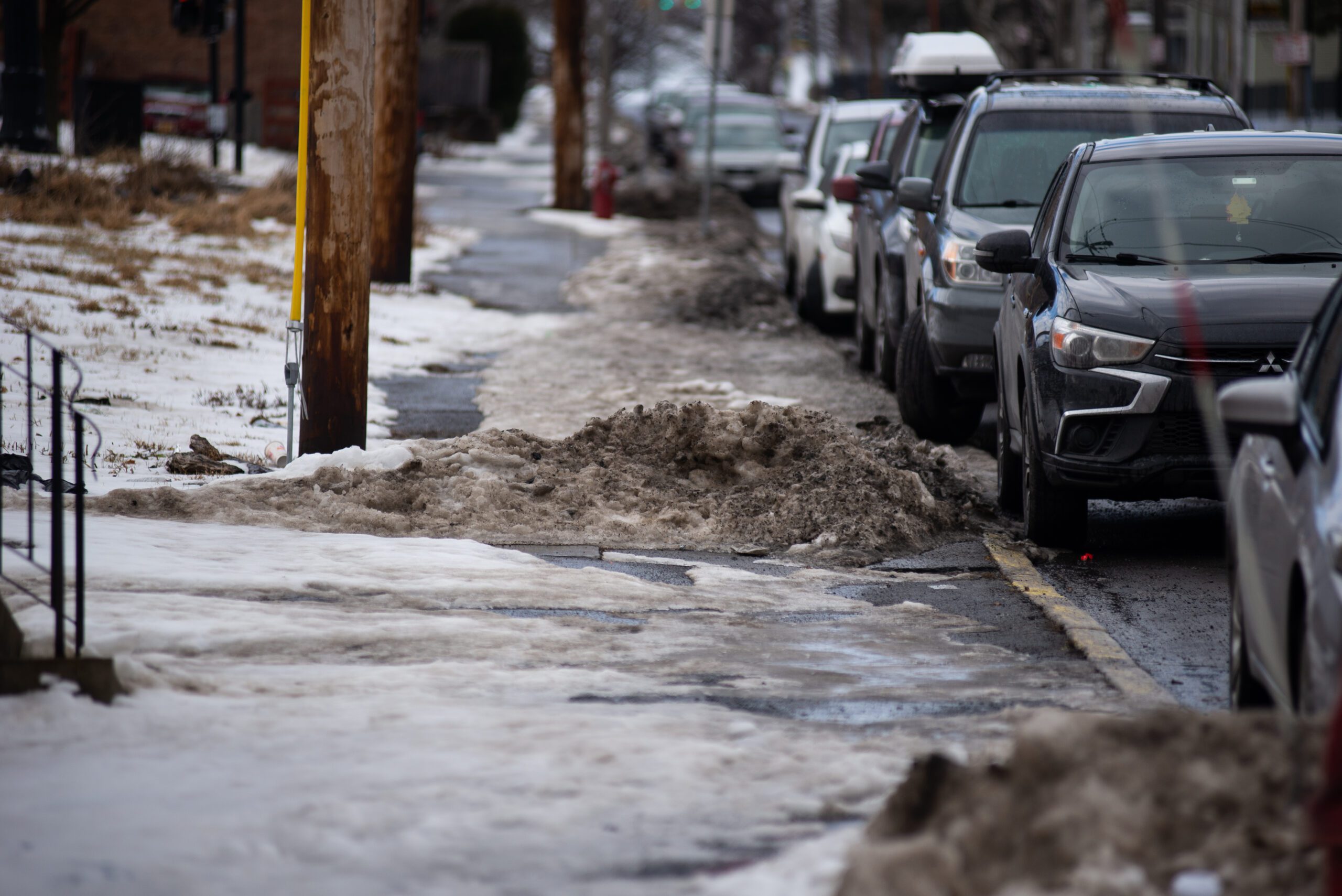 The second problem: When snow plows weave through the city, clearing the streets for vehicles, they plow in the openings at intersections and crosswalks. This, to Neidhardt, is the more frustrating problem.
"It's happening purposefully, and there's really no effort being made by anybody to deal with that on a systemic level," he said.
For able-bodied pedestrians, this means climbing over snow piles at every intersection, often dozens of times between your home and your destination. For pedestrians with disabilities, it means relying on the kindness of strangers, or traveling in the street beside vehicle traffic.
On a recent trip to St. Peter's Hospital, Joyce was able to ride the bus most of the way, but still needed to walk some distance to the building.
​​"There was a rare curb cut here or there that was clear enough to get through, but some of them were so full of water or slush and ice that I couldn't get through on my own," she said. At some spots, passersby offered to help, but not everywhere.
"There was a section where the traffic was pretty heavy but I had no choice but to walk in the street," Joyce said.
She's not the only one who has had to make this dangerous choice. Lisa Amsler, an Albany resident who uses a wheelchair, was forced into the same situation trying to navigate from her bank to the Market 32 grocery store on Madison Avenue.
"The sidewalk was all covered in ice, so I couldn't get through … I had to go in the road and it made me feel uncomfortable," she said. "People don't stop and think what can be done to prevent this from happening."
A patchwork of solutions
With multiple problems, there will need to be multiple solutions to make Albany walkable in the winter.
One such solution is the "shovel brigade," a volunteer group led by Neidhardt that helps shovel out crosswalks in the Center Square neighborhood.
"It's not a systemic solution, but it's something," Neidhardt said.
His idea of a systemic solution would look something like this: A city-wide organization charged with sidewalk snow clearance along major pedestrian routes. That could comprise Pearl Street, State Street, Washington Avenue, Central Avenue, Clinton Avenue, Madison Avenue and Lark Street, for example. After every snow storm, a small fleet of sidewalk snow plows — which the city already owns and uses to clear park pathways — would plow those routes, creating a reliable, core walking network for pedestrians.
"I think that's the end goal that's worth working toward," Neidhardt said, especially considering how much effort already goes into clearing streets and parking spaces each year.
"We can literally do so much in terms of resources if we set our minds to it, and we don't even seem to try when it comes to sidewalks. We barely seem to lift a finger," he said.
The city of Albany does have a sidewalk clearing pilot run by the Department of General Services, which seemed to be operational during the last storm. It's unclear, however, which areas the pilot covers and whether it will continue into the future. The city did not return multiple requests for comment.
In Syracuse, the city is taking a more active role in sidewalk clearing, and could serve as a model for Albany. Syracuse contracted with a private company to begin plowing sidewalks in the winter of 2019. The first season, the city focused on 20 miles of roads (40 miles of sidewalks) that they identified, based on data from the Syracuse Metropolitan Transportation Council, as the routes where it's most dangerous for pedestrians to walk in the street. 
The program went on hiatus during the winter of 2020-2021, due to pandemic budget constraints, but is back up and running this year thanks to an infusion of American Rescue Plan funds, and a new municipal sidewalk program paid for by property owners, according to Corey Driscoll Dunham, chief operating officer for the city of Syracuse.
"That can ensure the program will be funded going forward," Dunham said.
The city's contract stipulates that the plowing company will clear sidewalks whenever there is more than three inches of snow. The program has grown to cover 100 miles of sidewalk this season.
"Sidewalks are a public good," Dunham said. "We all benefit from clear, walkable, non-hazardous sidewalks."
Dunham said the program has been well received overall, but one big complaint remains: The sidewalk plowing is not coordinated with street plowing, which means crosswalks often get plowed in.
"It's not a perfect program," Dunham said. "That's an issue that we're still navigating." She said the current contract is focused on clearing the sidewalks and not necessarily the corners, but that could change as the program expands.
It's also important to note that the program is supplemental to the property owners' responsibility to keep their sidewalks clear. But Dunham said this new strategy is more proactive than the complaint-driven system of code enforcement.
She also pointed to her neighbor in the west as a model for this type of program. Rochester's sidewalk clearing program has been around for even longer, and claims to cover some 878 miles of sidewalks — all city sidewalks that are at least five feet in width — whenever there is more than 4 inches of snow. (But plowed-in corners remain an issue there, as well).
Ultimately, Neidhardt and others say figuring out how to keep sidewalks clear helps everyone: Pedestrians who rely on these routes, businesses who want to keep customers coming in, and even drivers who don't want to be dodging pedestrians in the street.
"It's a really scary experience to not have a safe place to walk," Neidhardt said. "It's a really negative experience for everyone involved."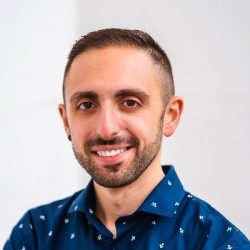 Latest posts by Mike De Socio
(see all)