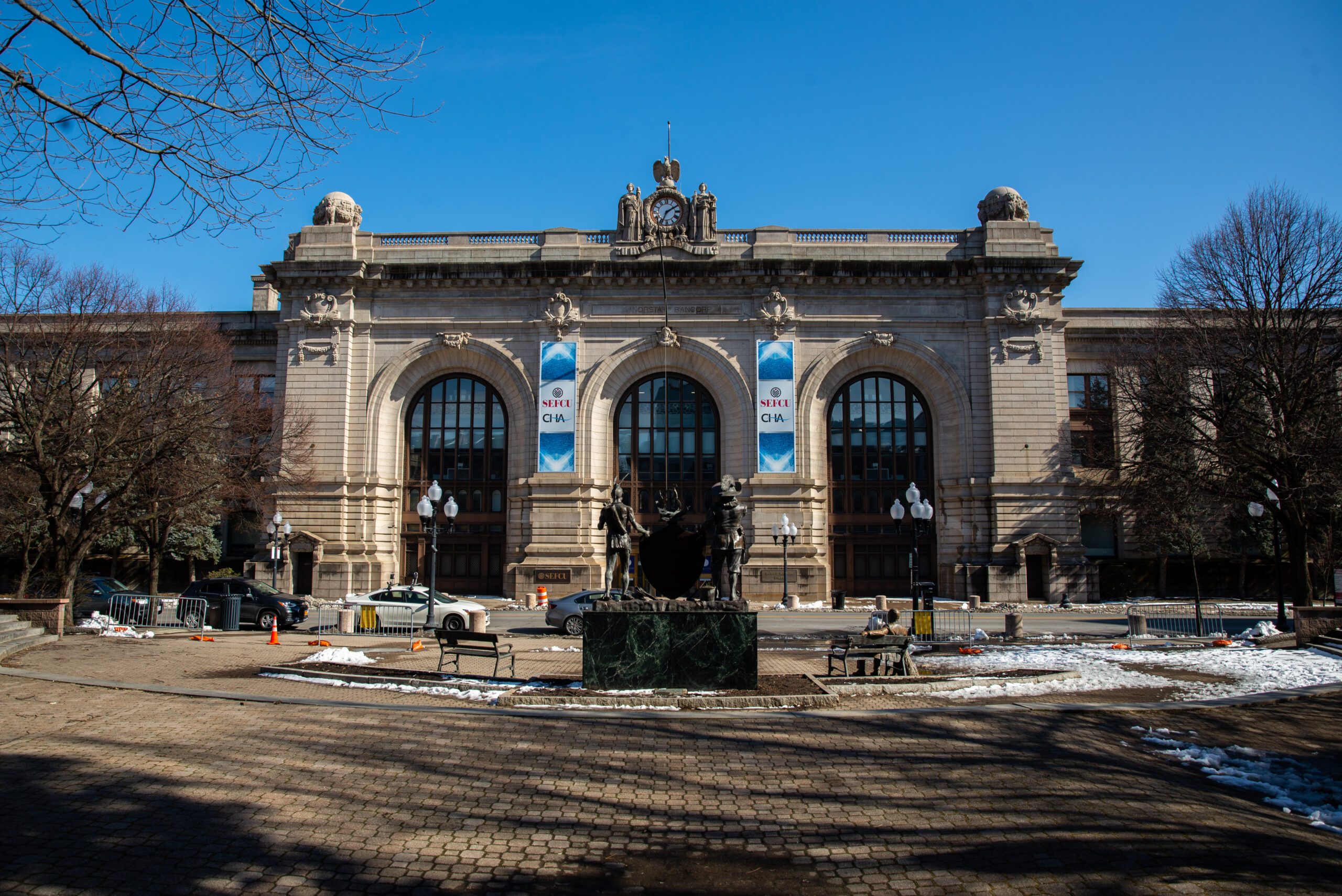 Is it time to give Albany's old Union station back to the people?
Albany's old Union Station — the grand old train hall on Broadway that now goes by the name "Kiernan Plaza" — is for sale.
As these things go, the change in ownership could very well be uneventful. Its current corporate landlord — the Fuller Road Management Corp. — is likely to hand it off to another corporate landlord — Redburn Development is one of the bidders. And the new owner could easily maintain the building in its current adaption: corporate offices.
But maybe now is an opportunity to go in a different direction: Is it time to give Albany's old Union Station back to the people?
There's virtually no chance the building will ever see trains again (the construction of I-787 and the removal of the Maiden Lane Bridge permanently cut off that possibility). But could it be something else? A library? A grocery store? A museum? In the words of Andrew Carnegie, a palace for the people?
"It makes me sad when you have these majestic buildings that get turned over to the private sector," said Scott Townsend, architect and principal at SWBR's Troy office.
The last train departed Union Station in 1968 and the building was soon added to the National Register of Historic Places. After a restoration by Norstar Bancorp in the 1980s, Kiernan Plaza has had private tenants for three decades now, in various iterations. That doesn't, however, foreclose the opportunity for yet another reinvention.
Across the country, and particularly in the Rust Belt, grand old train halls have become the targets of adaptive reuse in recent years; just look at Cincinnati's Union Terminal, Detroit's Michigan Central Station or Buffalo's Central Terminal.
In Albany, a change in ownership could be the right time to pursue a new use for Kiernan Plaza — a building that has a big head start compared to its Rust Belt neighbors, some of which require hundreds of millions of dollars in restoration work.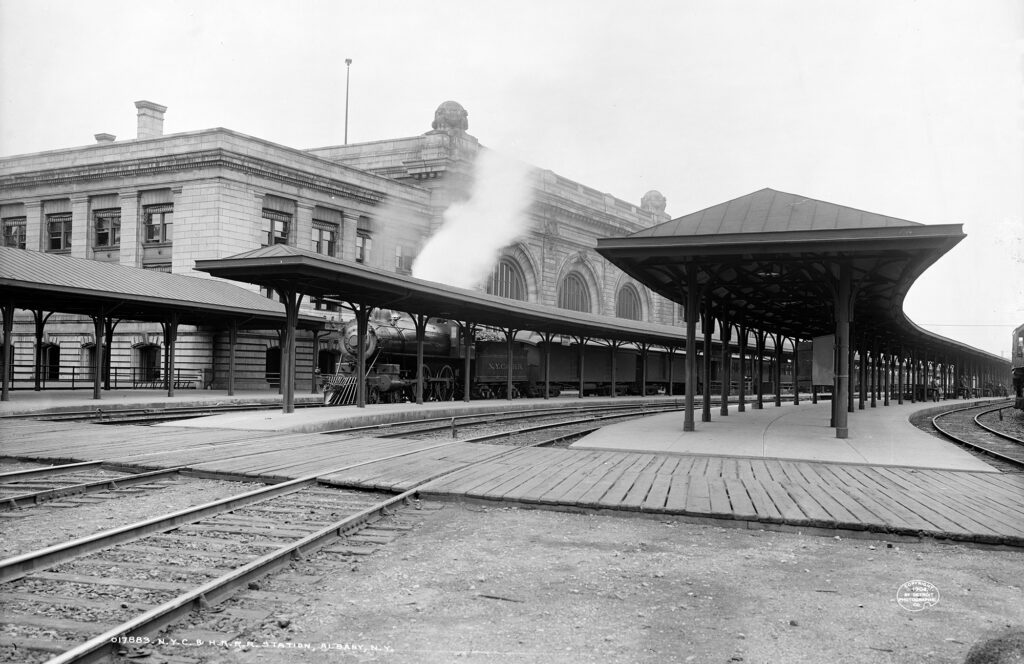 'Saved by the lethargy'
In some ways, the fact that Kiernan Plaza is still standing at all is a stroke of luck.
The train hall opened in 1900, a stunning example of Beaux Arts architecture that loomed large over Broadway and deposited rail passengers into the heart of the city. But in a story that's familiar by now, the station dwindled in importance over the decades as the automobile gained prominence and passengers began to abandon rail travel.
By the time the last train rolled through in 1968, the grandeur of the building had largely faded, with one newspaper writer at the time describing it as a "dingy cavern."
Carl Johnson, author of the local history website Hoxsie.org, said the grunginess of the building was well-documented and universally acknowledged. "It was just horrifying," he said, owing mostly to neglect, coal soot and tailpipe exhaust.
When it closed, nobody seemed to miss it. Plans called for a new Albany station in the growing suburb of Colonie, on New Karner Road. The building, which as of 2016 still existed as a modest storage warehouse, was soon replaced by the station in Rensselaer, which persists today as Albany's main rail hub.
The closure of the old Union Station led to two other changes that permanently cut off the building from future rail service. The first, and more obvious, is the construction of 787, which meant tearing up the rail yards and building a highway-shaped barrier behind the station. But the demolition of a key rail bridge acted as the final nail in the coffin.
"Any ability to return that [building] to station status pretty much went away when they tore down the Maiden Lane Bridge, which was shortly after the station was closed," Johnson said.
The state's Department of Transportation owned the building in the 1970s and sought to sell it, but found no takers. The DOT commissioner at the time proposed its demolition, but for 15 years the wrecking ball never came, either by design or neglect.
"I think it was saved by the lethargy," Johnson said.
'It really needs to be enlivened'
Kiernan Plaza went up for sale in early February, and a call for bids closed by the end of the month. The winning bidder has yet to be announced, but Redburn Development has identified itself as one contender.
The company has already invested many millions into downtown Albany, converting neglected or vacant buildings into retail spaces and luxury apartments. Jeff Buell, principal at Redburn, told the Albany Business Review he was working with an office tenant that has "150 well-paid employees" and an interest in taking over Kiernan Plaza from its current tenant, SEFCU. (Buell declined to speak to Albany Proper until the sale process is complete).
Many Albany residents feel the building should be turned back over to public use.
"That's what it was built for to begin with," Johnson said.
If not the entire building, the grand two-story entrance hall — with its intricate detail, coffered ceilings, gold chandeliers, soaring archways and marble floors — is an alluring space that is, at present, mostly hidden from view.
One particularly vocal corner of Twitter, in response to a tweet by this reporter, voiced an interest in seeing the building as a market or a library or a maker space or, against all practicality, a train station again.
Townsend said he thought it was unlikely the entire space would return to public use. He said the real estate market would likely determine whatever mix of commercial or residential tenants makes sense in the building, but that the entrance hall, at the very least, should remain open to the public.
"In any city, it doesn't matter what city, when you can start getting the buildings to become part of the outdoor public space, the life is just totally reinvigorated. It's not invigorated right now. It needs to be reinvigorated, and that's one way of doing it," Townsend said. "We're starting to see a little bit of it happening on Pearl Street … but that really needs to happen at the storefront level on Broadway."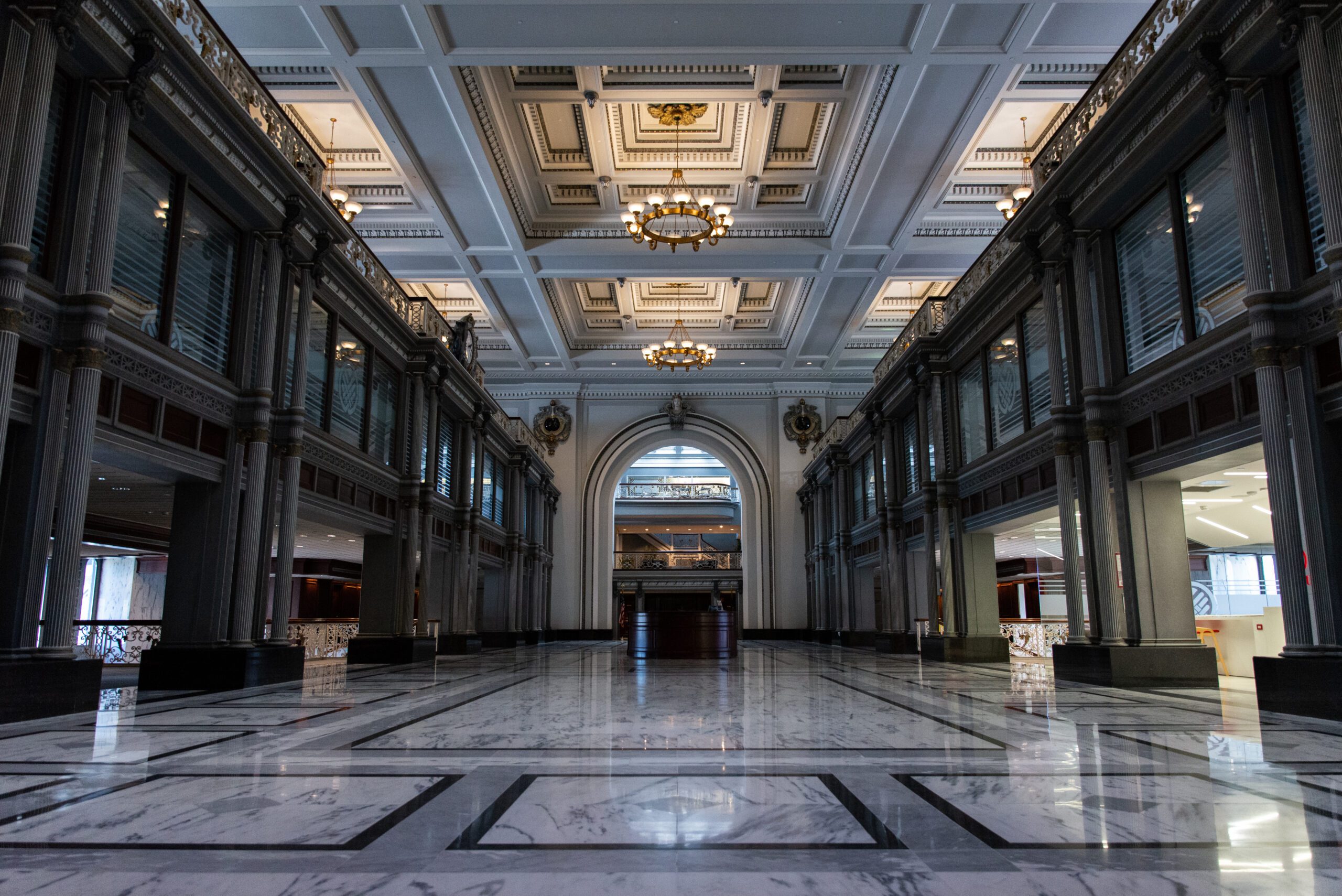 Inviting the community in
Riley Ackley, president of the newly-formed Downtown Neighborhood Association, suggested that the building — which he described as a "pristine architectural marvel" — be converted into a research library and museum. Along the lines of the Morgan Library & Museum in New York City, Ackley said the space could include rotating exhibits, cultural events and mixed-use community spaces.
"An institution like this in downtown Albany could serve as a beacon for incoming tourists and provide low-cost, enlightening opportunities for the many new residents who continue to flock to this area, in addition to bridging gaps with long-existing communities," Ackley said in an email.
One potential model for such a reinvention lies in Cincinnati. The city's Union Terminal, a 500,000-square-foot building erected in 1933, lasted as a train station for just shy of 40 years before closing to passengers.
Through the decades, it limped along as a science center, then a shopping mall and then, after a minor renovation in 1990, home to a few of the city's museums. (That renovation also led to the return of limited Amtrak service, which still runs today).
"There was a lot of nostalgia, a lot of memories for the building, and people were very happy to be back in it," said Cody Hefner, vice president of marketing and communications for the Cincinnati Museum Center.
By 2016, it was time for the building to undergo the proper restoration it never had, "because up to that point it had just been bandaids and patchwork," Hefner said. The $228 million project — done with the help of Albany architecture firm John. G Waite Associates — was funded by a combination of county sales tax, private philanthropy and historic tax credits. And while the price tag was substantial, Hefner said it was actually the museums' cheapest option, compared to moving or building from scratch.
"It's already there, it's already built. If it's in fairly good condition, you've already got a good start. It's a piece of architecture, it's a piece of the cultural fabric that you are preserving," he said.
Of course, retrofitting old buildings has its challenges, too. They're less energy efficient, for one thing, and historic designations limit what you can build and alter. But Hefner said the undertaking, especially for something like a museum, is worth it.
"For us, the building itself is an artifact, it has a story," he said.
The historical significance of Albany's Union Station is certainly one reason to open its doors to the public. Pamela Howard, the executive director of Historic Albany, also voiced her support for the building's role in downtown Albany's revitalization.
"It would be wonderful if the new use allowed the public inside to enjoy the architecture," she said in an email.
Whatever becomes of Kiernan Plaza, it's unlikely that this opportunity for reinvention will come around again any time soon. If Cincinnati is a guide, the public only has so much appetite for supporting (and funding) these types of projects.
"It's such an expensive undertaking, it's not something you want to do again in the next 10 or 20 years," Hefner said. "You really only get one chance."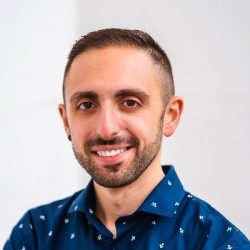 Latest posts by Mike De Socio
(see all)