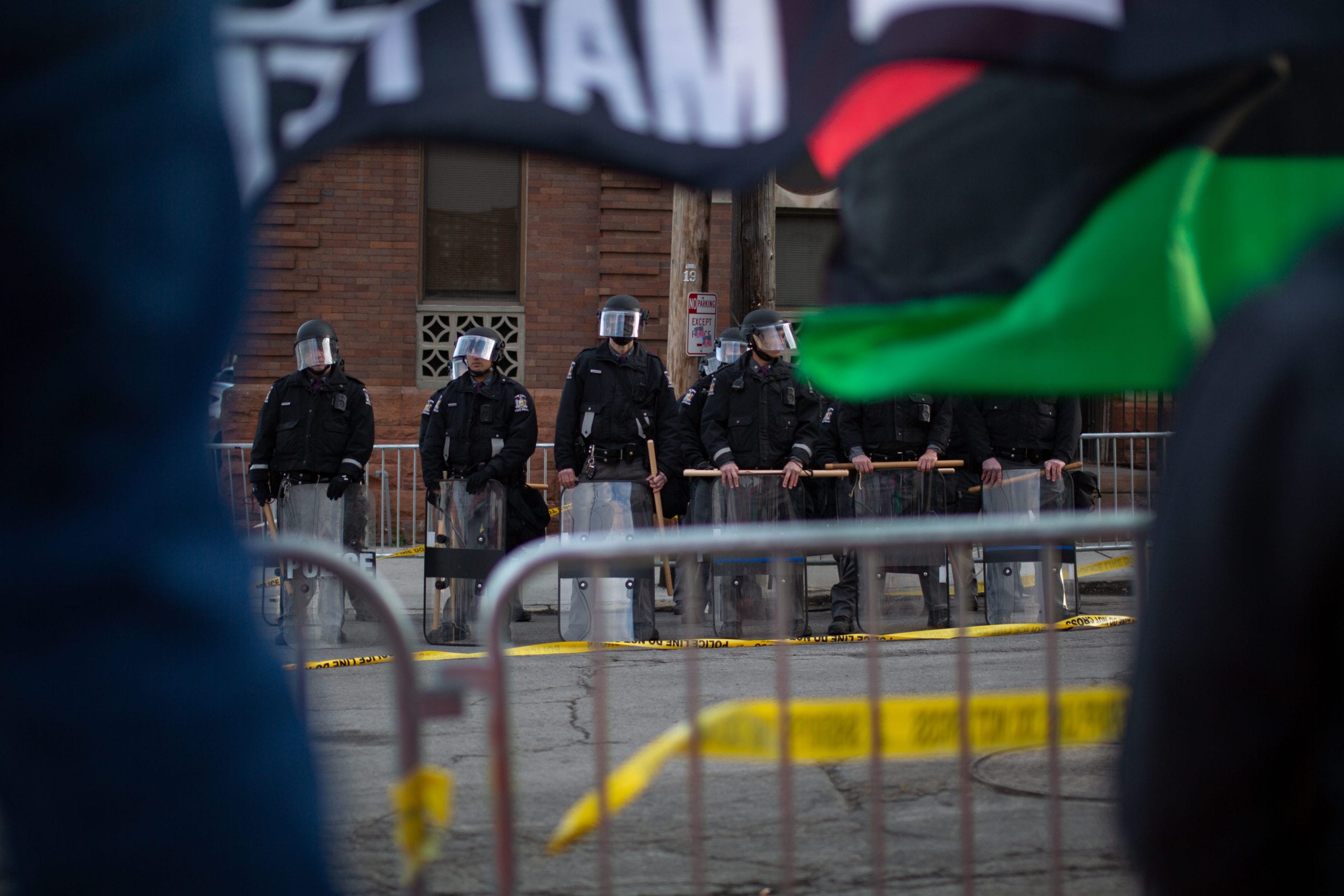 Albany police storm South Station protest, dismantle activist camp
A growing encampment of Black Lives Matter protesters calling for increased police accountability saw their camp forcibly razed by riot police with duct tape over their badges.
For the last six days protesters had erected tents, food tables, and a steel-enclosed campfire for warmth outside the Albany Police Department's South Station. Between them they orchestrated a list of demands, which included the firing of a lieutenant that was caught on video escalating a protest at the same station a week earlier, and a panel discussion with the mayor and police chief.
As recently as yesterday community members had dropped off blankets and food to the half dozen demonstrators camped out on Arch Street. A large portable heater, the kind typically seen at bars trying to increase outdoor dining due to COVID-19 precautions, had also been donated. On Thursday morning the group posted on social media that they would be hosting a blanket and food drive at the site, situated just around the corner from the City Mission.
They never got the chance.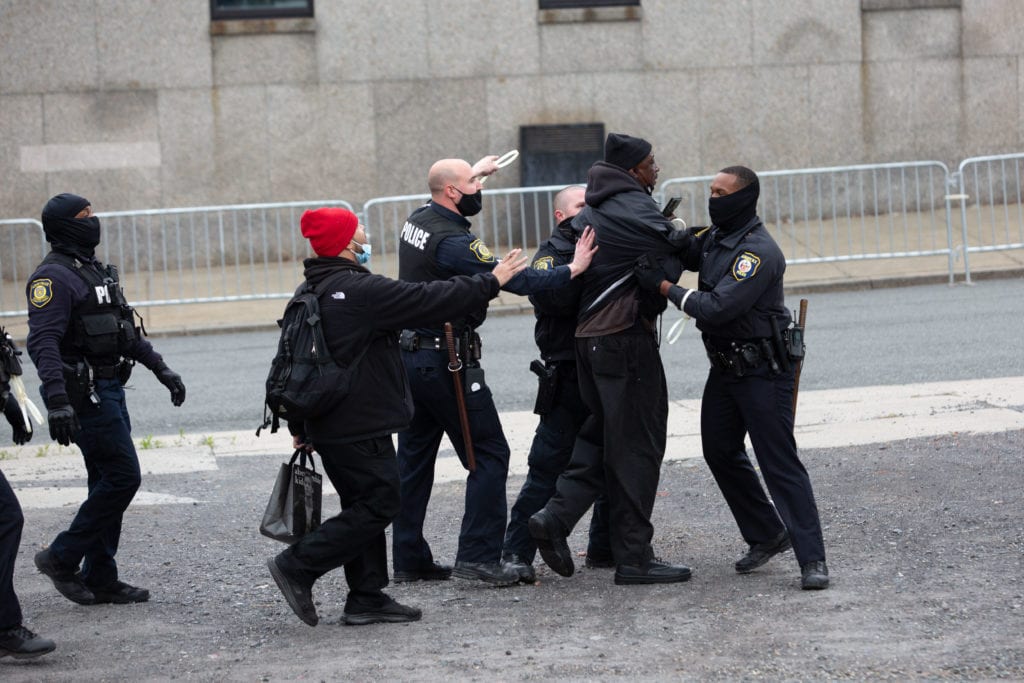 Albany Police Chief Eric Hawkins took to Twitter at around 3 p.m. to announce that the "unlawful occupation" would be ending:
"We have heard the grievances of the protesters loud and clear. We have also heard the concerns from members of that neighborhood as well as officers & non-sworn staff who serve from the South Station. For public safety purposes, it is time to end this unlawful occupation."
Mayor Sheehan added her full support.
Moments later a few officers approached protest organizers and warned that they had 15 minutes to leave. They then walked away.
15 minutes later, dozens of riot police emerged and began pushing protesters with their batons, throwing some to the ground and dragging them. The large response of law enforcement appeared to go against the chief's claim that personnel couldn't access the station due to the protest.
Six protest organizers were arrested in the immediate chaos. Two more arrests would later follow. Charges included Disorderly Conduct, Obstruction of Governmental Administration and Riot in the 2nd Degree.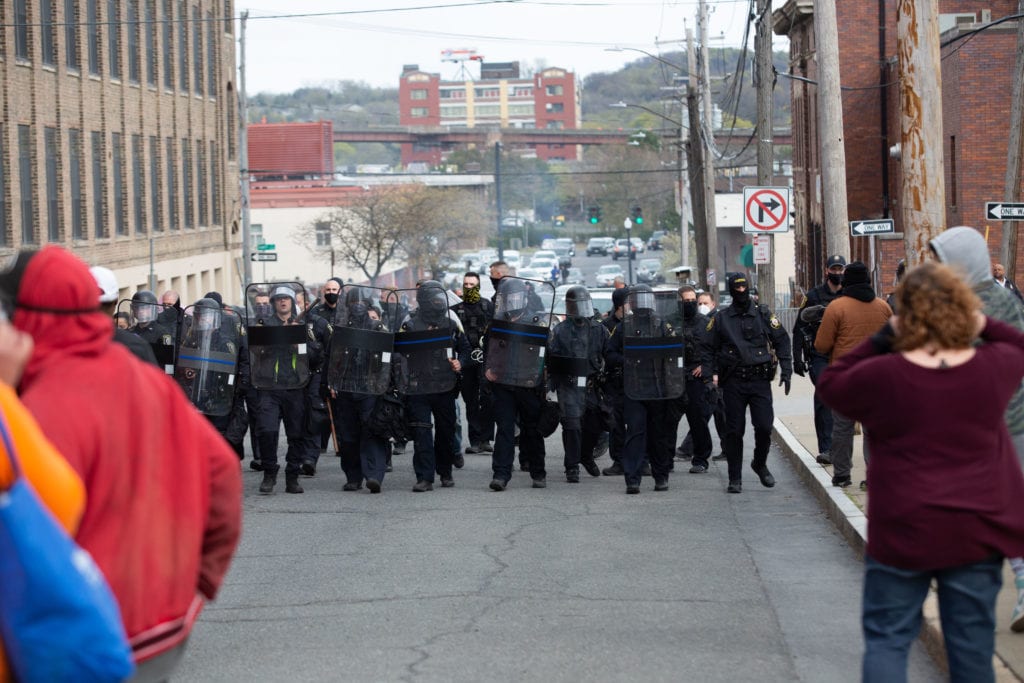 A line of riot police from the city, county, and state commanded the rest of the crowd down Arch Street, yelling "MOVE" in unison as they forced their retreat. At the corner of Grand and Arch streets all that separated a volatile crowd of onlookers and a line of riot police donning helmets, shields, and batons was a metal barrier.
Between them Dr. Alice Green, executive director of the Center for Law and Justice, paced back and forth. For 40 years she has been working in Albany's South End neighborhood on issues of racial justice — but she was noticeably not invited to take part in the state-mandated community police reform committee this summer.
"They are escalating a situation that didn't need to happen here," she said of the police response.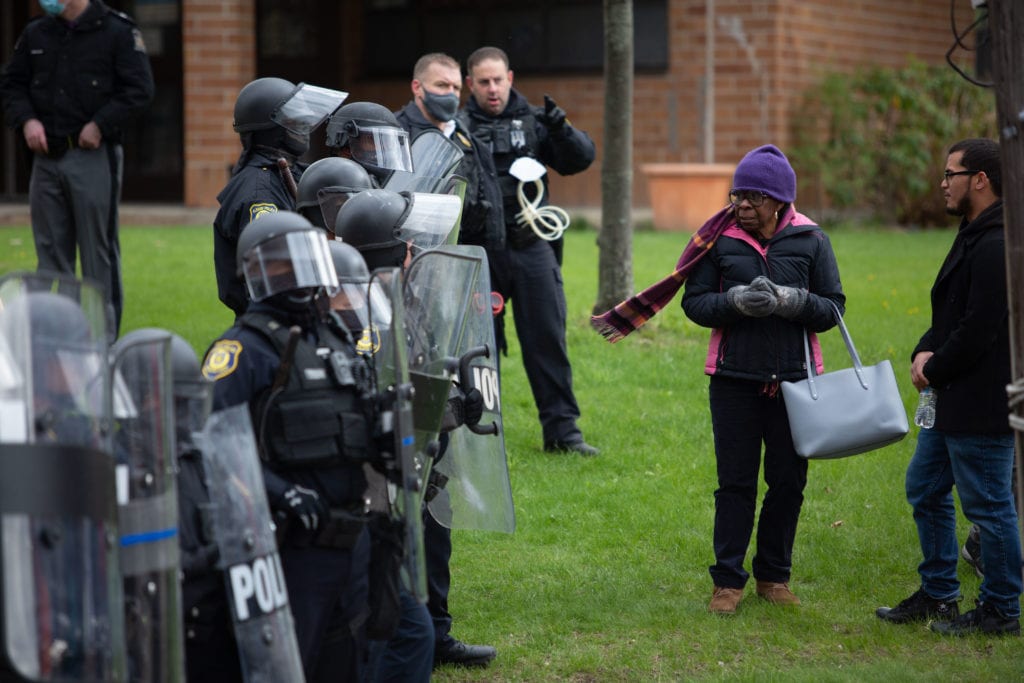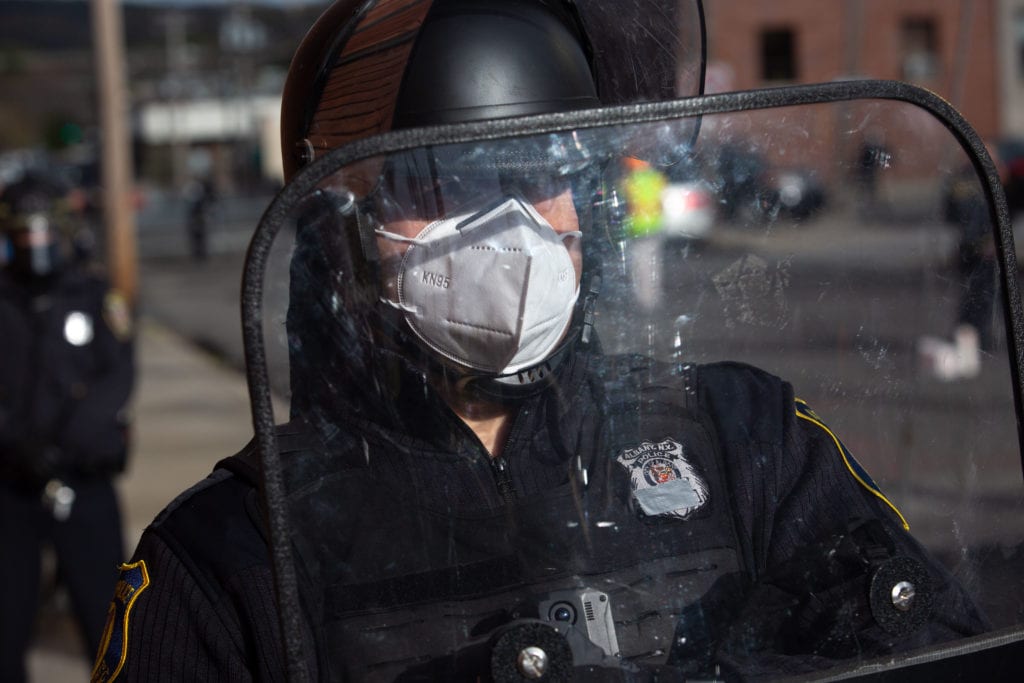 Many in the crowd were calling out officers at the scene that had placed duct tape over their badge numbers — and few of them displayed name tags. A visible badge and an embroidered name tag over the right pocket of the outermost garment are both mandated by the department's Uniform and Grooming Policy.
Two nights before the protest was broken up, Gabriella Romero, a public defender who is running for the city's Common Council in Ward 6, visited the site.
"When I went by last night it was really peaceful," she said. "Calm. Strangers together around a fire joined together with a mutual dissatisfaction in the APD."
She posted a photo while warming her feet in front of the small fire — a scene that could have easily been mistaken for a wooded campsite if it weren't for the street pavement surrounding it.
"It's peaceful here." she wrote.
Romero echoed a NYCLU statement condemning the aggressive police tactics and said she was disheartened to see reports that officer's identities were concealed.
"Albany is in urgent need of reform," she said.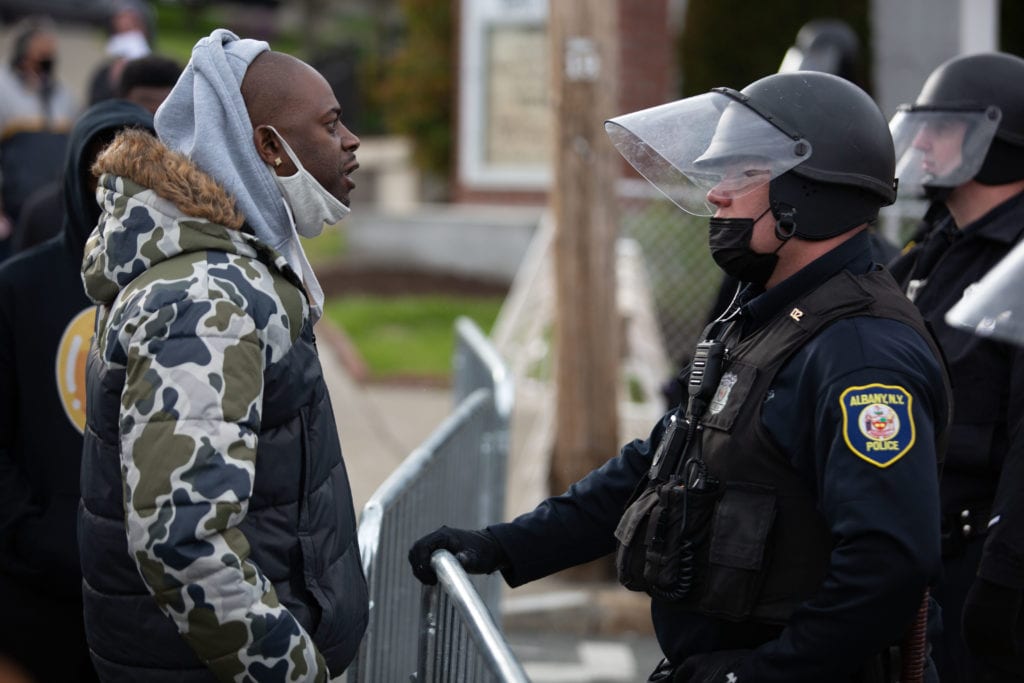 Joining in the outrage, which played out just blocks from the Governor's Mansion, was Shontell Smith, the chief of staff to New York State Senate Majority Leader Andrea Stewart-Cousins:
"There is no excuse for the violence used against protestors in the South End of Albany. The use of tear gas, the bulldozing of the encampment & the hiding of police badges /names should NEVER happen. Truly disappointed. The right to protest should always be respected. FULL STOP."
Andrew Joyce, Chair of the Albany County Legislature, was the only elected official seen standing behind the police line watching the events unfold. He told Albany Proper that he was there to see firsthand what was happening.
"I just think we need to get to a point where everyone's voice is being heard and we move towards a more equitable justice for everyone and we can do so safely," he said.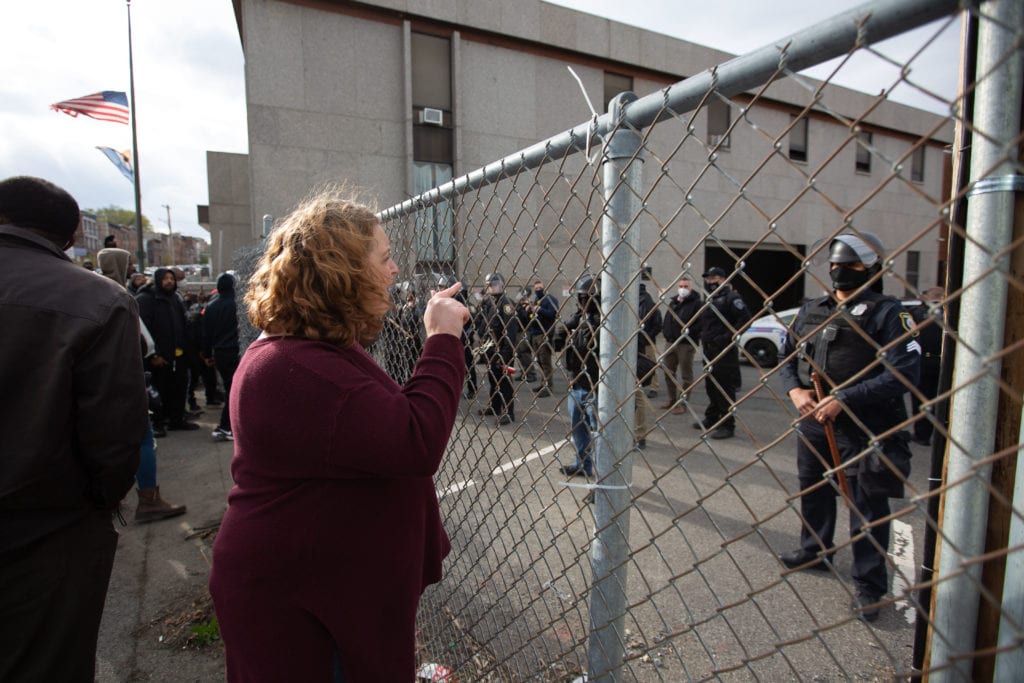 Meanwhile, as the crowd was confronting the riot police surrounding South Station, Tracy Sangare was shouting at officers through a chain-link fence in an attempt to find out what had happened to her daughter.
Samira Sangare, an organizer who had been staying at the camp, was among those arrested by police. Her mother turned her attention to an officer that she recognized in an attempt to find out where they had taken her daughter.
"I taught your step-children, you know me. And you won't even look at me and you know me. That's my child," she cried.
"I have not seen your child," the officer flatly responded.
Despite her pleas, Sangare couldn't get any additional information out of the formation of stone-faced officers.
Hours later her daughter finally emerged from the station after her arrest was processed. With her shoelaces still removed from her boots, she embraced her mother and cried. Then, without further delay, she grabbed a megaphone and rejoined the remaining protesters.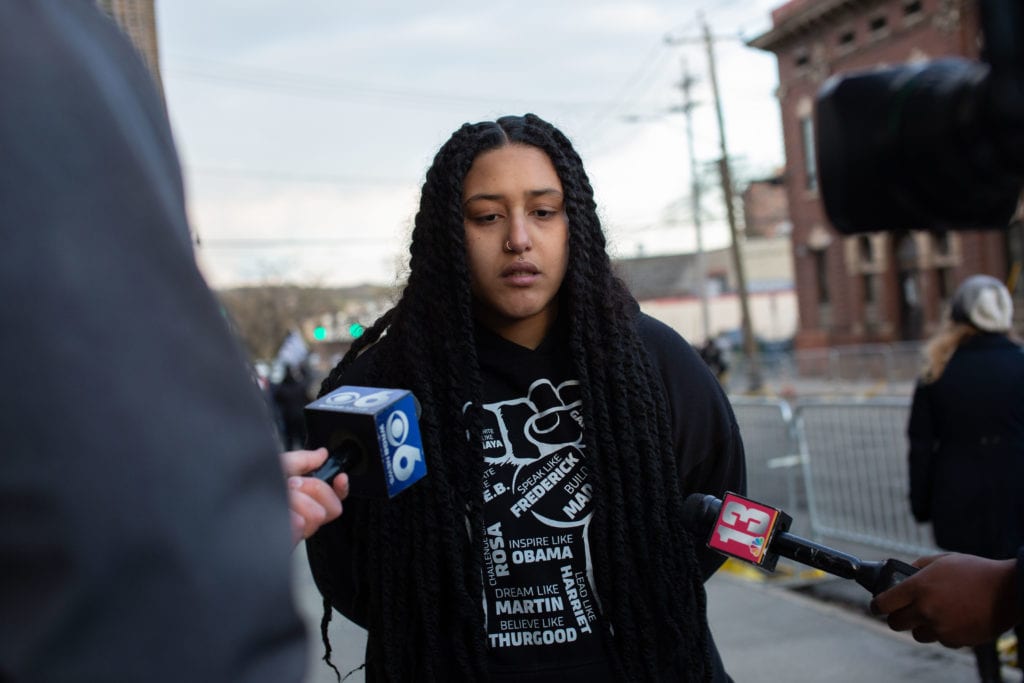 When asked by Albany Proper if she agrees with Chief Hawkin's assessment that their grievances were heard "loud and clear", she said: "No. He hasn't listened at all."
As far as the protester's personal belongings, which reportedly included prescription medicine, the city said that items could be retrieved from the Department of General Services. Their belongings were gathered by DGS bulldozers and emptied into dump trucks. When the street reopened, shattered glass and wrecked belongings still littered the sidewalk.
All that remained in the street where their camp once stood was a doormat that said "blessed".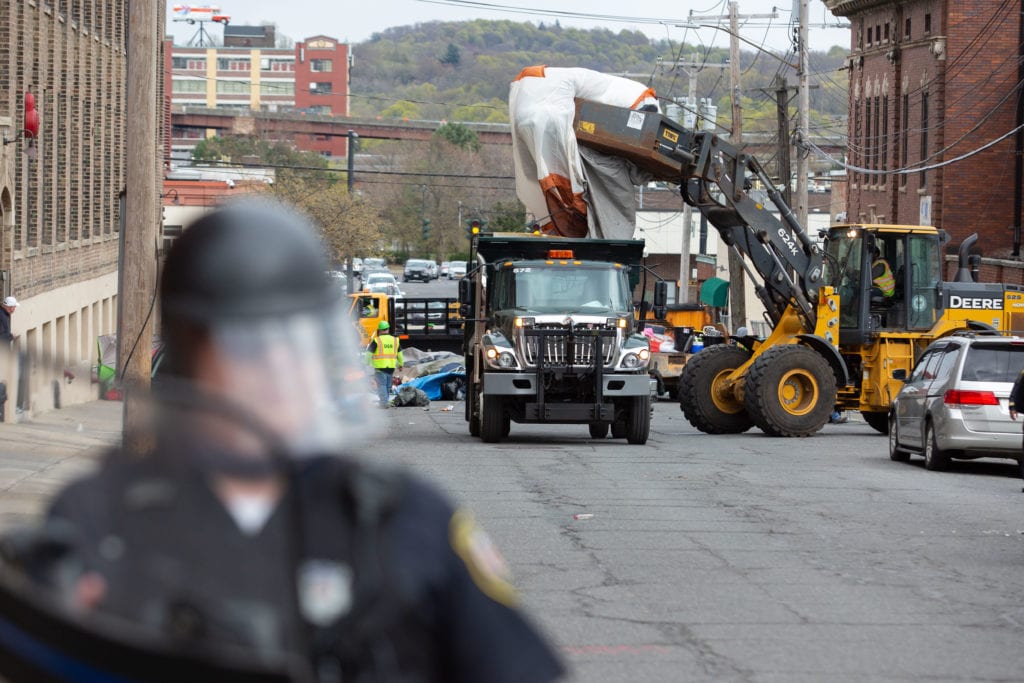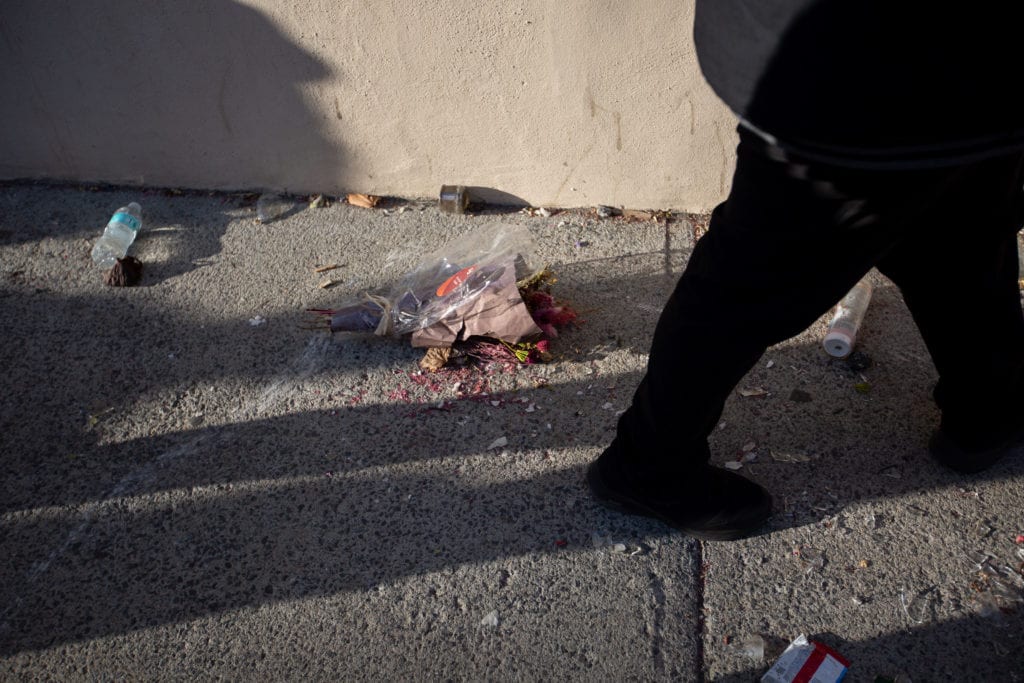 "For me my goal from the very onset was to do what we could do to avoid civil unrest in the city," the Chief said at a press conference later that night.
He called the need for swift action on Thursday as a "window of opportunity."
"We have a peaceful resolution now. No one was hurt. The road is clear."
One of those arrested was seen leaving the station in an ambulance. Late into the night the street remained closed-off by metal gates with leftover zip-tie hand restraints used to secure them together. Around a dozen riot police officers remained standing in front of the station staring down a crowd of around 50 people on the sidewalk.
"I'm willing to meet with anyone in this community that has an interest in making the community better," the chief said from APD headquarters across town. "I'm accessible."
Protesters say they have not heard anything directly from the chief or the mayor, and Amy Jones, who had been serving as a liaison between the protesters and the city, was not happy with how things ended up — she said that they lied to her.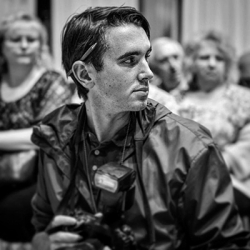 Latest posts by Patrick Dodson
(see all)