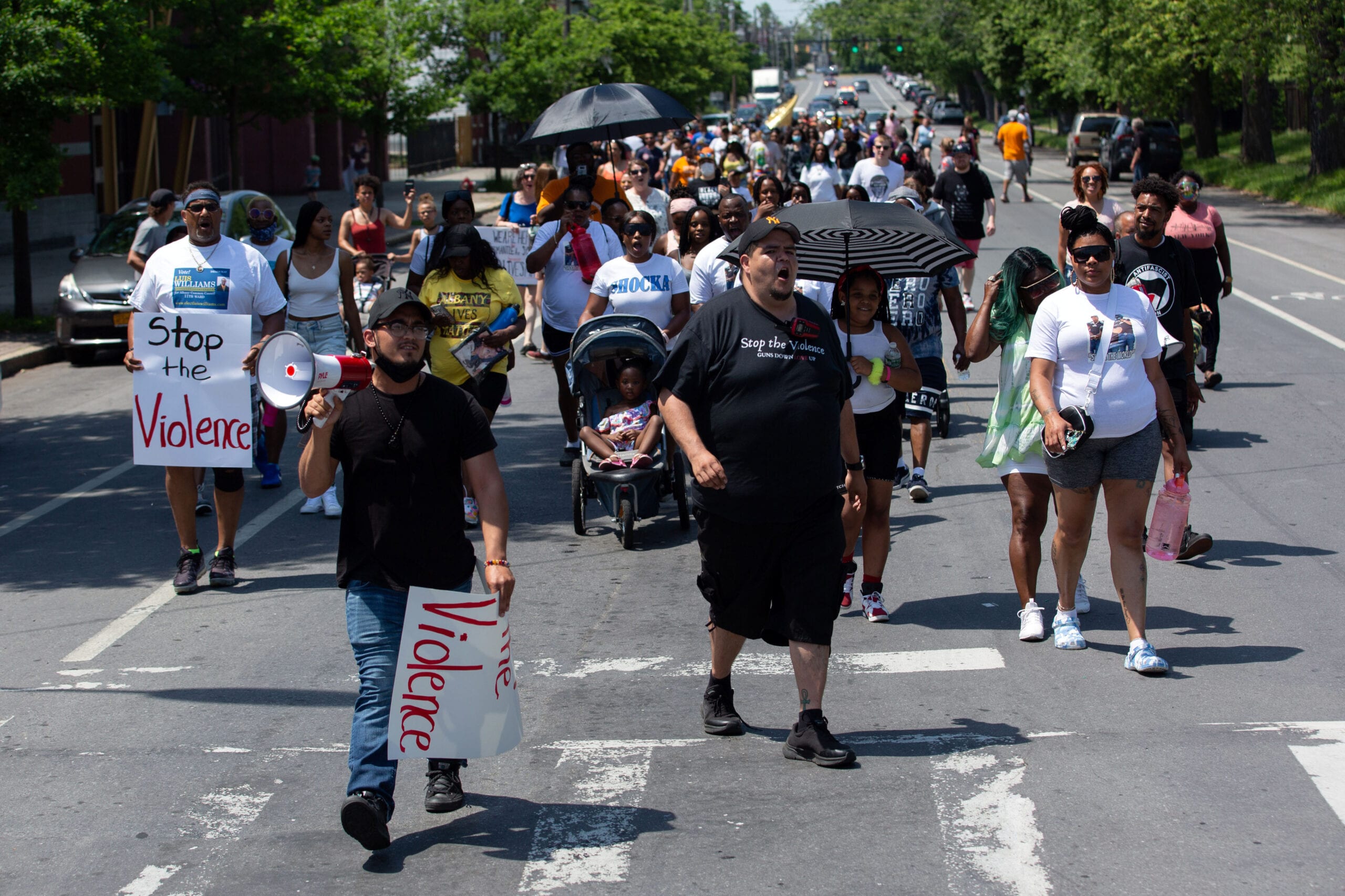 Community members march to demand an end to shootings in Albany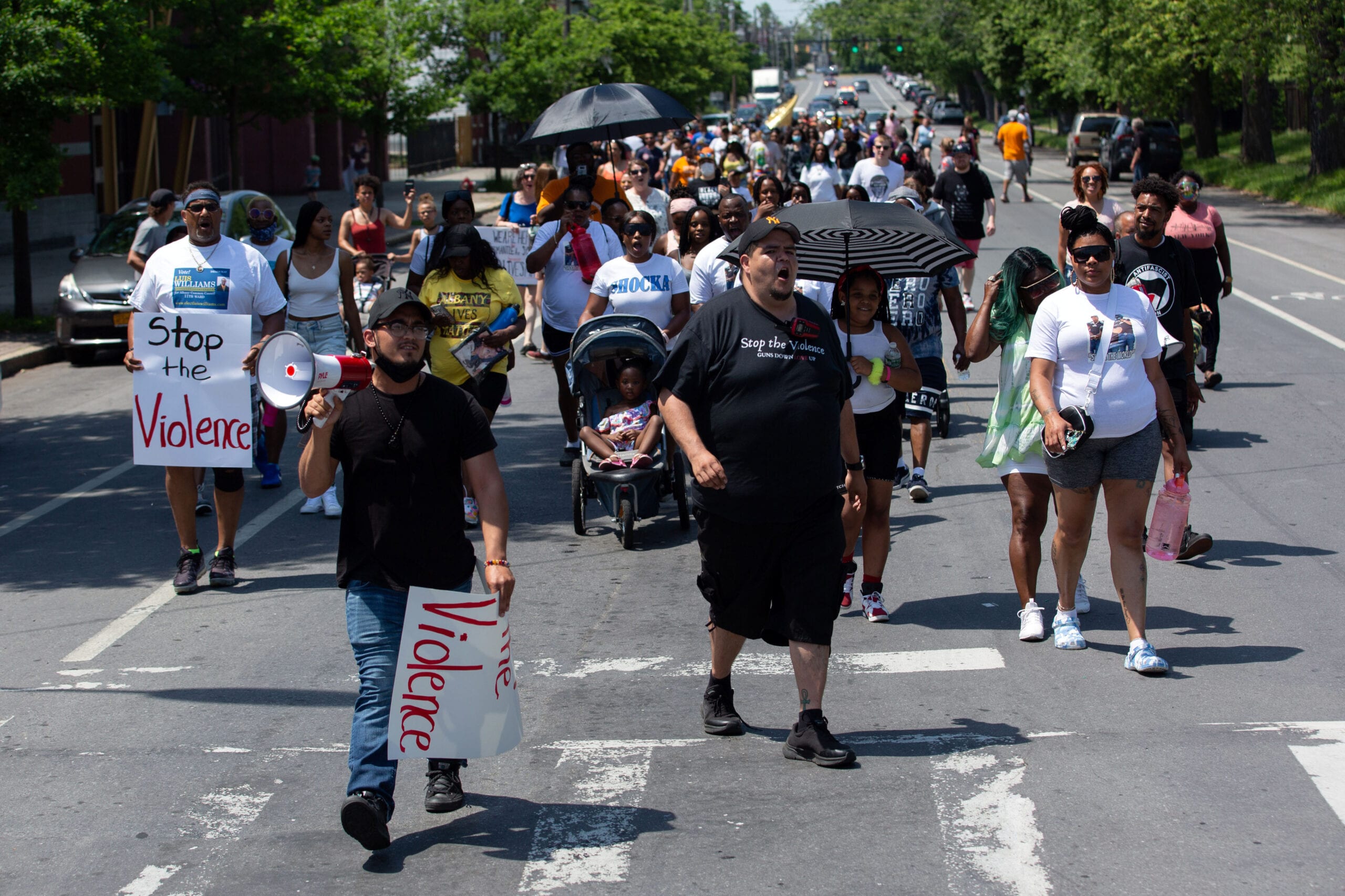 The night before an anti-violence march and speak-out was set to depart from Swinburne Park, gunshots were reported on Third Street just blocks from the park. It was an all-too familiar example of what has rocked Albany to its core and created action from elected leaders and community members alike who fear a repeat of last summer's tragic shooting toll.
In May alone, Albany saw six homicides from gunfire in the streets.
To address this spree of violence within the city, a coalition of dozens of community groups and activists braved 90-degree temperatures to host a city-wide march that departed from the West Hill Park and traveled through neighborhoods until it ended on Grand Street in the South End. More than 100 community members joined, pausing along the way at the sidewalk memorials for some of those recently lost to gun violence. Throughout the day the message was clear – the shootings must end.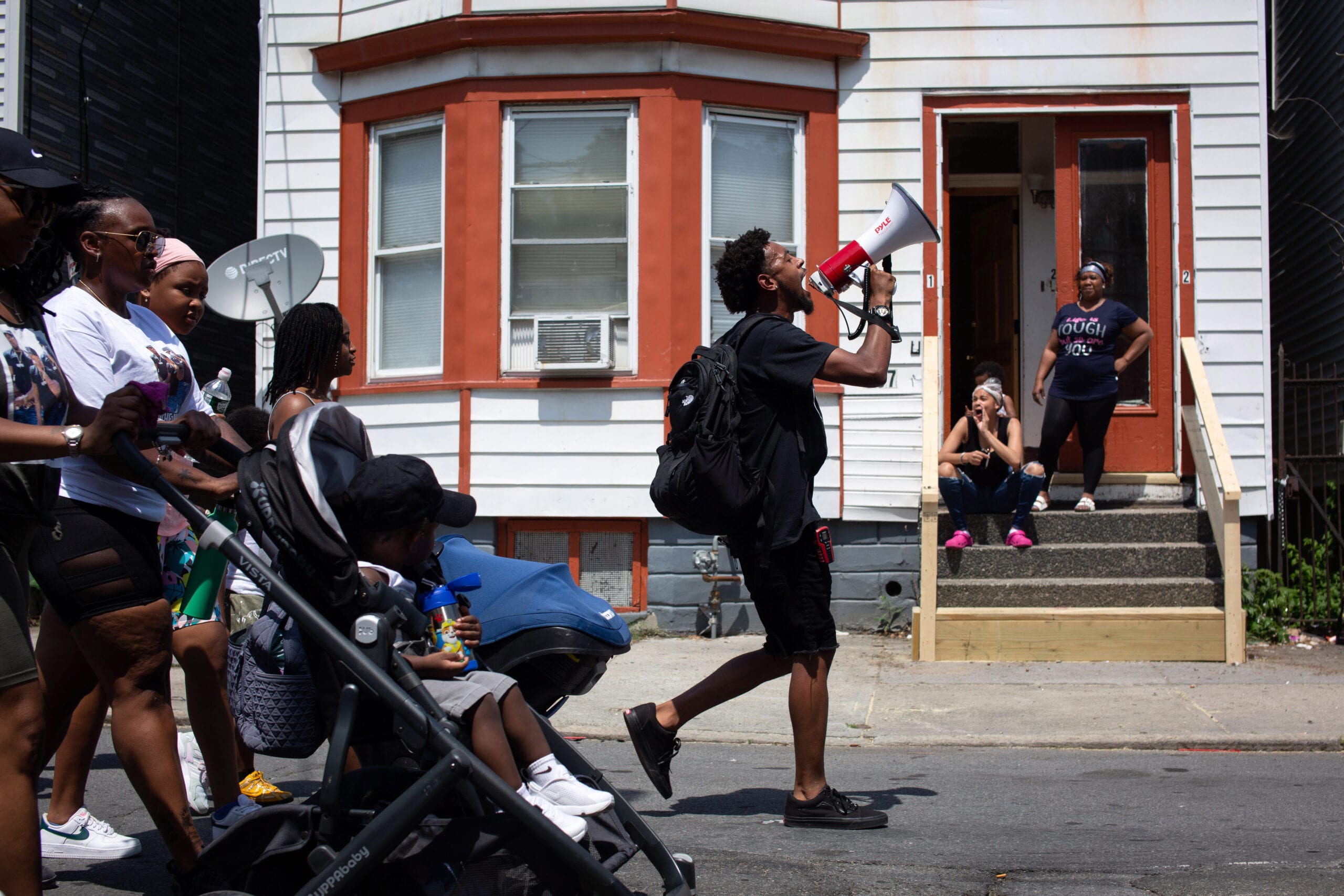 One of those memorials belongs to a former student of march organizer Tom Mueller, who took a moment to speak about the 22-year-old known as 'Nas'. 
"It's hard for me to stand here and think about the man he couldn't become. Not the father he could have become. Not the community member he could have become," Mueller said.
Following the march, Mueller shared additional thoughts on Facebook:
"As I stood in front of his memorial and began to speak I couldn't help but notice one of my current kids staring back at me from the crowd. He is only in 4th grade and has his whole life ahead of him. Even at this young age he knows the reality of the violence that has ravaged our communities. And as he chanted and cheered, I couldn't help but think this is WHY we march."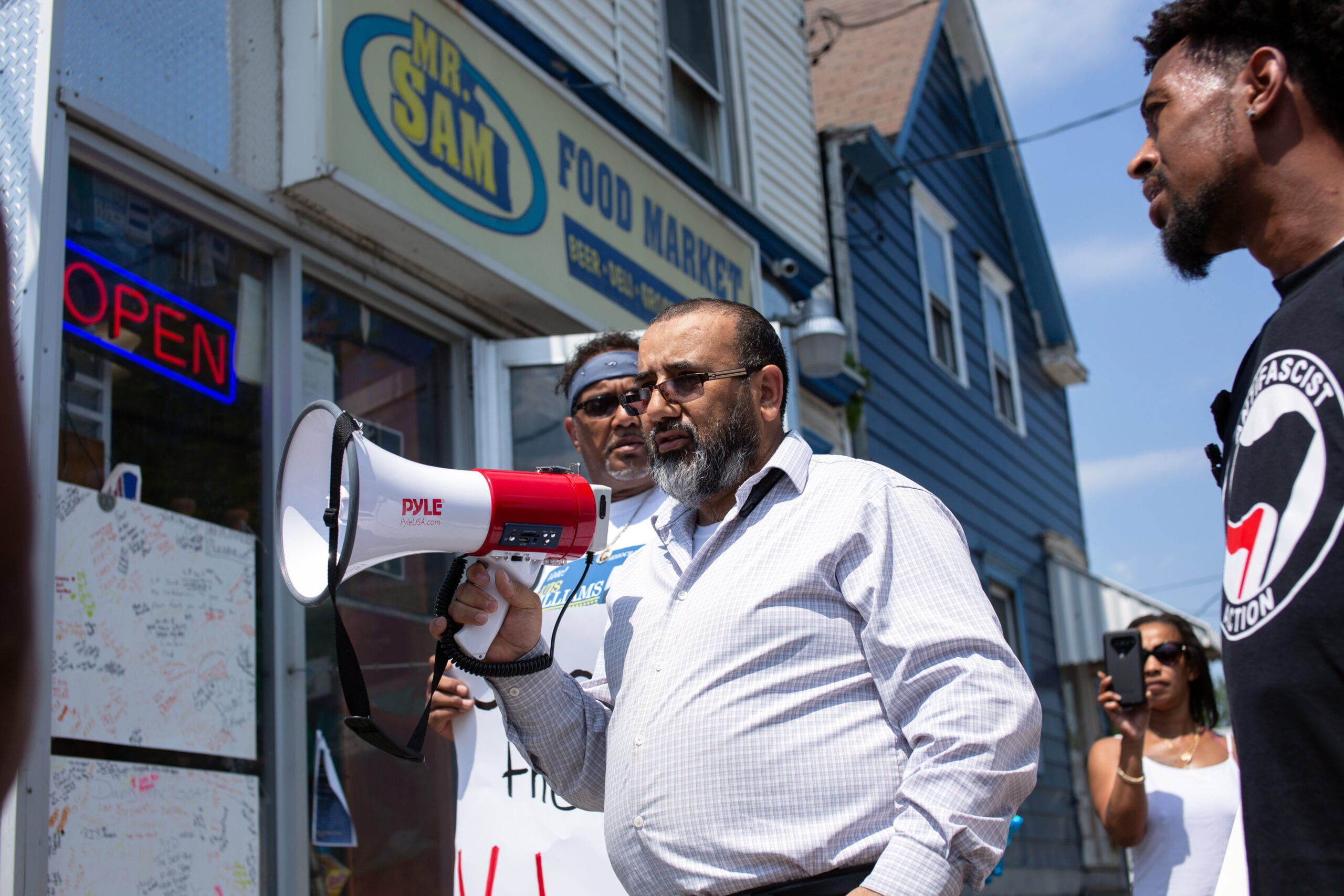 The march also stopped at Mr. Sam Food Market at First and Quail Streets, where a hail of gunfire meant for someone else ended up killing a father of four who was walking to the corner store where he works.
A man working behind the counter at the store stepped outside and used a megaphone to thank the crowd for showing up for Sharf "David" Addalim.
On Grand Street, the crowd was greeted by neighbors who opened their doors and provided water, hamburgers and hot dogs to those who had marched. Organizer Tom Mueller once again addressed the crowd, saying, "We're out here because we want to call attention to the fact that our community needs to be present. We want to be here for one another and we already know there are so many entities out there that will not do it for us."
Despite Albany Police Chief Eric Hawkins and Mayor Kathy Sheehan making calls for this kind of community support, they were noticeably absent from the march that saw representation from multiple current incumbent and candidates for Common Council.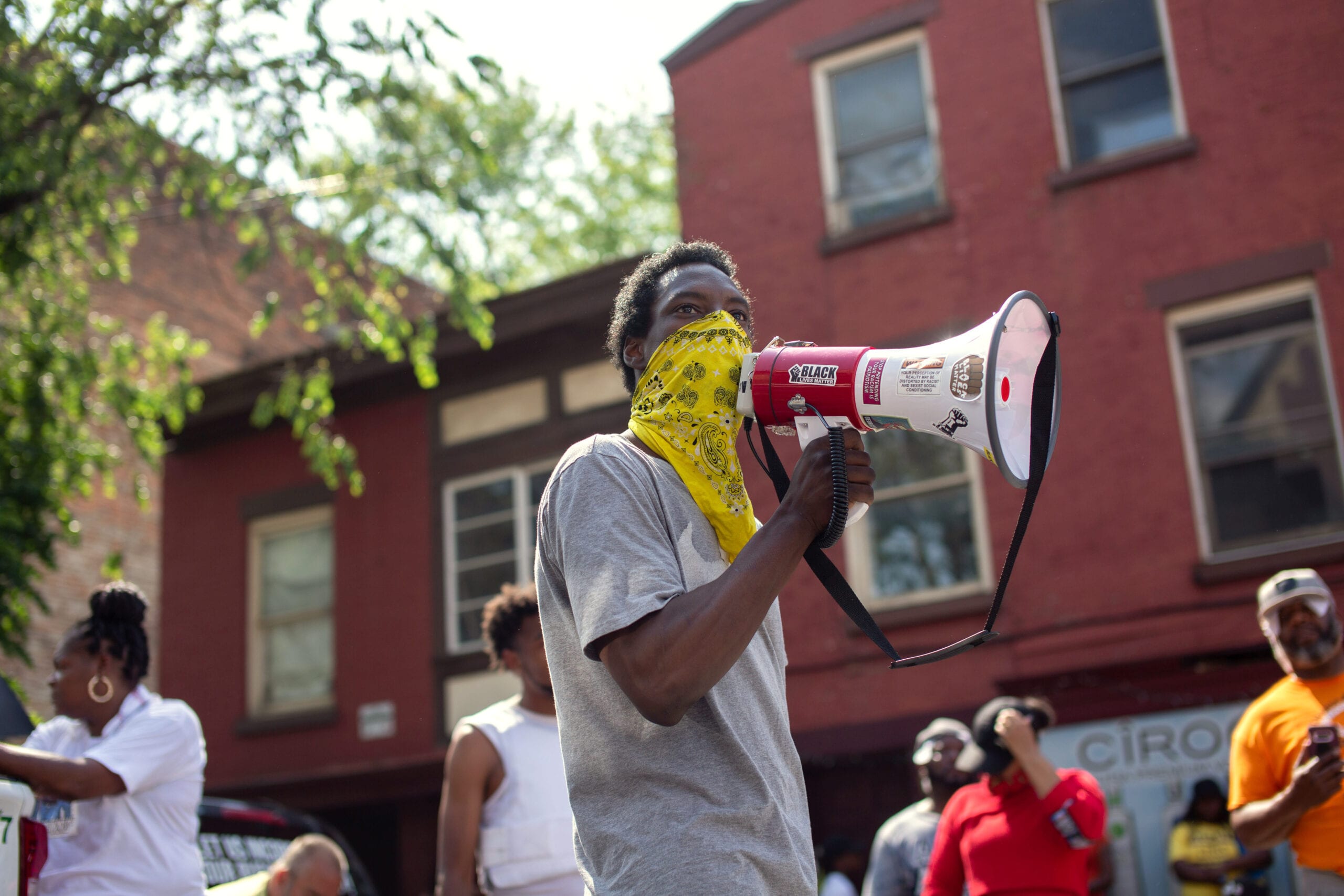 As the day ended Tabari Watson took the opportunity to speak his mind and remind everyone of the ongoing community work.
"We're all standing here together, the hard work ain't over the hard work ain't even started. It's going to start at home. It's going to start by talking to each other," he told the crowd.
---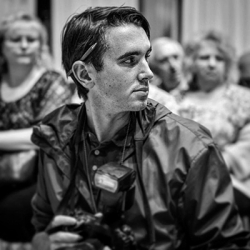 Latest posts by Patrick Dodson
(see all)