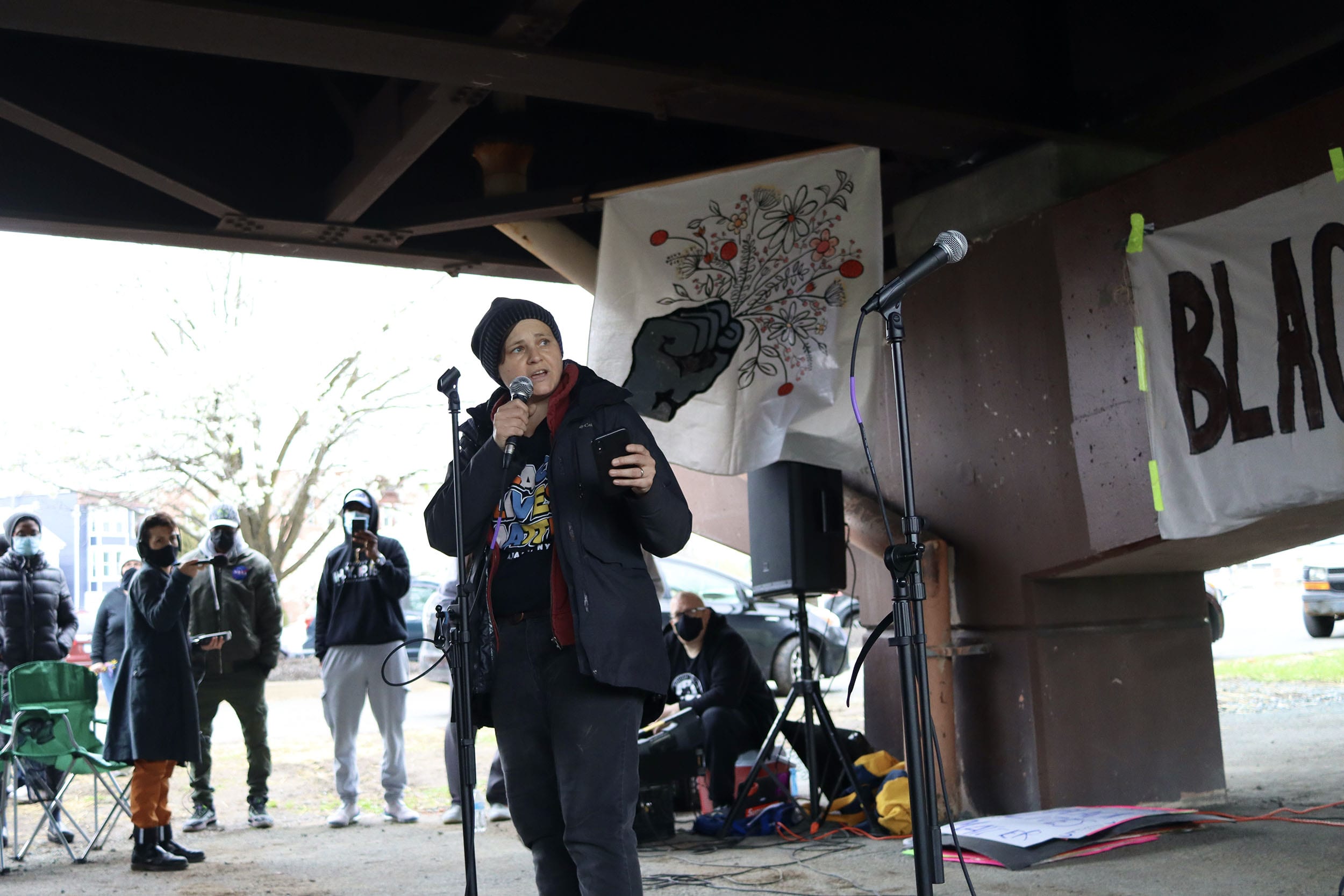 'A lack of openness': Angela Beallor discusses organizing around police reform in Troy
Angela Beallor is currently the Documentarian in Community Co-Creation for MDOCS at Skidmore College. She has been involved with Reimagine Troy, a group formed last year in response to Executive Order 203, which required each local government in NY to create and adopt a policing reform plan by April 1, 2021. Beallor spoke with Albany Proper about her vision and frustrations with this process.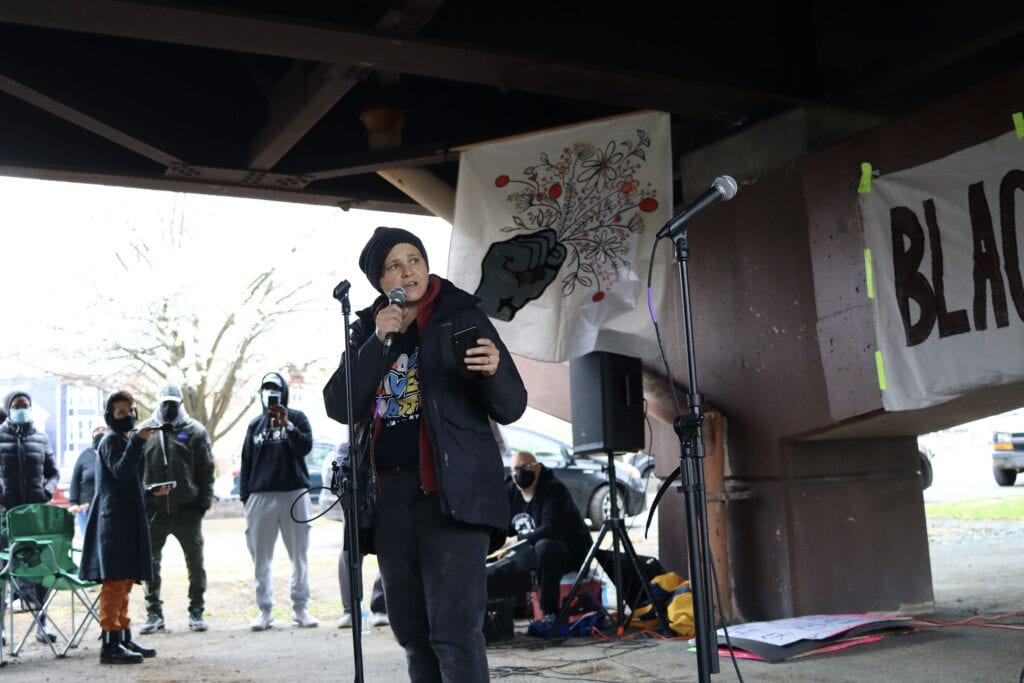 I'm an artist and a parent.
Earlier in my life, I was doing a lot of political organizing and activism around police brutality, racism and sexual assault in northeast Ohio. I moved here in 2015. I felt like a new person to Troy. It felt hard in such a small town to figure out where to be and what to do. Since last June I stepped up to be involved again, here.
June is when Governor Cuomo issued Executive Order 203. Mayor Madden, who I think responds to things with a lot of silence, didn't say anything about it until January 2021. Earlier than that, City Councilmember Sue Steele initiated a working group called Reimagine Troy Community Justice Services. I volunteered to be on that. We were trying to figure out what's our role in all of this? Especially because the mayor hasn't said anything. It quickly became clear that our role, at least initially, was to raise a ruckus and just be like, why aren't you meeting? You need to be doing this work.
We put out a press release and I know they were scrambling behind the scenes. People got asked at the last minute to be on this committee. The city convened the Police Reform & Reinvention Collaborative (PRRC), held 9 meetings in the month of February, then a few weeks later issued a report.
The executive order was about addressing systemic racism, police violence and policies with the goal of producing more transparency and more trust. As far as transparency goes, not saying anything to your city about this at all and announcing it at the last minute, stuffing it full of people who either are police, have been police, whose husbands are police… having a handful of people who felt very tokenized in their experience just leaves everyone with less trust.
// What would you say are specific problems with policing in Troy now?
I think one of the biggest problems with policing in Troy is they don't want to even have a conversation about it.
There was a panel convened last November called Time for Reckoning. They talked to people who were in the government and community respondents. In an interview, Chief Brian Owens said that there's no systemic racism within the Troy Police Department. In October 2020 one of the only Black police officers in Troy, Christopher Johnson, sued the city. He's suing the city of Troy and the Troy Police Department for systemic racism.
So there's that. There's just a lack of openness in wanting to engage in any of these dialogues. They're getting themselves tangled up in these lawsuits. Regardless of what they feel about policing, their hands end up getting tied and their mouths shut because these lawsuits are going on. There's got to be a way out of that and an opening made. The PRRC could have been that if they had actually given it time and followed the things that the executive order called for. They did it in such a constrained fashion that most people in Troy probably didn't even know that was going on. It would be very easy to miss.
They tried to get 2 new community police officers sometime within the last few years and the budget for it wasn't approved by the city council. So they wrote it into the PRRC report. The final recommendation is to add 2 more community police officers per district in Troy.
Nothing else that we know of is happening with it. There's very few places where they make specific timelines. They said within a month we'll make a committee, a task force – we don't know if anything's going on with that. They supposedly committed to certain things in terms of diversity, equity, inclusion in their training… but this is the first thing. A week or two after the report was finalized, they pushed through to the finance committee a proposal for six new police officers. It was so rushed that in their ordinance – it was passed, 5 to 2 – they don't even mention the words "community policing."
Once you hire and expand your department it's hard to rein that back. You're getting Troy on the hook for their salaries and their pensions.
Council members say they're hearing from their constituents they want more police. That's hard to respond to. First of all, a lot of these council members are very pro having more police, so that's the voice they're going to hear. They're going to lean in when they hear that.
On the other hand, there's not a sense of other options for people. Policing is the status quo. If you need help, you have an emergency… who do you call? If your community doesn't have resources, doesn't have social services, doesn't have support, doesn't have generational wealth… That's where these problems begin. That's why we're saying invest this money in Troy. Put it into community centers people are calling for, into places that kids can go. We don't even have a grocery store in Troy. There's so many things.
// Can we talk about the Reimagine Troy group and some of the work you've been doing there?
It's an interesting group of people that have come together. We did our best to balance what kind of research and recommendations can we make that we think will have some kind of impact while also retaining a sense of anger at the whole process. We're a group of volunteers. You're asking us to do this labor. What are we contributing to? A lot of it was just letting people know what was going on. Calling people to speak out at their public forums – the few that they had.
Then the PRRC report came out and we decided as a group – not with the city council members, but on our own – to continue.
The first thing that we did was to collaborate with Troy 4 Black Lives to organize the Rally for Black Life on the anniversary of Edson Thevenin's murder. I think that comes out of the kind of delicate trust-building work that needs to happen behind the scenes and between different groups, between white and Black residents. It's a very delicate process. I think we're still trying to figure it out, what we want to do and accomplish.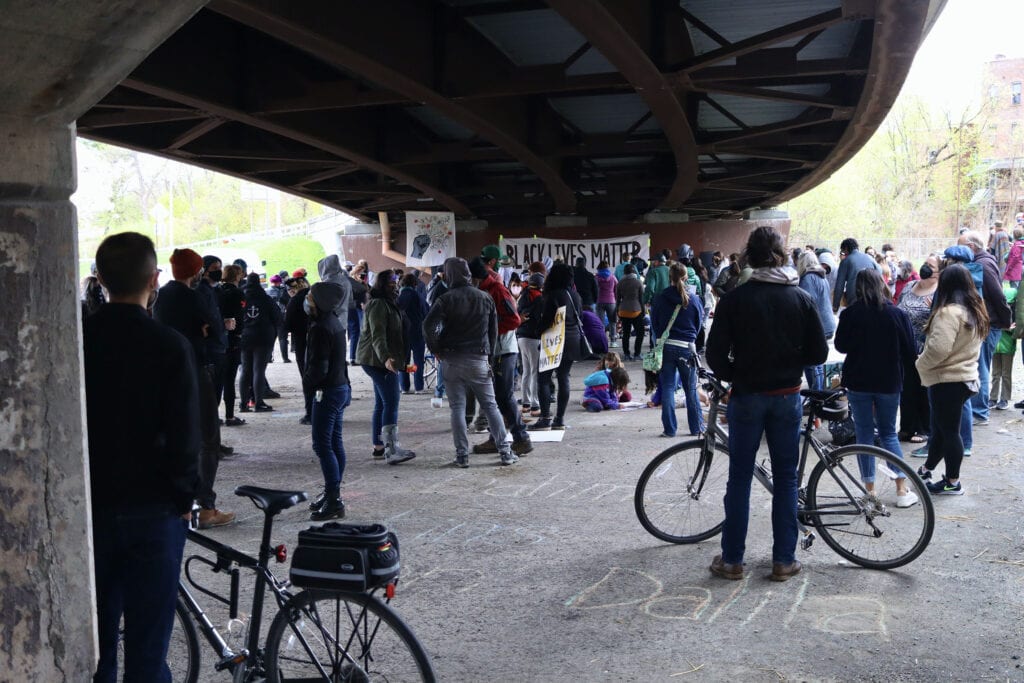 // People say defund, abolish, reform… What would accountability and reform in policing look like to you, personally?
I think you have to hold these things in layers, right? In my life the education I've had in terms of radical and revolutionary change is in the abolitionist tradition. What would it be like if we reorganized society to first put forth that people should have housing, food, medical care? They should have what they need. There's enough resources to do that. That's the vision that you have to hold.
I think abolition is the North Star. What I've learned in my time is that I prefer to be guided by a sense of connection and relationship-building and caretaking within the context of fighting for political change.
That's why I emphasize there was a lot of delicate work that went on behind the scenes to bring forth that rally. As a white person I feel like we get like — urgency! This thing needs to happen! That call for urgency isn't necessarily our call to make. We have to really listen. I've been trying to lean into that a lot.
There's a lot of work to be done where the city is not providing or making space to hear people. I think in my mind that's one thing we can do. These are kind of 'next-step' kind of things. The DSA here just launched the People's Reporting Project. People can log online and make reports about their experiences with the police. I think that that is super valuable.
I think, though, that we need to go back to old-style organizing. It's difficult because of COVID, but I think going door to door, finding moments to hear people's testimony, being able to build from that… I know that it's there. People are frustrated, people are upset. I think there's just this far too long history in Troy of feeling like well, what's the point? There's hope too. We have a lot of progressive candidates running for city council for the fall. In a small town it makes a big impact if the people there are sympathetic or not.
If the city council goes ahead to add these six new officers, that's a lot of money. One of the things Reimagine Troy was trying to push was for the Police Objective Review Board to have teeth, to have subpoena power. And Madden's response was that that's too expensive. Well, how do we make any kind of change? You can suddenly find all this money to build out the police budget. Meanwhile all these other services are not there. It's evident in so much of Troy.
// Policing, many of these issues affect Black and Brown communities very differently than you or me. Where is your place in this, as a white person?
In some ways I hesitate to be the person speaking in this interview. There's a lot of other people that could be speaking. This is a battle of white supremacy. How do you center on battling white supremacy while holding at the center the experience and voices of Black, Brown and Indigenous people, de-centering the white voice in that? That's the complicated thing. I've been trying just to be careful, but also feeling like as a white person I do need to speak out and put myself out there.
It's just another form of caretaking – trying to be really thoughtful and careful in voicing. But also voicing. I think that there's a lot of moments where we will show up and then when it becomes too risky we suddenly disappear. We're being called upon to do the work and to know that the work is beyond these moments where we had the big rally or you know, pat oneself on the back because Chauvin was found guilty. I feel particularly called on now being a parent. My kid is 4 years old and I want to be an example to them.
It's not easy to give an easy answer.
It's a lot. The emotional toll for Black and Brown people to be watching everything as it's happening right now, experiencing it… When people have to stop it's like, where can we step up? Or when is our voice heard differently than this other voice? We're going to make mistakes, but I believe that if we are trying to keep that centered… This isn't about us. The trial of it is important enough.
This conversation has been lightly edited for space and clarity.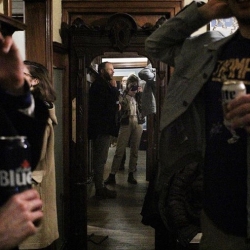 Latest posts by Shannon Straney
(see all)