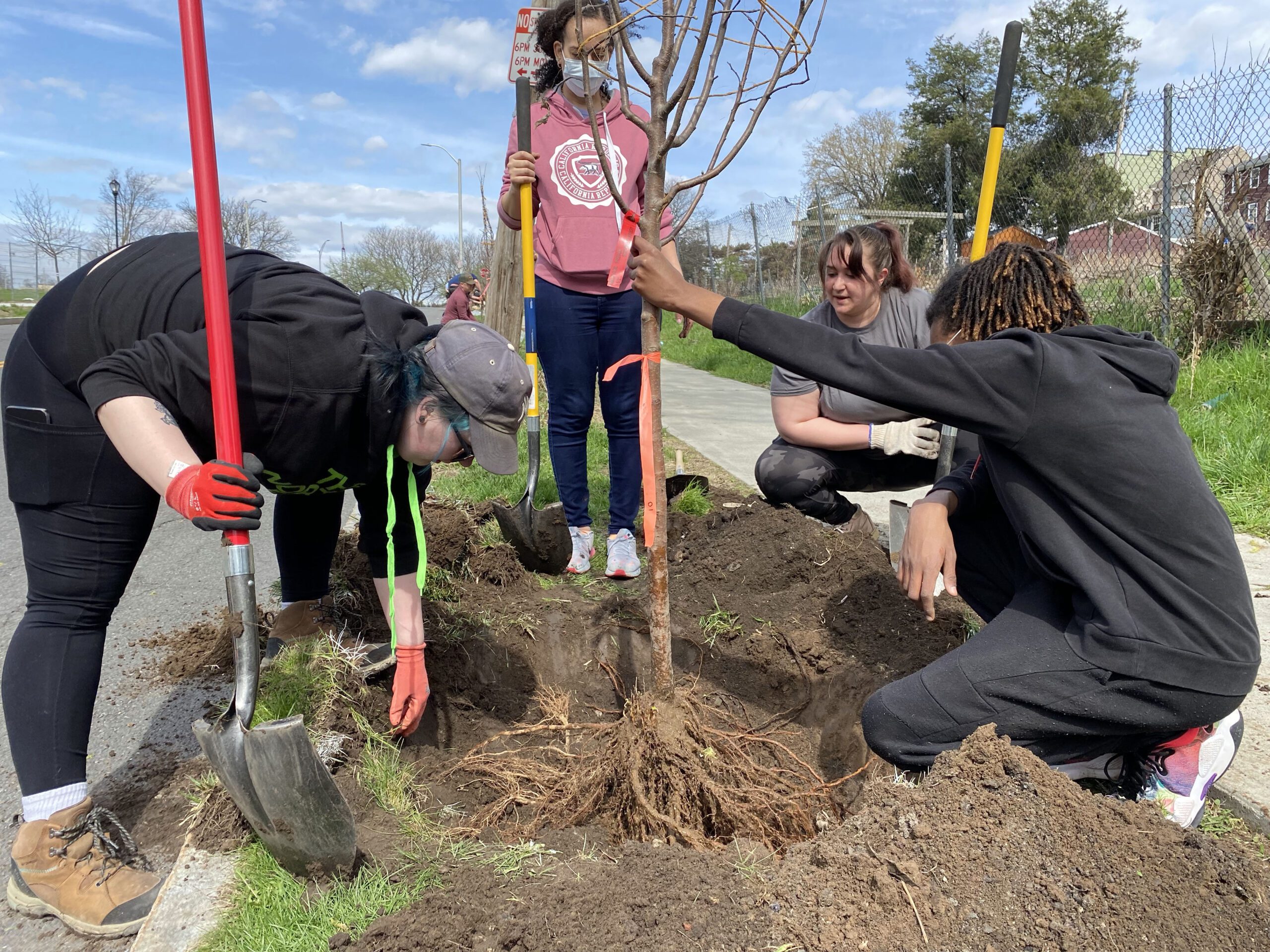 Creating an edible forest in the South End
Street trees have it tough.
They're surrounded by concrete and cars, exposed to pollutants and typically planted in places where the soil quality is poor, access to water is limited and temperatures tend to be hotter, making the trees more vulnerable to drought.
Such challenges don't deter the dozens of eager volunteers gathered at The Radix Ecological Sustainability Center in Albany's South End.
They're there to plant trees – specifically, edible trees that will bear fruit and nuts, food that will be free to residents to pick and eat.
The project is part of Radix's South End Biocultural Diversity Forest program, which aims to create a "food forest" in a neighborhood that has long suffered from disinvestment, air pollution and other ills.
Stacy Pettigrew, Radix's executive director, noted that the South End was once a "redlined" neighborhood – labeled "hazardous" by the federal government in the thirties and deemed too high risk for banks and other lenders to invest in. Residents, many of whom were Black, were denied mortgages and other financial services, making homeownership – one of the main tools for building generational wealth – an impossibility.
The legacy of this history is visible today, in the South End's rundown housing stock, crumbling infrastructure and relative lack of trees, parks and other amenities.
"There's less green infrastructure investment in the South End," Pettigrew said.
Indeed, a 2021 study by the Columbia University Mailman School of Public Health and University of California, Berkeley and San Francisco found that historically redlined neighborhoods have a paucity of green space compared to other neighborhoods.
Radix's tree planting project aspires to correct this historical wrong, while also making the neighborhood healthier and more livable.
Historically redlined neighborhoods often qualify as "urban heat islands," where natural land cover has been replaced by dense concentrations of pavement, buildings and other surfaces that absorb and retain heat. The result is more extreme heat, more heat-related illnesses, more hospitalizations and more death.
Trees mitigate the urban heat island effect by providing shade, deflecting radiation from the sun and releasing moisture into the atmosphere. Other benefits include better air quality and reduced stormwater runoff.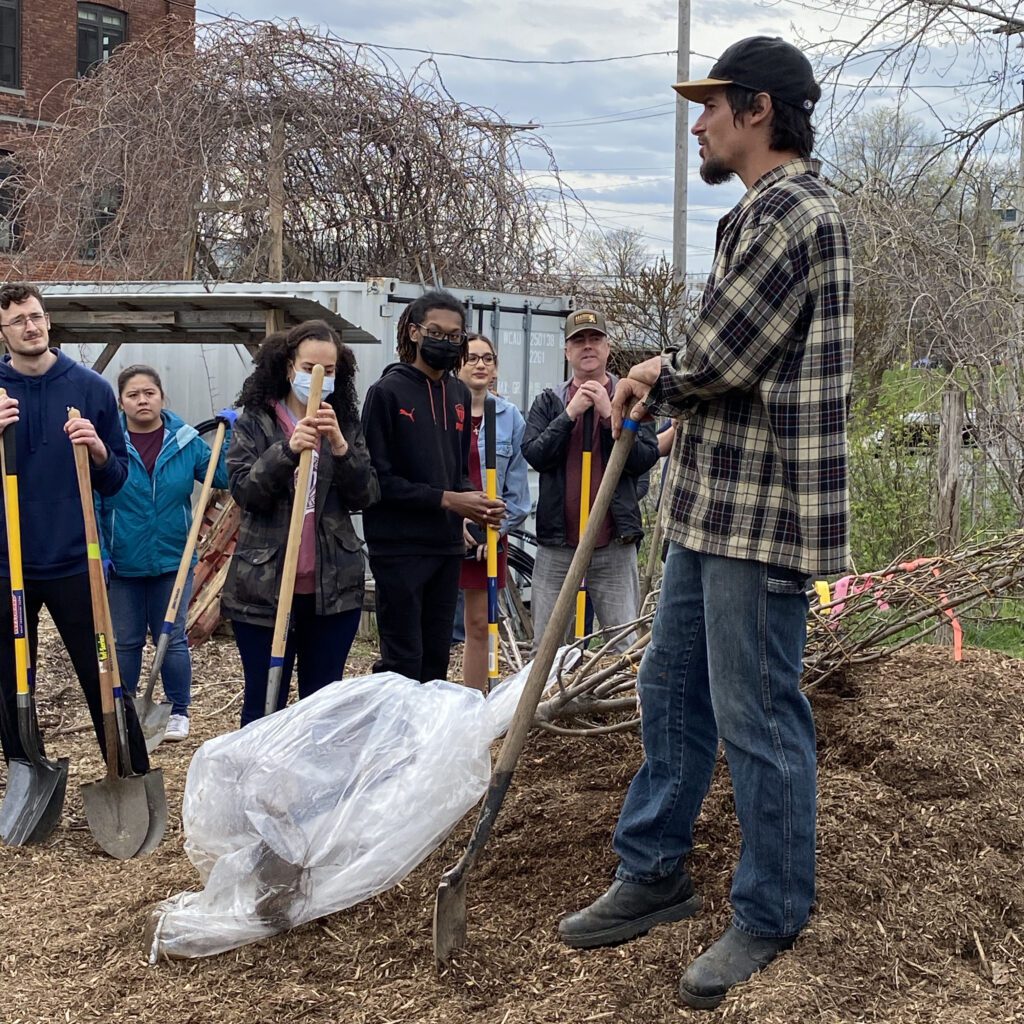 On April 16, 25 trees – a mix of apple, pear, paw paw, black walnut and hickory – were planted on Warren Street up to Eagle Ave., around Philip Street and in the alley behind the large community garden to the south of Lincoln Park.
All told, Radix plans to plant 150 trees throughout the South End.
The effort is supported by a $50,000 grant from the state Department of Environmental Education and a $35,000 grant from the city of Albany.
Before the volunteers headed off to plant, arborist Christian Grigoraskos, from the More Trees Arborist Collective in Troy, gave them insight and instruction.
"We're in a city environment," he said. "You're going to come across all kinds of debris – bricks, cinder blocks, trash."
"Spend some time (with the tree) and take care of it," he added. "Make a nice home for it."
On the patch of grass outside the community garden on Warren Street, a team of four worked to plant an apple tree, periodically checking the depth of their hole. Though not quick or easy work, the weather was balmy and everyone was in good spirits.
"We just planted a tree," Sarah Sheehan, one of the volunteers, observed when the job was done.
"I've never actually planted a tree before," 14-year-old Xiell Owens said. "It was fun."
"It's really exciting to be planting edible fruit trees," Pettigrew said. "In five years, in 10 years, it will be exciting to see."
Founded in 2010, Radix is a non-profit organization with a mission of promoting sustainable urban living and environmental stewardship.
Located on a former vacant lot at the intersection of Grand and Warren streets, Radix runs a variety of educational programs and operates a large greenhouse. Earlier this spring, the organization tapped maple trees on Morton Ave. and hosted a public maple boil to demonstrate how maple syrup is made.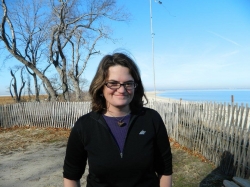 Latest posts by Sara Foss
(see all)