Here's how a superhighway changed one road in Rotterdam
August 11, 2020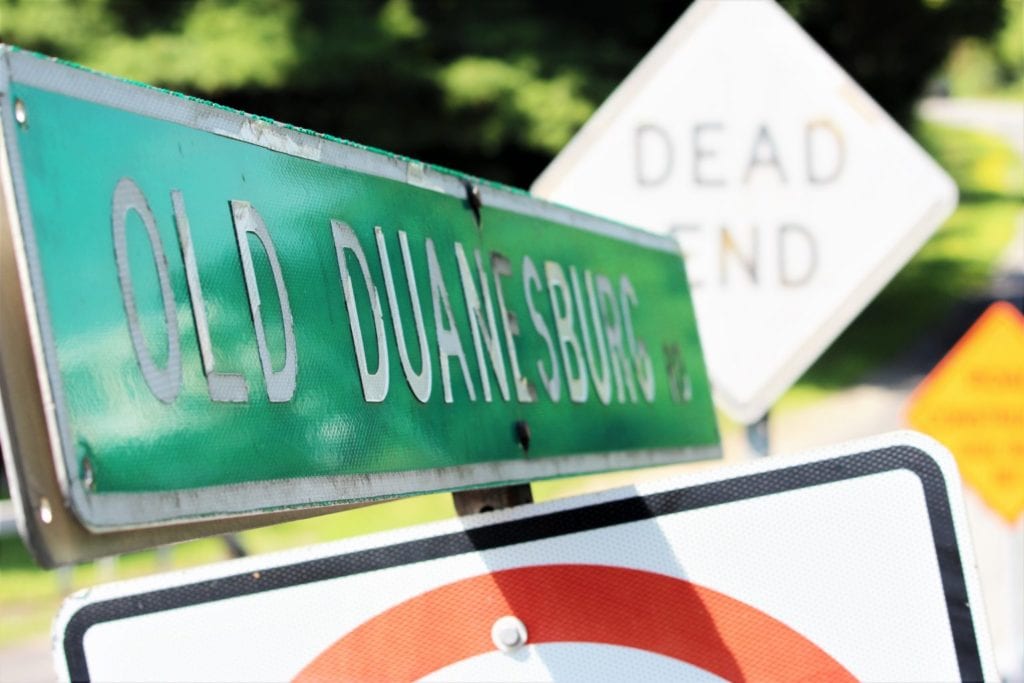 This article originally appeared on Them+Us Media
Old Duanesburg Road connects with history. Old Duanesburg Road doesn't connect with Old Duanesburg Road.
A 25-year-old man learned the latter lesson last year when he drove to his friend's place in Rotterdam. Max Medina's GPS instructed him to turn right on Burdeck St. before Route 7 to get there. He did and felt lost moments later.
That's because his friend lives on the other side of Old Duanesburg Road.
"It's kind of misleading," Medina said about the road. "It's the same road but not." At least one side should be renamed, he continued.
The New York State Thruway cleaves through Old Duanesburg Road, both sides of which are dead-ended with cul-de-sacs. Modest residences and farm properties line the western half of the road. The eastern half has spottier housing, swaths of foliage, an old one-room schoolhouse, and new apartment buildings towering from the north.
Rewind more than half a century on what was only farmland, a stream, wilderness, and a few houses in-between, each side of the road connected.
Then New York State in 1953 seized land from a longtime family off Duanesburg Road to construct a four-lane superhighway as part of Interstate 90. Anthony Lucas and Elisabeth Veeder Lucas, who knew the state wanted their land for a highway for more than a year, were still disturbed, the Schenectady Gazette reported in June of 1953.
Plans included rerouting Duanesburg Road 300 feet south of the homestead with a bridge above the superhighway. This divided the Lucas family's land into six parts. They moved their home nearly a half a mile away on the new road, but the 122-acre farm was gone.
It wasn't the only property that had to go. Dawn Kingsley and Robert Kingsley owned a dwelling near the Lucases at the time. The Kingsleys moved the 1931-constructed house due to highway construction.
Marked by the re-routing of Duanesburg Road, their address became "Old Duanesburg Road." The split road never received separate names.
Dawn Kingsley, whose husband died in 2005, sold the home in 2013 and moved to Speculator in the Adirondacks, but her daughter Linda McDonald, 61, never moved far.
On land granted from her parents, Linda McDonald and her husband Patrick McDonald in 1986 built a house adjacent to her childhood home. They've since raised four children on the street. Grandchildren visit regularly.
The McDonald family's 34-year-old residence is a white-with-black shutter Cape Cod-style home, which features a gravel driveway, above ground pool, and a "private driveway" sign. The road's curve and surrounding foliage cloak the property from public view.
"Everything down the road turns green and people don't realize that we're even down here," Patrick McDonald, 57.
It's been peaceful with some exceptions, Linda McDonald said. Zipping sounds emit from the other side of a chain-link fence separating the dead end from the thruway. She's heard vehicles rip down the road at 60 miles-per-hour more frequently, especially since Solara Apartments off Burdeck Street opened up last spring.
Located nearby Exit 25A on Duanesburg, the McDonalds believe that drivers sometimes mistake their road for a ramp onto I-90. While there's already a dead-end sign in front, the couple wants additional signage at the street's entrance to prevent vehicles from speeding down the road.
"We have some crazy shit going down here, but you know, it's still pretty quiet," Linda McDonald said.
---
Another resident on the west side of Old Duanesburg Road dubbed his property the "Farm On A Freeway" in reference to a song by Jethro Tull about a farmer who lost his land to eminent domain.
"I swear to God, every time it makes me cry," he said about the 1987 song.
That's Richard Bradshaw, 54, a carpenter who has lived at what used to be a functioning farm with his wife Ann Marie Bradshaw in 1985. His descendants, the Lewises, owned the land throughout most of the 1900s.
The Bradshaw's side of the road is nearly half the length of the McDonalds'. Among small neighboring houses, their property stands out with the largest plot of land and the biggest structure — a century-plus-old barn visible from portions of Interstate 88.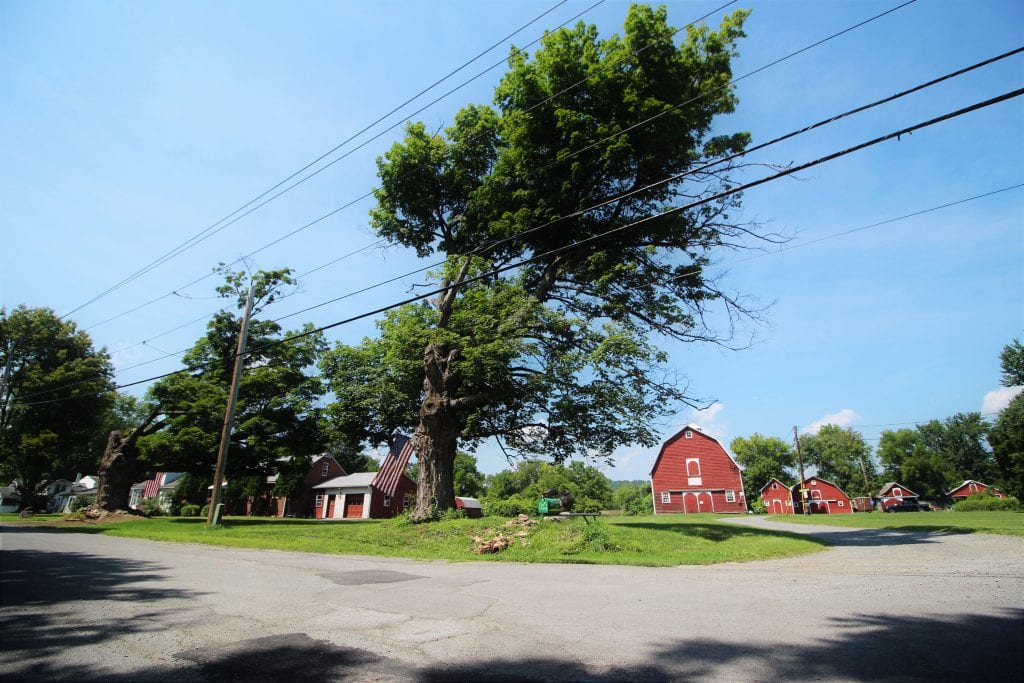 Unlike the Lucases' farm and the Kingsley residence, New York State Thruway construction in the 1950s didn't impact the now 23-acre farm. However, a railroad construction project under Delaware & Hudson Railway downsized the property nearly 75 acres decades earlier through eminent domain. Since then, the track has been taken over by Canadian Pacific Railway, and now it's owned by Norfolk Southern Railway.
Delaware & Hudson cut a deal with the family to lease some of the land taken for $1 a year. It's uncertain when parts of the seized property were no longer up for lease.
"They're the ones who took most of our property," Richard Bradshaw said about Delaware & Hudson. "We're a victim of circumstances."
The state also seized land in the 1980s to build Interstate 88. The superhighway, which runs from the Southern Tier to the Capital Region alongside Alternate Route 7, connects with the New York State Thruway in Rotterdam.
After it opened in 1982, the family fought in court throughout the decade to siphon more cash than initially offered. The last of the Lewises on the farm, Elmer Lewis died before there was any payoff.
"He never saw any profit out of anything except for watching," said, and then paused. "Progress."
Richard Bradshaw took over the farm in 1985. At its peak, he owned 18 cows among other cattle.
He quit raising cattle eight years ago after a cow briefly escaped the farm onto Duanesburg Road. Although he misses that lifestyle, the Rotterdam native said it's too risky to keep up cattle in the area.
"The one thing that I really miss is the animals," Richard Bradshaw said. "I'm just fine, but it was my heritage."
---
Like much of Rotterdam, more hooves than wheels once trekked in the area atop wood, mud, and grass. In 1849, Schenectady-Duanesburg Plank Road opened. Investments came from Daniel D. Campbell, president of a corporation that owned and operated a turnpike for Erie Canal travelers.
A popular investment in the mid-1850s, lumber-covered highways prevented muddied wagons running nearby the then-booming canal. While the planks rotted away, Schenectady-Duanesburg Plank Road still lasted as a toll road for decades.
It became a public highway after 1889, state court documents from 1893 show.
In the following century, General Electric lined miles of Duanesburg Road with sodium lights to reduce traffic accidents at night. Spanning 18 miles in total along Route 7, it was part of the world's longest sodium-lit highway before World II.
Veeder Farm was around during all of the early changes. The farm dates back to the early 1800s. Abram Veeder, part of a long bloodline of Dutch residents in New York State since 1652, bought the land in 1861. He lived there with his wife Margaret Vedder Veeder (that's not a typo) until his 1875 death.
Them & Us Media didn't find any records indicating who held the property directly after his death. Records show that Elisabeth Lucas, granddaughter of Abram Veeder, carried on the 122-acre farm with attorney Anthony Lucas during the 1900s. The couple restored an old homestead in 1943 and planned to rebuild another homestead before the thruway authority seized the space.
Ten years after I-90 opened, the Lucases still had some acreage on Old Duanesburg Road. (Elizabeth Lucas died in 1970 and Anthony Lucas died in 1975).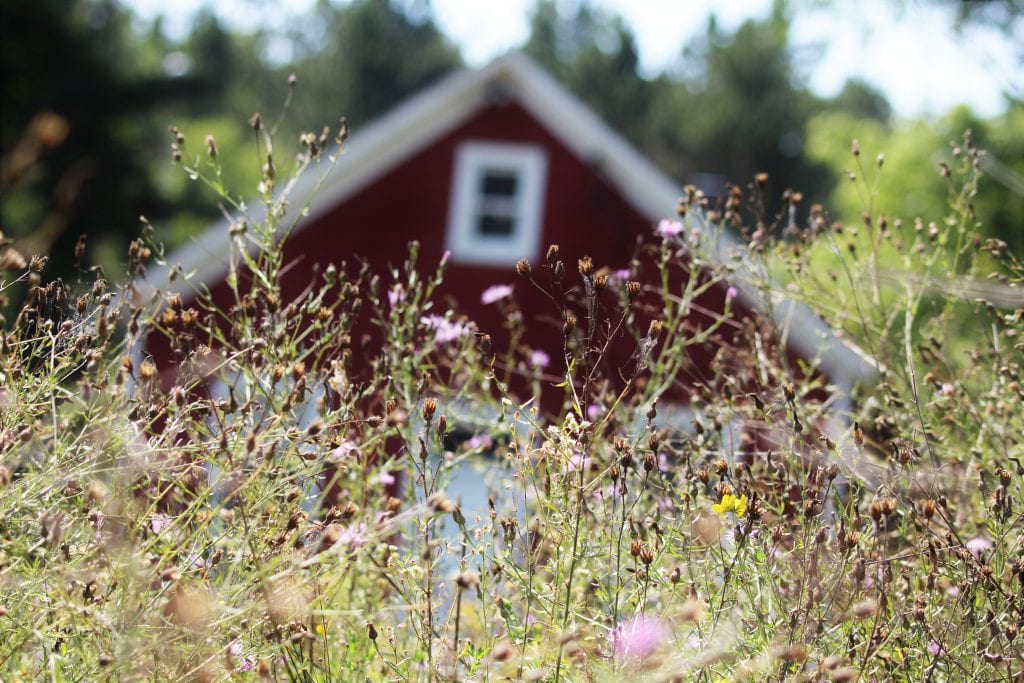 In 1963, the family awarded Boy Scout troop Explorer Post 17 a red one-room schoolhouse on the east side of the road. Previously, it had ceased operating in the early 1910s following the construction of Jefferson School.
Boy Scouts renamed the heavily forested property "Veederland." Combined, the troop has a 1.4-acre strip of wilderness extending from the intersection of Burdeck Street to I-90.
---
The McDonalds face both Explorer Post 17's undeveloped land from the south and newly developed net-zero property to the north. Thicker wilderness surrounded their home four years back.
In the former wood, solar-powered Solara Apartments by Bruns Realty Group debuted last year. It was under construction for nearly three years. The new development off Burdeck Street is beside netZero Village, the group's first luxury eco-apartment complex in the Capital Region.
"Since those apartments [appeared], it's not the same anymore," Linda McDonald said.
While the McDonald's scenery differs from west end residents, they share some common ground vis-a-vis age. Adult residents on both sides of the highway mostly range from middle-aged to elderly. Only one family has young children.
Mike Lanni, 28, is part of a minority age bloc. He currently rents out a 774 Old Duanesburg Road bungalow with two 25-years-olds, Jesse Zeltins and Max Medina.
The road's demographics remind Lanni of his childhood neighborhood on Michelle Drive in East Greenbush.
"So, it was never quite the rambunctious neighborhood full of children," Lanni said. "But also, not eerily quiet all the time."
Medina, who moved to the bungalow in December, said the setting is desolate and "super convenient." Working as a shift supervisor at Panera Bread in Niskayuna and studying at Schenectady County Community College, he said close highway access near 25A has been a perk of his new address.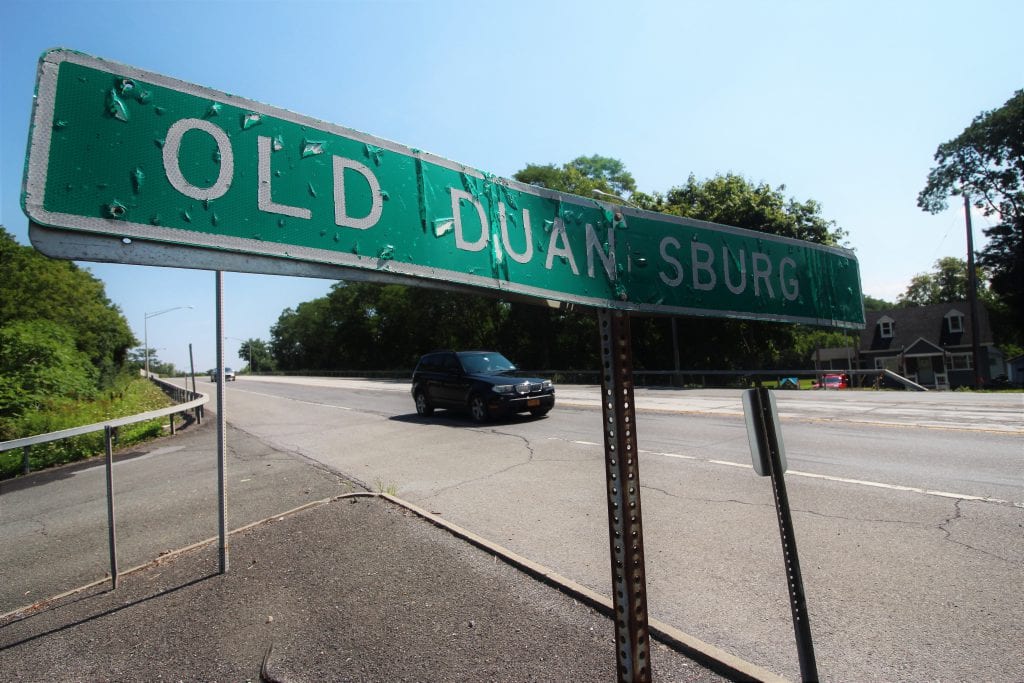 Also impressed by proximity to I-90 and I-88: realtors. They convinced the Bradshaws to sell their farm more than a decade ago. It's still on the housing market.
Richard Bradshaw's mother, who grew up on the land and now lives nearby on Feuz Road, is ready to see the farm handed over beyond the bloodline. Agnes Bradshaw, 79, said Richard Bradshaw and Ann Marie Bradshaw shouldn't have to take care of the farm as they get older.
"Really, I knew it was going to go sometime," she said. "They have no children. We have no grandchildren and they have no children."
Meanwhile, the Bradshaws still make some money off the farm. Verizon Wireless regularly pays them annually for providing cell tower space on the property's back end.
Richard Bradshaw once considered starting a solar farm to make extra money but pulled away from a two decade-bound contract. He concluded that this could hinder a potential sale.
"If they can sell it and make their lives a little more comfortable," Agnes Bradshaw said, "It would be a good thing."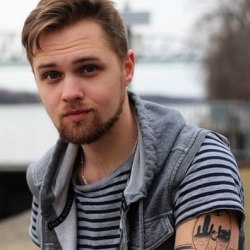 Latest posts by Tyler A. McNeil
(see all)