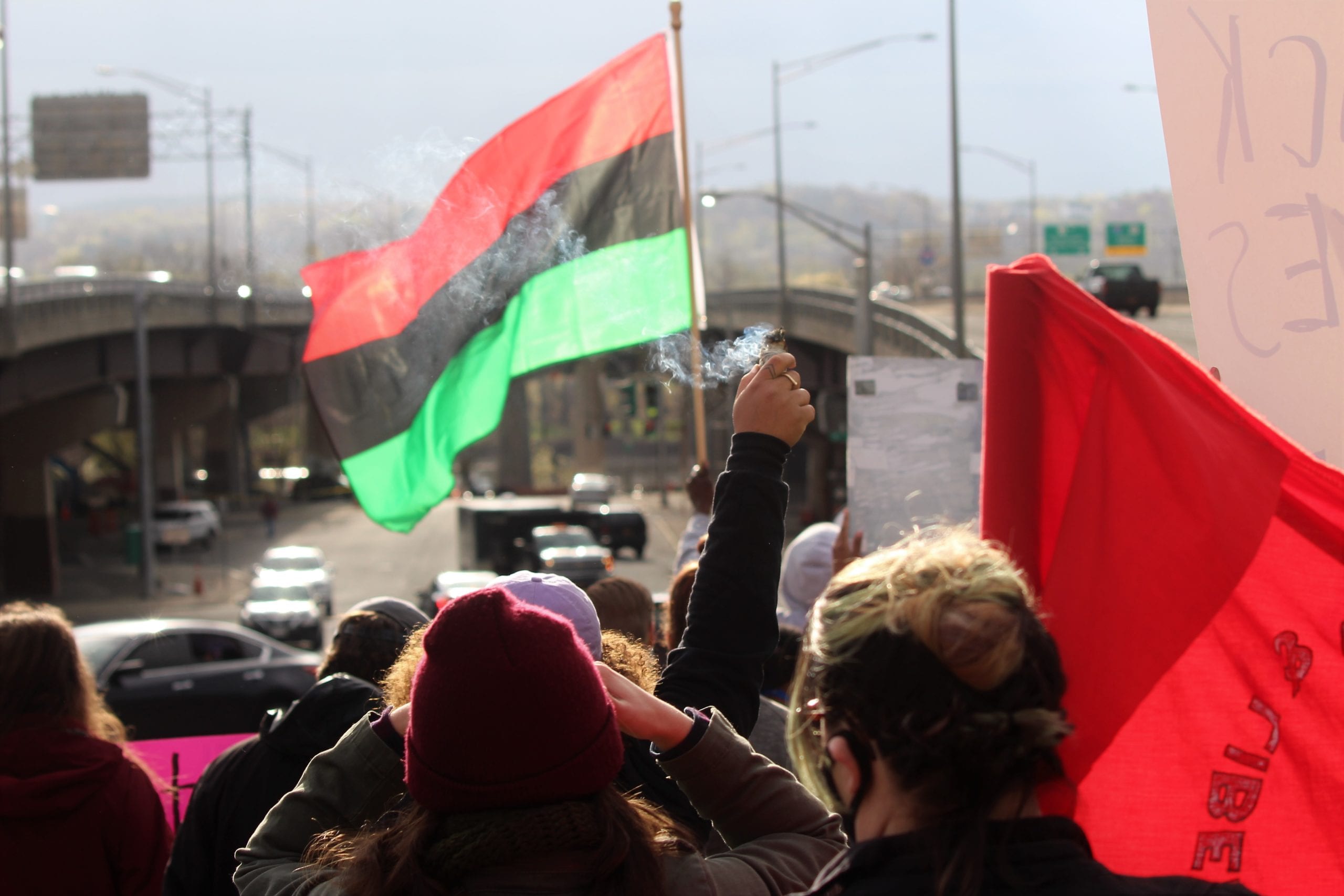 Rt. 7 corridor gathering a blissful moment for seasoned organizer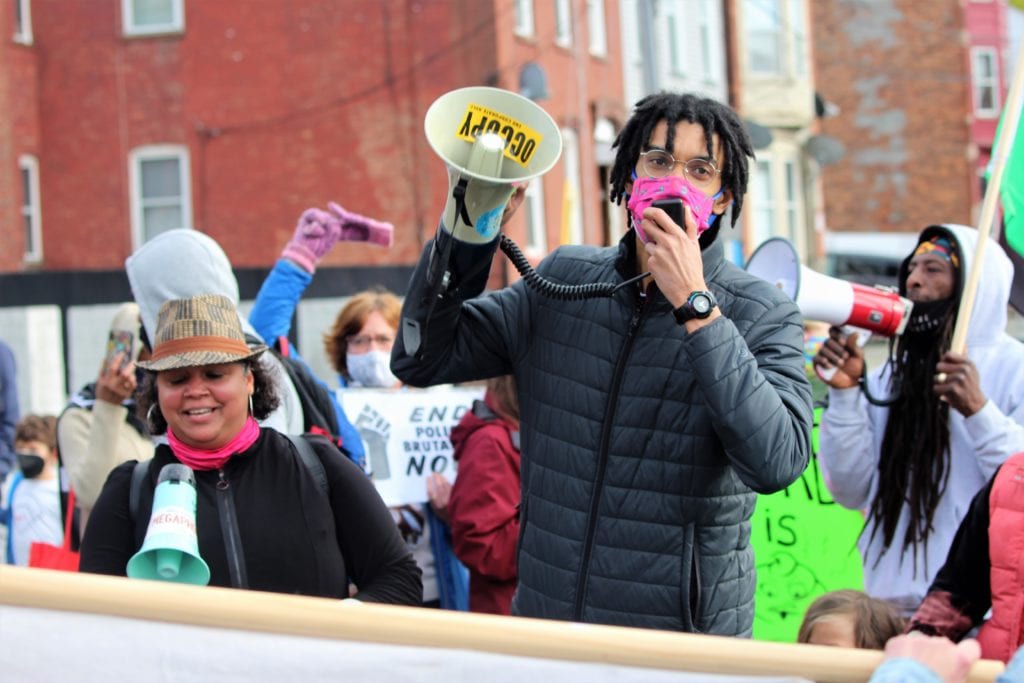 Pouring in from 8th Street, a paraphernalia-speckled bunch danced and raised solidarity fists in the amber sunlight. Honks and jovial chants emitted on the steep hillside.
It's been a long time coming.
Troy 4 Black Lives leaders have hesitantly discussed blocking off the Hoosick Street corridor since the group's inception. By design, senior organizer Luz Benbow explained, the move was intended to give marginalized Trojans control over one of the city's most dangerous sections, the Hoosick Street corridor.
"The way that white supremacy works, it has you thinking that you can't do anything and today was all about saying we're not done," Benbow said. "We're just getting started."
The crowd — primarily leftist demonstrators, neighborhood-level advocates, and townies — assembled for a Black Lives Matter rally organized on the five-year anniversary of Edson Thevenin's controversial death.
The unarmed Black man, 37, was killed by Sgt. Randall French at a traffic stop on the Collar City Bridge. Multiple witness statements and internal probe records accuse French of recklessly botching protocol, notwithstanding initial reports from city and Rensselaer County officials in 2016.
T4BL (originally Justice for Dahmeek) was formed a year later to challenge law enforcement's justification of force against another unarmed Black resident, Dahmeek McDonald. That August, four bullets were cast in response to the then-22-year-old evading state parole orders while driving dangerously close to officer Jarrod Iler. McDonald is currently incarcerated as a result of the disputed incident.
Iler and French, who died last April, were cleared of wrongdoing; both victims' families have pending litigation against the city; both incidents have become talking points for supporters of defunding or abolishing the Troy police.   
Facing the site of an infamous death near, activists at the highway corridor chanted Thevenin's name. They shouted McDonald's name, too.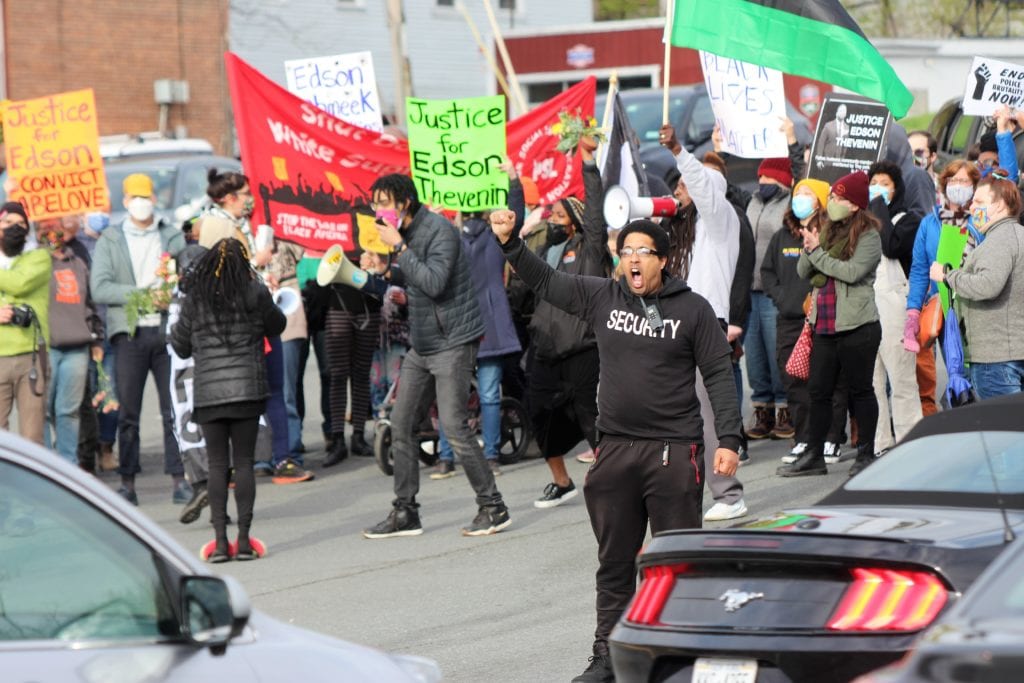 "This is huge!" Benbow spiritedly told rally attendants .
Executed without a city permit, the 54-year-old activist told Albany Proper that the short moment exemplified community self-sufficiency in lieu of municipal oversight. She only experienced a brief moment of fear as rally-goers stepped off the sidewalk.
And then, her emotions drastically changed. As she described the feeling, tears fell.
"That's like years of fucking gratitude of us gathering around in a circle and saying that we can't take our people there and they'll get hurt," Benbow said. "We are responsible to make sure our people don't get hurt."
"And then the sun came out," Elizabeth Press, a multimedia specialist with the Sanctuary for Independent Media, butted in.
Benbow responded to Press' description of the glow with a gleeful, loud, and lengthy utterance of "whoa."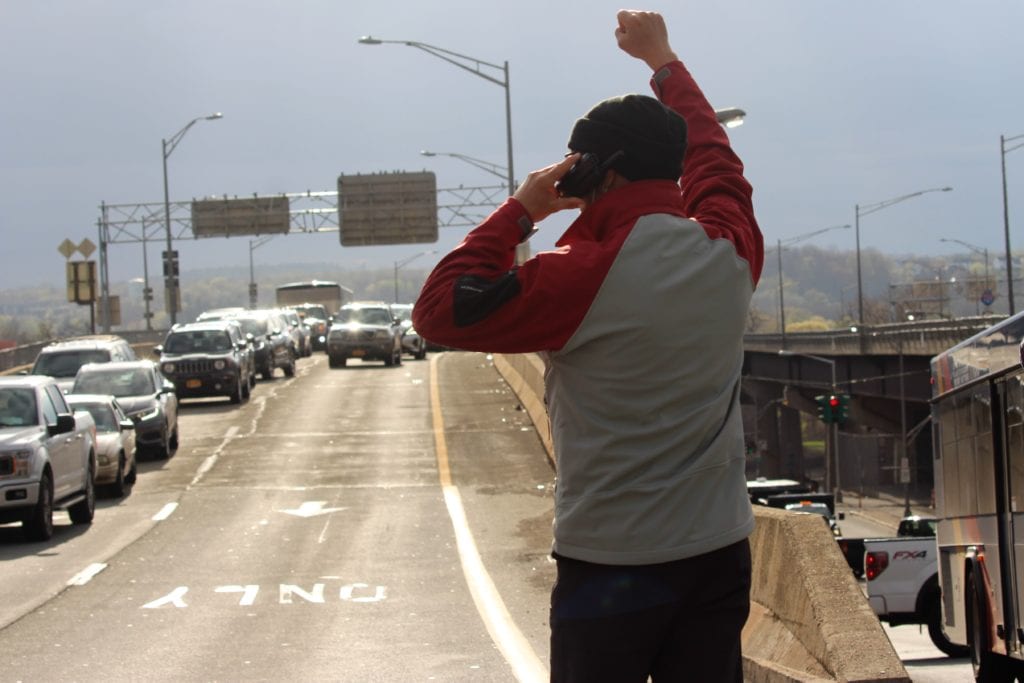 She and company stood at the corridor for fewer than five minutes before heading back under the ramp. Several vehicles driven by event volunteers and police patrol cars barricaded the road.
Benbow said in an interview that the police assistance was unwanted. She prides T4BL on avoiding correspondence with law enforcement.
"Nobody invited their asses," Benbow said. "I don't know why they were there."
Troy police spokesperson Daniel DeWolf did not immediately respond to an inquiry regarding the safety and admissibility of highway gatherings.
From 2014 to 2019, the Hoosick Street area accounted for 1,240 vehicle crashes, 39 pedestrian crashes, and 18 bicycle crashes. With 42,000 cars passing through daily, Hoosick Street has the busiest highway corridor in the Capital Region, according to the Department of Transportation.
Drivers that day reacted to the unexpected sight of BLM supporters with a mix of friendly and annoyed glances.
In one video, a driver heading northbound from 8th Street told viewers that she was on her way to pick up a child. The video was posted on Facebook by Darlene Briggs, a conservative Greene County resident.
"I can say a lot, but I reserve the right to keep my comments to myself," the driver said. "I don't feel like having any verbal altercations or any written altercations, but there's a lot to be said about this whole entire thing … but they're gone, they went down Hoosick Street. See you."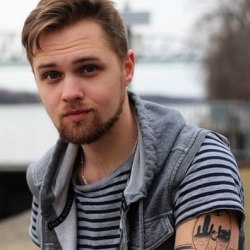 Latest posts by Tyler A. McNeil
(see all)