Weathered Wood provides artistic haven amidst a revolution
June 24, 2020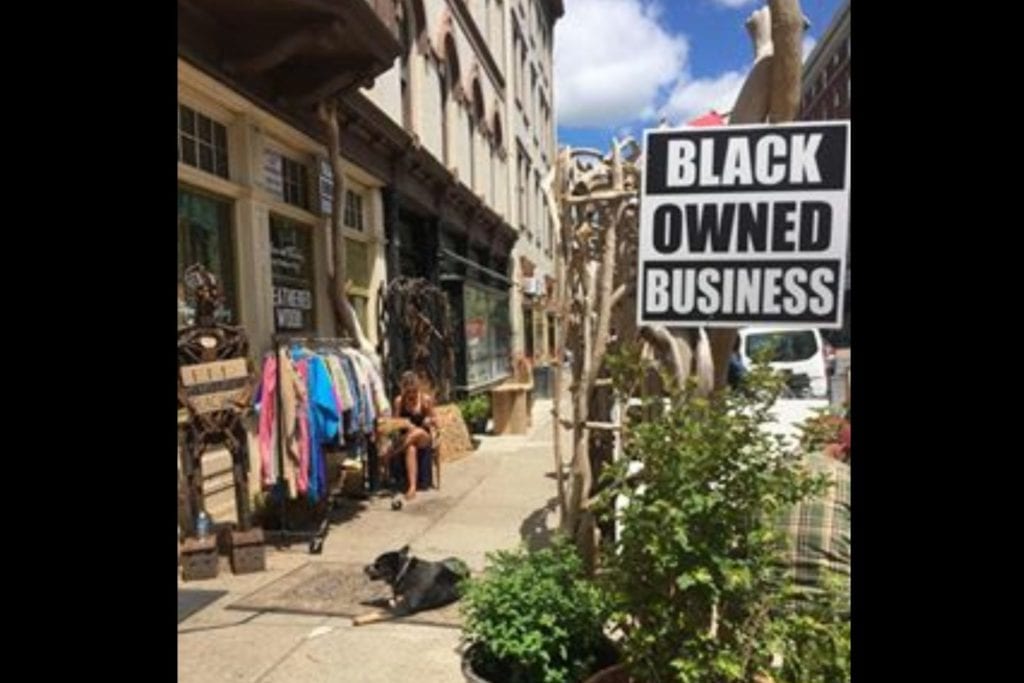 This article originally appeared on Them+Us Media
The acrid scent of spray paint permeates Second Street as a small cadre of artists congregates on the sidewalk to work on art that, above all else, shouts out one edict loudly and clearly to passersby.
"Black Lives Matter!"
The art was the result of an impromptu, pop-up showcase held outside of wood-working, furniture, and craft store Weathered Wood, nestled right in the middle of Troy's bustling downtown scene.
Owner Danny Killion, a self-taught welder, is on this Saturday morning deftly maneuvering between his joint roles as a woodworker for hire, local business owner, and activist.
Troy, like neighboring Albany and Schenectady, has over the last few weeks, been the site of marches and protests which demand an end to racial inequality and police brutality. Similar demonstrations have happened all over the United States.
Locally, the protests began weeks ago in Albany, with a peaceful march through the city on May 30 that was attended by thousands.
However, later that evening, after the day's event had died down, officers from the Albany Police Department's South Station, clad in riot gear and armed with tear gas, entered into a tense stand-off with a separate group of protestors.
The clash lasted early into that Sunday morning and by the time the rest of the city was tuning in for the morning headlines, a number of downtown businesses and county buildings had been broken into or vandalized.
Since then, an air of tense uncertainty has closely tailed local protests and marches in the Tri-City area.
That same Sunday, businesses owners in downtown Schenectady leapt to action and boarded up their shop windows with plywood in anticipation of further chaos. However, the night ended peacefully.
Troy was not slated to host its own march until June 7, and in the week leading up to the event, dozens of businesses owners followed suit and covered their windows in plywood, or ordered their tenants to do so, including Killion's own landlord.
But within a few days, the city had erupted into rainbow murals and other pieces of art supporting the Black Lives Matter movement as far as the eye could see.
The murals, however, were not without controversy. In a widely-shared blog post, Troy-based artist, poet, and educator D. Colin said that, as a Black woman, the feel-good nature of the murals served only to comfort white people in the city, who were fearful of a potential riot that never happened, as opposed to showing real support for the freedom and autonomy of Troy's Black residents, and treating the Black Lives Matter movement as what it is: political.
"As a Black artist, I don't have the luxury of my work, my appearance, my existence in this country not being political. When I say Black Lives Matter what I'm saying is that this country has demonstrated since 1619 that the rights to live without fear of being owned, harassed, excluded, disenfranchised, shot, lynched and subject to the disparities in education, healthcare, and opportunities for Black people is not as important as the welfare and comfort of White people so I have to remind folks that my own life and my God given rights to be happy on this planet are just as important. We can't achieve true freedom in this country if we're not all free. And that's political," she said in her post.
Some of Troy's Black Lives Matter murals remain in place, but others have been taken down by property owners around the city, Killion says.
He has a sign that says, "Black Owned Business" inside his own shop, and noted that quashing systemic racism has been, for a very long time, a priority for him.
Killion had, in the past, offered the space outside of his store to the vibrant and artistically-inclined residents of Troy as a communal exhibiting space, performance space, and workspace.
But, as a Black business owner who has been a vocal proponent of the recent waves of activism, this time he wanted to use the space to show further support for the movement, and to allow the activist-artists who worked on murals the chance to further showcase their own work.
Prior to Troy's protest, which, according to organizers, boasted a turn out of 11,000 people, Killion says his city was covered by a thick blanket of anxiety and fear, which, he added, was probably partly the result of nonstop news coverage of the events in Albany.
Those negative feelings didn't sit well with Troy's artistic community, he says, which jumped into action to create the murals. Their positivity and willingness to believe in the potential of peaceful mass movement, Killion says, is worthy of recognition.
"We really wanted to celebrate these artists. We want to celebrate artists who brought beauty into an ugly situation," he says, standing outside of his shop and gesturing to the artists who had gathered, arms outstretched in the sun.
Killion was also frank in describing what he sees as a disconnect between some of Troy's businesses and their frequent clientele, versus the longtime residents of the city.
While there are Black owned businesses in Troy, including Killion's own, customers at certain shops are white, financially comfortable, and, in his own words, simply in far less danger than Black people.
"Their customers are not the ones who are at risk of being killed or shot at by police," he said.
That has led to business owners being concerned about the well-being of their businesses, Killion added.
"Not the well-being of the people in their community," he said.
Killion's pop-up art show, with some participants gearing up to attend yet another Black Lives Matter rally in the City of Cohoes later that day, paid deep homage to the revolutionary and diverse roots of non-white, non-heterosexual movements that have for decades been the building blocks for equality in the United States.
"Troy Remembers Stonewall," reads a rainbow painted sidewalk right outside of Killion's shop. Posters adorned with dozens of faces of Black men and women who have been murdered at the hands of police officers, including George Floyd and Breonna Taylor, two of the catalysts for the recent tidal wave of protests, hang on Killion's shop window.
Art also came to life at the exhibit itself. A man aimed a neon green can of spray paint at a large blank white canvas while two next to him pounded out folk music from a single drum and an acoustic guitar, always smiling as Saturday shoppers strolled by. The musicians, while playing, told Killion that any tips they received that day would be going into a donations jar he had set up outside, the proceeds of which would be going to support organizations for the Black Lives Matter movement.
The exhibit, as well as providing recognition for the activists and artists who worked to uplift Troy during a time of need, will also serve as a recurring event in hopes of keeping the topic of the Black Lives Matter movement at the forefront of local minds, Killion says.
To Killion, Troy's murals were proof that, in the midst of nationwide fear and anxiety surrounding civil unrest, proactive positivity can serve as a valuable tool in teaching about the true power of mass protest outside of negative, headline-grabbing situations.
By bringing together artists to do their activism right on the streets where passersby are apt to wander by with a coffee, or stop by his store to browse his own art, Killion said the opportunities to begin building those positive bridges are there, waiting to be grabbed.
"We can have forward thinking and creative conversations. We need that to make change," he said.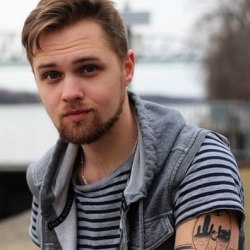 Latest posts by Tyler A. McNeil
(see all)