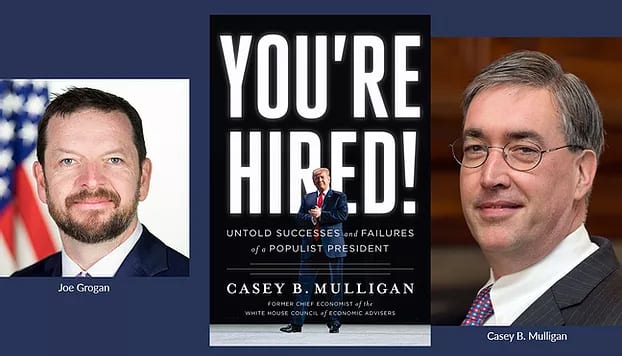 Writers Institute under fire for including Trump officials in 'Truth-telling' symposium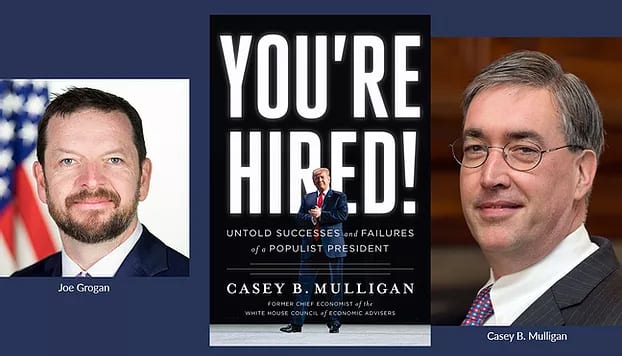 Two former Trump Administration officials are set to speak at an upcoming New York State Writer's Institute event entitled 'Telling the Truth 2020', leaving some in the community concerned with the timing.
Casey B. Mulligan formerly served as the Chief Economist in Trump's Council of Economic Advisers and recently wrote the book, You're Hired!: Untold Successes and Failures of a Populist President, which he describes as "insightful" and "honest." Joining him will be Joe Grogan, a former director of the United States Domestic Policy Council, assistant to Donald Trump, and a University at Albany alumnus.
The issue was first raised by Elizabeth Holdsworth, a doctoral student in Anthropology, who is among a number of UAlbany community members concerned that including members of the Trump Administration on a panel entitled 'Telling the Truth' may be sending the wrong message immediately after one of the most important elections in U.S. history.
Holdsworth wrote in an email: "The Trump administration has intentionally engaged in assaults on truth throughout the past four years in order to undermine confidence in our government and democratic system."
One of the topics planned for the symposium is "the hijacking of truth through ongoing assaults both internally and from foreign sources who seek to erode the bedrock principles of a free and open democratic society." Holdsworth believes the speakers are examples of these truth hijackers, saying that "experts on the rise of authoritarian states in the demise of democratic governance have explained that legitimizing such individuals by giving them platforms to further spread misinformation, confusion, and divisiveness is itself a means of eroding a free and open democratic society."
As President Donald Trump refuses to concede after losing the election to President-elect Joe Biden, Holdsworth is among those who see issues with giving a platform to members of his administration who have been pushing controversial narratives and promoting disinformation channels.
Mulligan has been constantly promoting the Parler app, a social media platform newly popular with the far-right because it does not flag false information and conspiracy theories, as Twitter and Facebook do.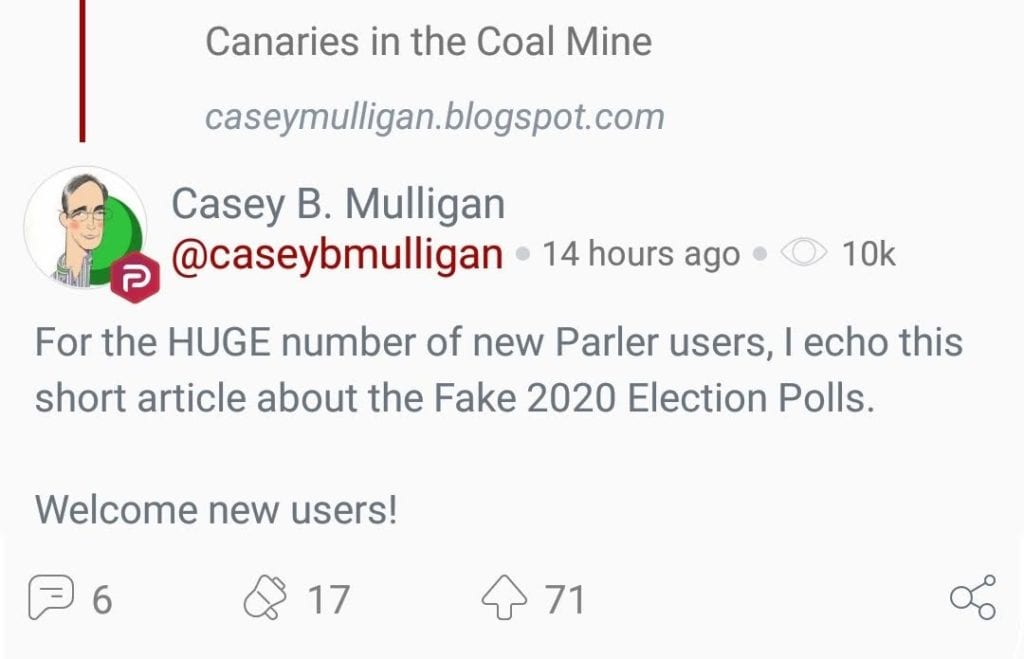 On Parler, under the same handle as his Twitter account, Mulligan claims the Presidential election results are fake and "echoes" (Parler's version of "retweeting") other far-right users who express concerns over suspensions on Twitter from sharing false information. "The good news is we can follow [him] and many others on Parler" Mulligan writes.
According to election officials, there is currently no widespread evidence of election fraud — but as votes were counted, many of Donald Trump's tweets were flagged by Twitter for containing misleading or false information around the election results.
I WON THIS ELECTION, BY A LOT!

— Donald J. Trump (@realDonaldTrump) November 7, 2020
"REPORT: DOMINION DELETED 2.7 MILLION TRUMP VOTES NATIONWIDE. DATA ANALYSIS FINDS 221,000 PENNSYLVANIA VOTES SWITCHED FROM PRESIDENT TRUMP TO BIDEN. 941,000 TRUMP VOTES DELETED. STATES USING DOMINION VOTING SYSTEMS SWITCHED 435,000 VOTES FROM TRUMP TO BIDEN." @ChanelRion @OANN

— Donald J. Trump (@realDonaldTrump) November 12, 2020
Mashaal Bhatti, Chief of Staff for the University at Albany Student Association, believes "now more than ever it is important to be conscious and considerate of the implications of our actions when it comes to politics."
She believes it is important to recognize that everyone has their own political beliefs, but says what the Trump Administration represents and supports is not in line with what the Student Association stands for.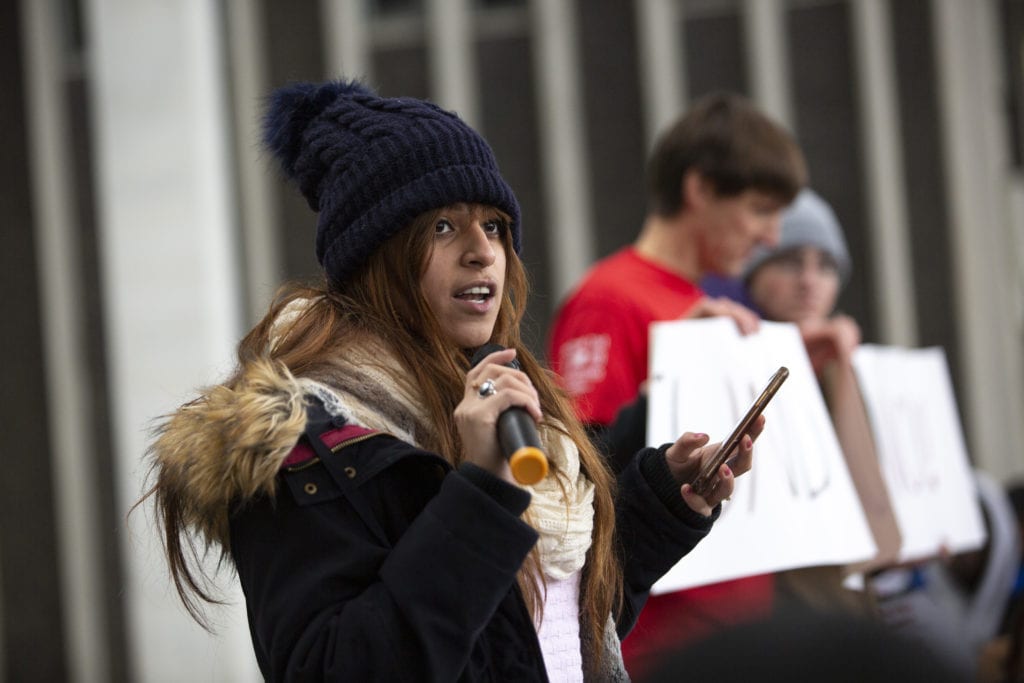 In a statement, Bhatti further said:
"Through not only policy but consistent rhetoric, the Trump Administration has placed a target on the backs of our marginalized communities, including LBGTQ+ and people of color. The reality of harm this Administration has done in worsening the divide in our society while directly impacting the lives of members in our community, is cause for concern and unrest. We would have hoped the Writers Institute would be more considerate to this in the planning and marketing of this event, to have been most efficient and inclusive in trying to present alternate perspectives."
The other scheduled speaker, Joe Grogan, was formerly a member of the Trump Administration's Coronavirus Task Force that came under criticism for sharing disinformation about public health concerns. Early statements by the task force led to the politicization of basic health measures such as wearing masks. In late April, "anti-maskers" empowered by this politicization led a protest at the Capitol in Albany waving Trump flags, as they have elsewhere across the country.
Meanwhile, three months after being appointed to the task force, Grogan was back to tweeting attacks about former FBI Director James Comey: "You want to know why @realDonaldTrump needed to get elected? Because bastards like Jim Comey screw average Americans all the time and somebody needed to smash it. Thank you POTUS."
Local activist organization 'All of Us' recently partnered with the Writers Institute for a program titled 'The Time for Reckoning'. In response to 'Telling the Truth 2020,' co-founder Jamaica Miles said, "it seems that this series simply looks to unify the two parties. This does not address the inherent issues both parties have, the problematic nature of the two-party system nor their individual roles in the oppression and exploitation of the masses."
The Writers Institute did not wish to comment when reached out to by Albany Proper.
Paul Grondahl, the Director of the New York State Writers Institute, shared an official statement from the University "regarding similar challenges to previous Writers Institute visiting authors on the other side of the political spectrum":

"At the University at Albany we encourage the open and free exchange of diverse ideas and want our students, faculty and staff to engage in constructive dialogue about challenging topics. As an institution of higher learning, we would expect the members of our campus community to form their own opinions about guests invited to speak here and to voice supporting or opposing views in a manner consistent with UAlbany's commitment to freedom of expression."
The New York State Writer's Institute brings in 50 to 60 speakers annually from a range of backgrounds and lifestyles for the benefit of the students at the University at Albany and the Capital Region at large. Since March, their Visiting Writers Series has gone completely digital. The Writer's Institute plans to host a myriad of voices online as part of the symposium, including British-Turkish feminist novelist Elif Shafak, as well as American actor and children's author John Lithgow.
Telling the Truth 2020 is a week-long series running from November 11-18, 2020. Videos premiere at 11AM each day on the Writers Institute YouTube channel.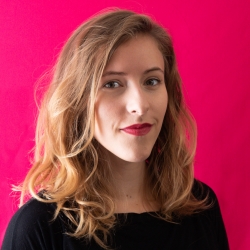 Latest posts by Michelle Polacinski
(see all)