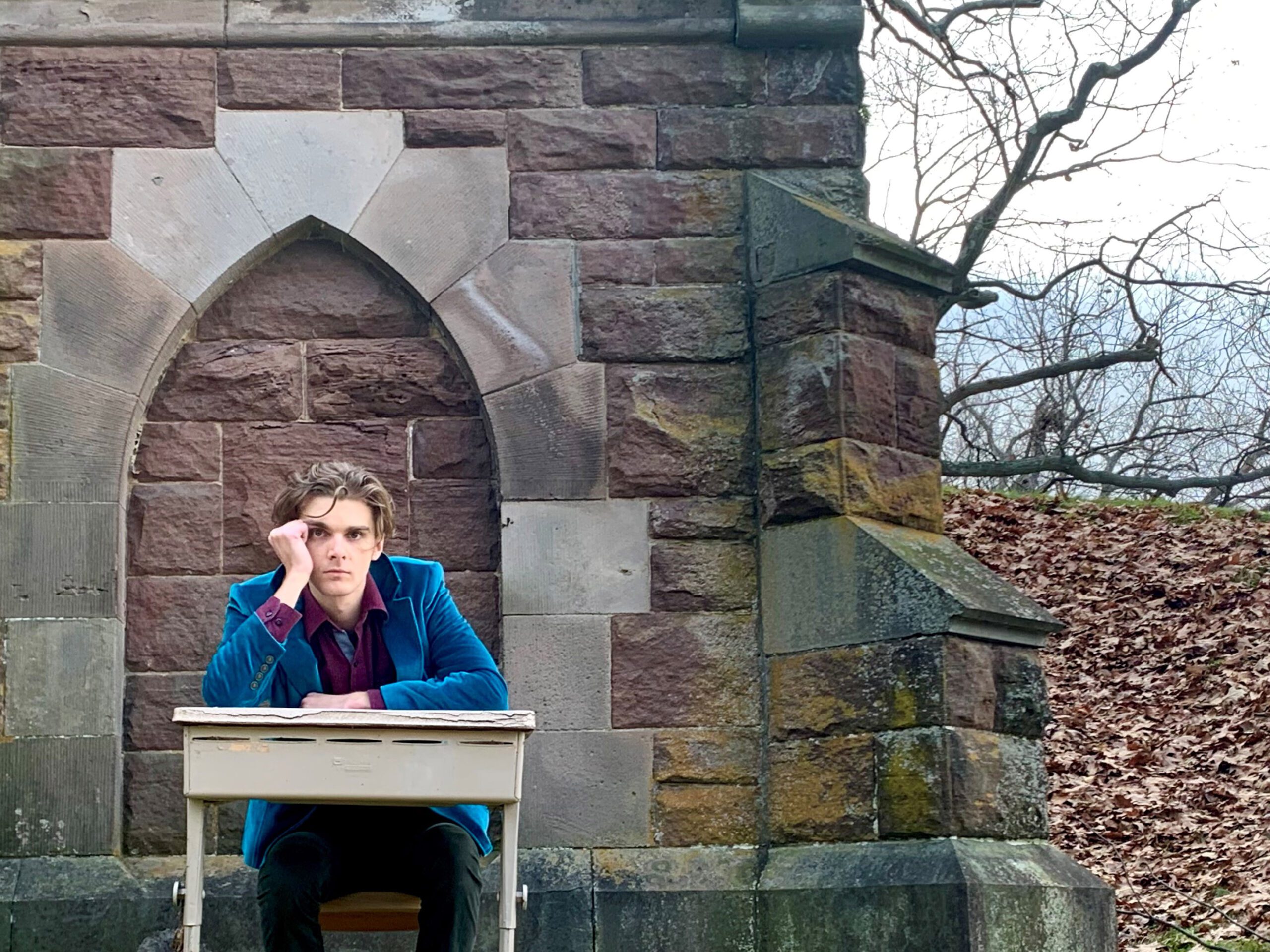 Troy musician records new album in vacant church
To listen to Connor Armbruster's new album is to be transported to another time and place.  
The music is simple yet grand, accessible yet mysterious.
It evokes a distant, fading past, but is very much alive, hinting at seasons and cycles yet to come. It was recorded in a church, but is not overtly religious, though listeners might detect hints of the divine in Armbruster's warm and melodious violin playing.
Titled "Masses," the album was recorded in a single day in the spring of 2020 inside a shuttered Catholic church in Troy, St. Paul the Apostle. 
Armbruster, who lives down the street from the church, was intrigued by the possibilities of this once-vibrant sacred space.
"I started to bring my instruments over there and just play inside because the inside is gorgeous," Armbruster, 26, said. "It's so huge and open and just has a pretty spectacular character. That was something that was instantly attractive to me, to go in and play and wander around."
At the time, the church was being used by artists who rented studio space there, and Armbruster gained access to the building. He played there often, listening to how his violins sounded in different parts of the church.
From this process emerged the deeply felt and emotionally resonant music of "Masses," released this winter by Dear Life Records and available on Bandcamp. On Thursday, Armbruster will perform songs from the album at No Fun, the new music venue in Troy.
"Masses" is a genre-fluid work that is easy to listen to but difficult to categorize.
I've seen it described as ambient/experimental, and it's easy to see why: A spirit of exploration and invention pervades the entire album.
That said, the ambient/experimental label doesn't quite capture how "Masses" sounds. The music is a mix of contemporary classical, traditional Irish fiddling and haunting drones. Partially improvised, it contains elements of jazz and has the feel of live recording. It's expressive and calming, almost meditative at times.
Established in 1890, St. Paul the Apostle closed down in 2009 due to dwindling attendance.
The empty building tapped into Ambruster's interest in "liminal spaces" – places in states of transition.
"(St. Paul's) is over a century old and it's clear that there was so much love and activity and vibrancy there for the longest time," Armbruster said. "And the building is still there and a lot of the artifacts are there. But a lot of things are gone. The pews are missing and of course there are no people."
Raised Catholic, Armbruster has "very mixed feelings" about the religion he grew up in.
Playing music at St. Paul the Apostle helped him reclaim "parts of Catholicism I found to be beautiful or good and maybe repurpose them, or find a new kind of spirituality within it," he said. "Just being in a place like that is very powerful."
The experience prompted Armbruster to reflect upon life, death and resurrection, key themes on "Masses."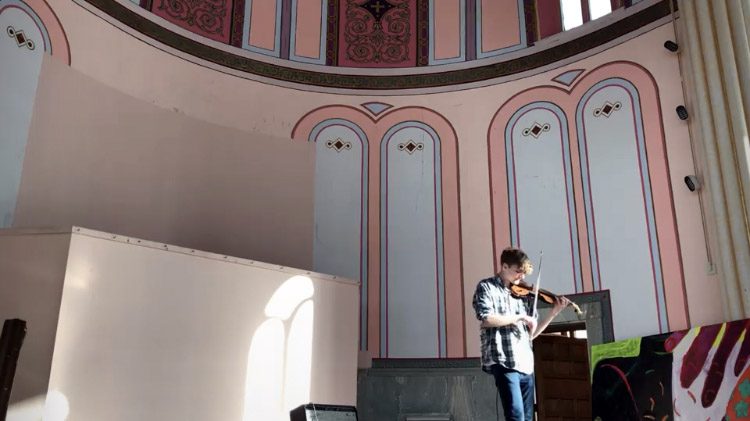 The first half of the album, which opens with a song titled "In the First Leaves," is about death – Armbruster likened it to "an expression of autumn." The second half, which features songs like "Alive and Living" and "Passes Through the Dusk," is about rebirth.
"What does it mean for a building like a church to be alive?" Armbruster said. "And what does it mean when a building has died? … And can it be resurrected in some way? … An image that is very powerful for me, that is a central part of Catholicism, is resurrection."
"Masses" was recorded with the aid of Rick Spataro, a local recording engineer who helped set up microphones all over St. Paul the Apostle.
A 2013 graduate of Bethlehem High School, Armbruster started playing violin as a child.
But he didn't intend to embark on a music career.
He enrolled in Rensselaer Polytechnic Institute with plans to study mechanical engineering and design, but eventually realized he was miserable and switched to the school's Electronic Media, Arts and Communication major. He credits the program with helping him discover new ways of thinking about music.
One of Armbruster's earlier musical works, "Phonehenge," incorporates field recordings made at Grafton Lakes State Park and is described, in its Bandcamp blurb, as a "cyborg-fiddle journey about a mysterious-yet-somehow-familiar monument somewhere in the forest."
"I have thought for a long time about making a sequel (to Phonehenge)," Armbruster said. "It's something I've wanted to come back to. I'm fond of it."
Like his music, Armbruster's day job is also surprising and unexpected: He works for the Head Start program in Rensselaer County, co-running its music enrichment program, which was developed by singer-songwriter Natalie Merchant. 
"Masses" isn't the first art project to draw inspiration from the Capital Region's abundance of abandoned buildings.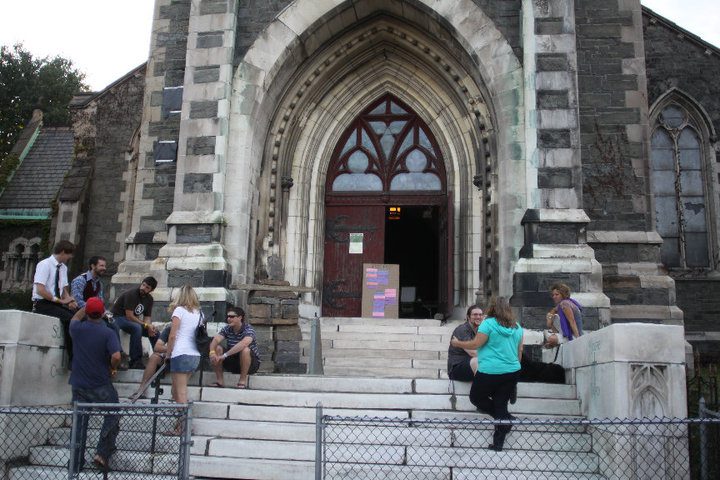 One of the largest and most notable efforts was Breathing Lights, which in 2016 illuminated more than 170 vacant properties in Albany, Schenectady and Troy.
But there have been other, smaller-scare transformations and repurposings.
For a time, an annual music and arts event, Restoration Festival, was held at the vacant St. Joseph's Church in Albany's Ten Broeck Triangle Neighborhood. 
In Schenectady, the former St. John the Baptist church is now the home of the Schenectady Light Opera Company. Earlier this month I wrote about the ongoing effort to turn the former St. Anthony's Church in Albany into a sustainable year-round arts organization, Grand Street Community Arts.
"There's a lot of empty churches in town," Armbruster said. "I felt very lucky to have a very personal relationship with this one, and I want to meet the other ones. Whenever I go past a church that's empty, I want to go inside."
"Masses" is unusual in that it documents a short-lived, site-specific musical experiment, allowing Armbruster to share it with the world.
"Looking back on it now, I sometimes feel like it's not me playing," Armbruster said. "It feels like something talking through me."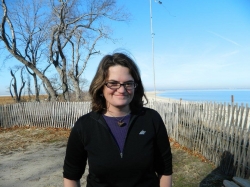 Latest posts by Sara Foss
(see all)